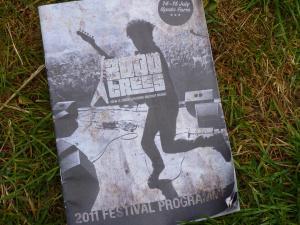 Arriving to amazing sunshine for the early entry portion of 2000 Trees' fifth birthday, it was a little difficult to know what to expect. Sometimes the way with early entry at festivals is to have bands who have nothing better to do, though I think everyone's come to expect that nothing is done by halves here.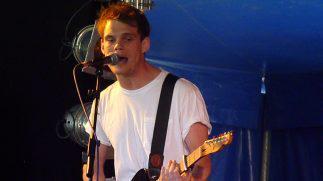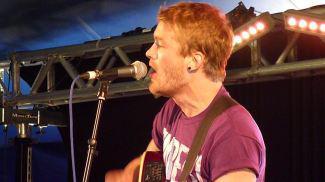 The Echoes
I walked into 2000 Trees' Beta Venue, The Cave just as an impossibly handsome and surprisingly brilliant four piece by the name of The Echoes were being introduced as The Echo-Echo-Echoes. The band chosen to christen the venue on its maiden trees.
The back and forth male vocals were striking in revelry inducing opener "shotgun" and, though this element is toned down as either vocalist take the lead on their own tracks, it remains their core as the set proceeds at a misleadingly professional level.
These four have been ever presents at the festival since its inception, though this is the first time they're actually playing it. There were a few technical difficulties later on but this was quickly forgotten as they launched back into their Rocket Sumer meets Gaslight Anthem pastiche.
_______________________________
Alot of the talk in between the opening acts was how different it seemed from previous years. Indeed, the area The Cave was in was home to toilets and tents last year. Surely an improvement?
As you venture out you see the familiar sight of Suzy's burger van and further on, The Leaf Lounge and from then on everything becomes comfortingly familiar. Of course the changes are improvements but nothing's been replaced they are merely fantastic additions. There's still just as many tents and award winning toilets!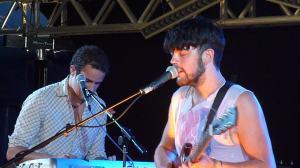 Unless you are aware of OST's brand of stadium filling sounds, it's a bit difficult to know what to expect; they don't give much away.
Their rhythmic guitars, keys and ethereal vocals come in to the crowd's chorus of OST-OST-OST and a, shall we say- modest mosh pit. If anything, this band's sound shows the standard that the organisers put into every hour of this festival, seriously- judging by this anthemic and tightly wound performance, not too many eyebrows would have been raised had they been on the mainstage this weekend.
Silversun Pickups would be the best comparison for these first and second city boys. Soundscapes worthy of a Mogwai with fittingly styled vocals. Their blinking keys entwined with the twinkling guitars, it's easy to forget about the heat or the forecast rain and get lost in the melody.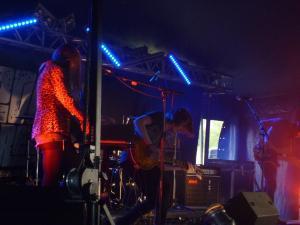 Kill it Kid came onto some sort of retro soundbyte, these are placed throughout their set and do fill any awkward silences.
Certainly touches of 2005-2007 indie rock, Boy Kill Boy and iForward Russia! come to mind. Guitar and bass in tadem, lyrically it doesn't cut too deep but the vocals from Stephanie Ward does set them aside and move them into borderline goth rock territory when the bass gets deeper and Ward's vocalisation gets darker. When they strike up "In My Blood" with stalking B-movie keys and bass it's where they find their niche. Strained, screaming guitars and threatening, desperate vocals they create a unique atmosphere.
Their set is dramatic without being theatrical. Lead singer Chris Turpin wouldn't look out of place in the 90′s grunge movement but his voice and delivery is very much in the now.
The times where Stephanie takes the lead and Chris underscores are the real highlights, like on penultimate track "Dirty Water" which was just a truly breathtaking performance. Effortlesssly impassioned vocals showcasing a pretty serious range.
Once more 2000 Trees is declared as this band's favourite festival, it's a walk!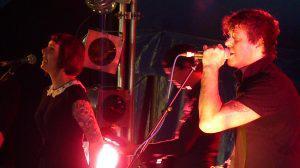 The hardcore elements of Crazy Arm are irresistable and merged with their undeniabley country foundations they make for an interesting and compelling set.
One of Frank Turner's favourite bands, these south west punk-folk-hardcorers have become mainstays of the festival and along with Jim Lockey and the Solemn Sun are playing two sets this weekend (one acoustic).
A guest appearence was suggested halfway through the set, before "Tribes", perfect for turner surely? Nah, I'll shut up about that. The actual guest appearence was from Victoria Butterfield, as pictured above.
Closing with "One Horse Town" they echoed the sentiments of the other early arrivals; the fortune of the 3,500 spirits converging in these fields who are in for one hell of a weekend.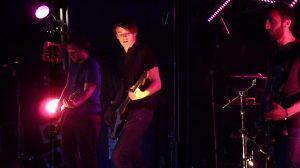 I listened to the first 10 minutes of these overtly labelled "post-rockers" from the trunk of my car, laden with duvets, pillows and home comforts. While it was, as Martine McCutcheoen declared last time I heard from her, a perfect moment I felt this might have been a little dismissive of the powerhouse that is MaybeSheWill.
I'd love to say they're anything but post-rock as this label tends to put people of, however this is the music that they play and they do do it well.
While the sun was thinking of calling it a day, most of the early dayers were having their faces melted with heavy, yet sumptuous riffs. If you're into dripping, wordless rock they're probably in the top 5 in the business and, to their credit, they've done it all themselves- self produced and self promoted, you have to respect that these days.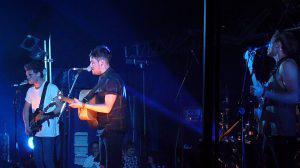 Jim Lockey Lockey and the Solemn Sun
There's a lot of assurances you get at 2000 Trees, one of them is being captivated by the folk rock of local scene heroes Jim Lockey and the Solemn Sun on at least a couple of occasions.
In front of the largest crowd of the day friends, families and fans sang along as the band played classics from their debut abum 'Atlases' as well as soon to be classics from future releases. Constant touring and not conforming to the traditional one show per festival/night/show has crafted them into a well honed machine. A likeable one too.
I'll go into more detail in their next set, let's just say it was a pleasure seeing them tonight and it will be again tomorrow…
________________________________
The very nature of 2000 Trees means it is not just about the (amazing) music. Food and Comedy are two of the other elements that make up the glorious hole. And while we have Toss tomorrow (more on him later…) sometimes you need a laugh.
Horse and Louis were down at the greenhouse stage having their Flight of the Concordes musical sketch comedy well received. My gran would hate this. I lolled.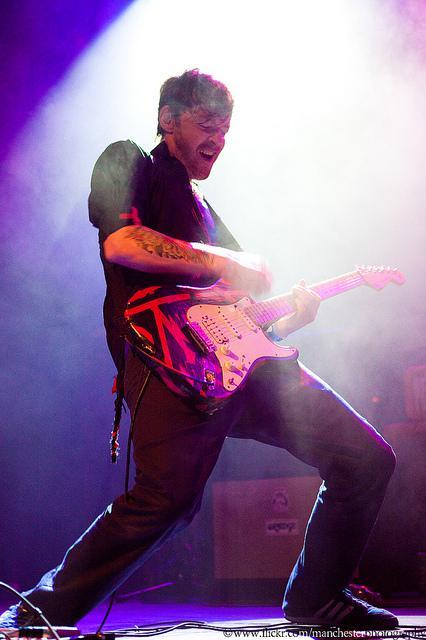 SuccioPerro's lead singer is one half of Saved By The Bell: The College Years homaging duo Marmaduke Duke. His Scottish tones becoming more and more acclimatable as the set goes on.
Now, I'm not racist against the Scottish but… Nah, they were great I just like starting sentences that way. Sure you can reference Broken Records and Frightened Rabbit but that IS racist! Fascist.
Up tempo and supremely rocking, Succioperro bring the night to a close brilliantly. Killers at their most fun and the best touches of hardcore, such a great time.
The night ends with no one wanting it to.
Day Two on Monday…