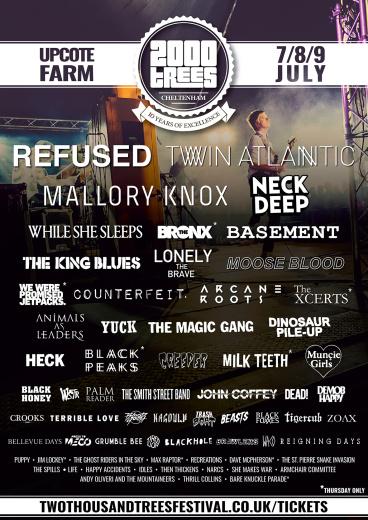 Thurs:
The Cave: The Bronx, We Were Promised Jetpacks, And So I Watch You From Afar, The Xcerts, Black Peaks, Milk Teeth, Max Raptor.
The Axiom: Beans on Toast, Press to Meco, Crazy Arm, Ben Marwood, Rob Lynch, Oxygen Thief, ????????????.
Forest: Jim Lockey, Dave McPherson.
Fri:
Main Stage: Twin Atlantic, Mallory Knox, Neck Deep, Counterfeit, Vant, Smith Band, John Coffey, Crooks, Brawlers.
Axiom: Moose Blood (+Forest Session), Magic Gang, Dinosaur Pile-Up, Muncie Girls, Kagoule, Tired Lion, Waco, Life.
Cave: Lonely The Brave, Palm Reader, Trash Boat, Beasts, Reining Days.
Croft: Ghost Riders in the Sky, Happy Accidents, Will Varley, Johnny Lloyd, Idles, Then Thickens, She Makes War, Armchair Commitee.
Big Lebowski Bar: Thrill Collins, Bare Knuckle Parade.
Sat:
Main Stage: Refused, Ash, King Blues, Augustines, Arcane Roots (+Forest Session), Heck, Creeper, The LaFontaines, St. Pierre Snake Invasion.
The Cave: While She Sleeps, Sikth, Basement, Animals as Leaders, WSTR, Terribe Love, Blood Youth, ZOAX, Blackhole.
Axiom: Jamie Lenman, Hey! Hello!, Yuck, Demob Happy, Dead!, Black Foxxes, Cheap Meat, Puppy, Narcs.
Croft: Black Honey, Tigercub, Bellevue Days, Grumble Bee, Recreations,  The Spills, The RPMs, Andy Oliveri & The Mountaineers.