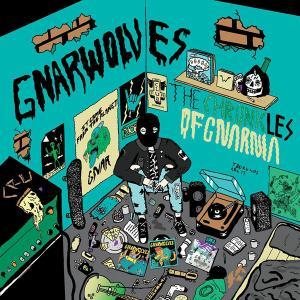 Gnarwolves
The heaviest of the Thursday night line-up, the Kernow hailing but Brighton based trio Gnarwolves. Made up of two brothers Max and Thom Weeks along with Charlie Piper (formerly of Rasputin) these upstarts are on a mission to tear some faces off with some not so serious post-punk revivalist passion.
As I mentioned, it must be said these lads don't take themselves particularly seriously, their artwork is post-modernly idiosyncratic, their work and interviews laden with Gnarwolvian regional dialect and there's an unashamed hint of spice in the air.
Upcoming release Chronicles Of Gnarnia is a collection of their previously released EP's (Funemployed, Cru and Fun Club) which will provide a sweet snapshot of the early years of their career before they inevitably drop a killer album.
Next month they're embarking on an 91.66% UK tour touching a lot of bases and corners of the country-
16 TUNBRIDGE WELLS Forum
17 SALISBURY Music Box
18 OXFORD Wheatsheaf
19 CAMBRIDGE Portland Arms
21 BELGIUM Crossbone Fest
22 KINGSTON Fighting Cocks
23 YORK Duchess
24 SHEFFIELD Corporation
25 ABERDEEN Tunnels
26 HULL Fruit
27 CHESTER Compass
LISTEN: Cru.