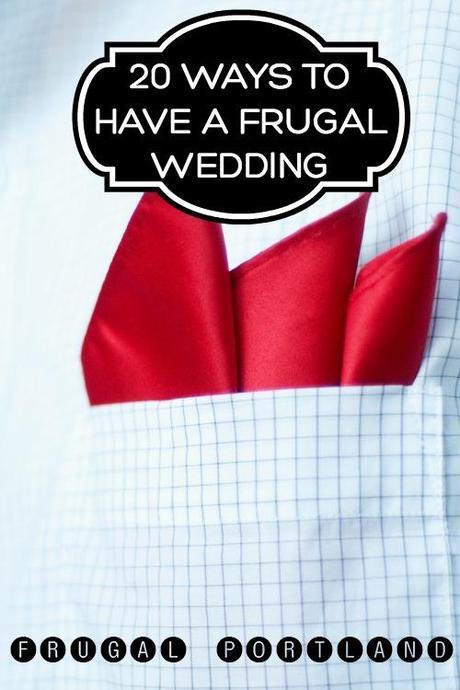 We've already mentioned that our wedding wasn't frugal. But there are things you can do to have a frugal wedding.
A longtime family friend came to our wedding, and has a daughter in a super-serious relationship. She sent the following:
I read Brent's blog about the cost of the wedding. If you had to do it all again, would you spend the money??? Melissa and I were talking about the cost of weddings and I thought if you kept it simple with no meals or alcohol maybe we could save some $$ there. But of course, she would like both. The average wedding cost from the five we went to this summer is between $15,000-$20,000. This does not include the rehearsal dinner or honeymoon. Where were your main expenditures? This is one of the only good things about having a small family.
By trying (and failing!) to have a frugal wedding, I did learn quite a bit about how to make them frugal. Here are my 20 best tips:
1. Only Get Married Once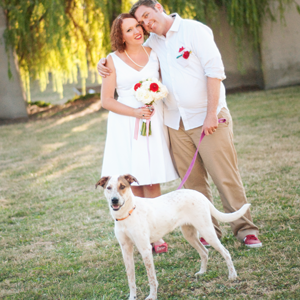 It might sound silly, but that's my first, and most important, piece of advice. Get married one time, and one time only. So, don't marry someone who isn't right for you, even if he or she asks, and focus on the marriage, not the wedding.
2. Do Not Buy Any Bridal Magazines
Right after I got engaged, I went to get my hair cut. At the salon, I saw a bridal magazine, and of course, I picked it up. There was a section on "what should I expect to spend?" and one thing they said was that a photographer would cost around $5,000. Are you kidding me? I'll never afford this party! Then I realized: bridal magazines are there to encourage people to spend more money. You don't need them. You'll be able to figure out how to have the wedding that you want, even without gorgeous, glossy suggestions from "the industry."
3. Keep Your Guest List Small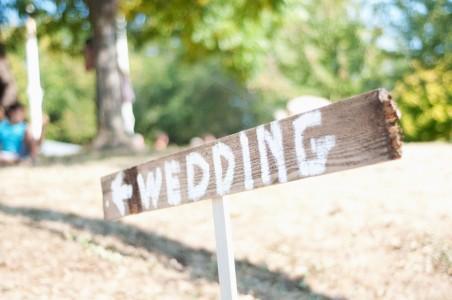 You really want to manage your costs? Make your guest list as small as possible. I'm telling you this, but I couldn't follow this piece of advice (well, I could have done absolutely anything I wanted, I simply decided that including as much family as possible was really important to me). I have the best family on the planet, and we get together every summer just because, so I knew I wanted as many of them as I could to celebrate the joining of my family to Brent's. If you don't see your aunts, uncles, and cousins every year, by all means, make it small! Have a dinner party for 25. You can really get extravagant and generous when you can make your guest list small.
4. Consider the Off Season
Did you know? January is the cheapest month to marry. In fact, because weddings are so seasonal, venues, photographers, and other venues will give heavy discounts if you decide to make your nuptials the first month of the year. Live in Nebraska and can't imagine asking your friends and family to come visit when the entire earth is frozen? Thanks! We appreciate that. Consider the shoulder season. What's the shoulder season? Any month that isn't June.
5. Consider Different Times of Day
We got married at noon on a Sunday. We chose midday so people could fly back home Sunday night if they had to. We wanted Saturday, but so did everyone else in the city, so we decided Sunday was fine. If you choose a time that is NOT dinner time, your costs will go down accordingly. I do think that you should feed people, though. So while you can get away with cookies and juice, you should consider that they got on an airplane, and if they just regular came to visit you, you'd probably buy their dinner, so be nice on this day as well.
6. Don't Buy a Fancy Dress
I still can't believe I spent almost $700 on my wedding dress. I buy all my clothing second hand, so the next most expensive item of clothing in my closet is a winter coat. If you're the kind of person who spends $200 on a pair of jeans, or $188 on a regular sweater, then maybe, just maybe, you can have a fancy wedding dress. But let me tell you: you're going to be wearing it for six to eight hours, max. Don't aim for perfect here. Go with "good enough" and you'll be fine. Find a wedding dress online, even. Their prices are outstanding. Find secondhand shops in your city, or discount wedding dress shops, even regular thrift stores or vintage shops. Don't feel like you need to wear a dress that costs more than your car.
7. Let Your Bridesmaids Set Their Budget
So, if you followed rule number six, you didn't end up in a bridal salon for your dress. Why should you go to one for your bridesmaids? Bridesmaid dresses are expensive because they can get away with charging that much, not because they are super duper fabulous and fancy. Choose a color, or a palette, and let them select their own. I went with a rainbow color scheme, which turned out GREAT, but, as I found out later, caused more than a small amount of stress for my friends. I was once in a wedding where the bride asked us all to wear little black dresses, which we wore again and again.
8.Don't Feel Like You Have to Go to Vegas for a Bachelor/ette Party
Vegas is expensive, friends. Even if it's cheap to get to, you end up spending more money than you want to, and, more upsettingly, so do your friends. I wasn't really tempted to leave the state, since two of my four bridesmaids had infants and would not have been able to leave for that long. So, we went to Oregon's wine country and had an absolute blast. It was close enough for the new mommies to come for part of the weekend, and less expensive than flying to Vegas and staying in a hotel. Brent flew to Arizona, where most of his people live, and had a great time as well. Just be with your friends. Do fun things. You don't have to travel far!
9. Think Outside the Wedding Cake Box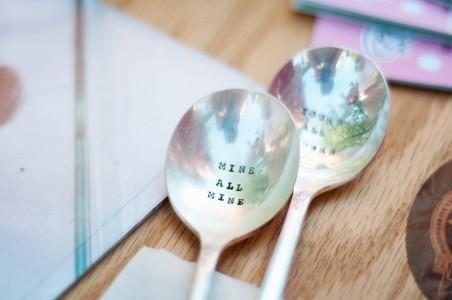 I can't eat flour. My friend Kyra has an awesome, delicious, amazing gluten-free bakery (and cafe now!) that sells gorgeous wedding cakes. There's just one problem: she uses voodoo magic to make her cakes taste better than regular cakes, but that kind of wizardry doesn't come cheap. Plus, aside from Kyra herself, I would have been the only one to appreciate that. So, what to do? We went with an ICE CREAM cart! Which worked out to be an outstanding idea, given that it was 95 degrees in September. It was half the price of a gluten-free cake.
10. Question All the "Shoulds" That Come Up
You'll get advice on what to do from a lot of people. I found this funny — why do they care how I'm celebrating this day? But really. Everyone has an opinion, and they aren't afraid to let it be known. One of my friends got really upset when I told her about our food choices. "You CAN'T have a food cart! That's a stupid idea!" "You NEED TO HAVE CAKE or you'll disappoint people!" I stopped sharing details with her after that. Outside of that one friend (we all have them!), you'll hear yourself discussing what you need to do. Question that voice. We didn't have much unsolicited advice for our wedding. My mom isn't here, and Brent's mom only offered advice when she was directly asked for it, and it was ALWAYS appreciated. Think about why you think you should xyz, or why you shouldn't. Many wedding rituals have roots in "women are property" ancient history, and since there wasn't a transfer of lady-for-goats, we kept questioning the things that we felt we needed, but didn't actually need.
11. Make In-Season Flowers Your Favorite Flowers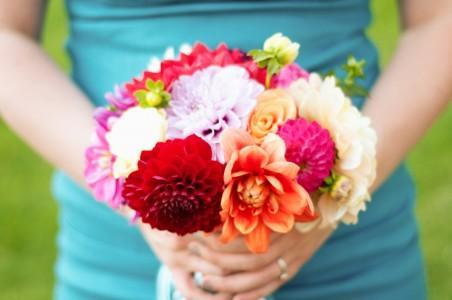 I had gorgeous flowers at my wedding, because I have an amazing friend who happens to LOVE flowers. She helped make our wedding beautiful, and she only charged us for the actual flowers. The bouquets were gorgeous and the centerpieces were outstanding. The best part? Because I wasn't particular, my friend had complete creative control, and chose flowers that were not only pretty, but in season, and therefore significantly less expensive than ordering orchids or something that we would have to special order.
12. The Park is Cheaper than the Ballroom
Actually, this one might not be true. I mean… we wanted to get married outside because we thought this would be true, but then we gave all our money to the rental company. So, it was probably not cheaper. But it CAN be. Just make sure you're comparing real costs when you think the park is cheaper. We rented chairs, tables, galvanized tubs for drinks, a podium, and who knows what all else.
13. Don't Fuss Over Favors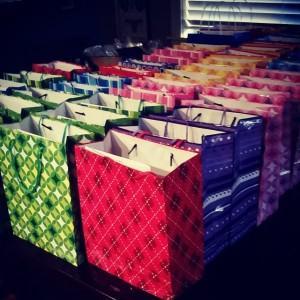 We delivered gift bags to out of town guests' hotel rooms. That was fun, and appreciated, but almost entirely unnecessary. Plus, I had a huge DIY fail, which ended up making the favors MORE expensive since I had to replace something that ended up in the trash. My same friend who did the flowers also wrapped approximately eight bajillion caramels, because she is a saint.
14. Shop Around for a Photographer
Here's a secret: you do not need to spend $5,000 on a photographer. No, really. Let's think about this in real terms: how many pictures do you need? Let's be really aggressive and say you absolutely need 75 pictures of your special day. At $5,000, that means you're paying $67 per image, which is completely absurd. Of course, you'll have more than 75 pictures, but you probably won't print more than 75. Heck, you probably won't even Facebook 75 wedding pictures. I used the same photographer my best friend used at her wedding: Megan Nefediew Photography, and her price was very reasonable. Not only that, the pictures are excellent (as you can see in this post)! So, shop around. Look on Craigslist (unless you live in Oregon, then just use Megan).
15. Wear Your Hair Down
I had a BLAST getting ready with my friends. None of us spend that much time getting ready on a daily basis (I mean, hello, I work from home, so I barely get dressed let alone get all gussied up!), but everyone came over to the hotel to get ready before we headed to the park. We had room service breakfast, I gave them their gifts (adorable robes with their names on them that they've probably not worn since but my how cute were the pictures!), and we got ready. I wore my hair down, with a lovely headband my bridesmaid gave me, and my sister did my makeup. We splurged on fantastic makeup, to be sure, but I know that with my hair down (and curly) I looked more like myself than I would have with a smooth updo. And I saved however many hundred dollars it would have cost to do my hair in a salon. On a Sunday.
16. Let Costco Do The Catering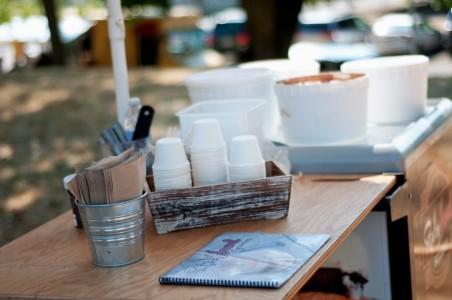 Two weeks before our wedding, we went to Costco. And by "went to Costco," I mean we really did our best to buy one of every single snack. It was one of the most fun parts of the planning stage! We bought approximately forty cases of water/sparkling water/lemonade/soda, eleventy different snacks, and… well, it was all too much. But it was cheap! Plus, we bought the single-serving size, which already came with its own packaging! So we didn't need plates/knifes/forks/whatever, and the food cart provided its own cutlery and plates. Easy, fun. Plus, my sister ended up with snacks for months!
17. Accept Help When It's Offered
When someone offers to help, find something for them to do. It's like when someone offers to help you move. You may not know when you need them, but you WILL need them. My best friend from childhood offered three times — what can I do? Let me help! I said, OK, please come early and make sure the place is set up! He cornered me after the wedding and said, "good thing you asked — you needed my help!" My mother-in-law also wanted to contribute. Excellent — you can have the rehearsal dinner!
18. Be Less Type-A Than Usual
It's the wrong shade of pink? Get over it. No one else will notice, and seriously? Your marital bliss has absolutely nothing to do with the right or wrong shade of pocket squares.
19. Don't Fall in Love With Letterpress
You know the way letterpress makes a 3D indentation? It's pretty, isn't it? But let me remind you: 99% of all your wedding stationery will absolutely end up in the trash. Best case scenario is that some of it gets recycled. So, please, save the cash. Don't spend any more than you need to on stationery. Here's what we did. We spent very little and got a bunch of compliments. Plus, it was easy — find it online,
20. Attempt to Stop Time
Oh, goodness. The day goes by so fast you guys! Even if you know that ahead of time… you don't. I was sad all day, but it was the kind of sad that I get at the beginning of what I know is going to be an amazing meal: I'm already sad it's going to be over before it even begins. I'm sad because I know I'm going to have the last bite, and it's going to happen soon. So I enjoy, or I try … really try … to enjoy the time that I get, but it still moves as if everything is on fast forward. Hold hands with your new spouse, so at least you get to have the same memories of the day. Laugh, hug, twirl the kids. Assume everyone is having an amazing time… because if you spend any time worrying or fussing? You're wasting the hours that go by like seconds. So enjoy. You worked a long time to get here. Now, eat! Drink! Enjoy the celebration of your union.
An event like this won't happen again. Or, it will, and unfortunately, you won't be around to enjoy it.