Top 20 Twitter Marketing Tips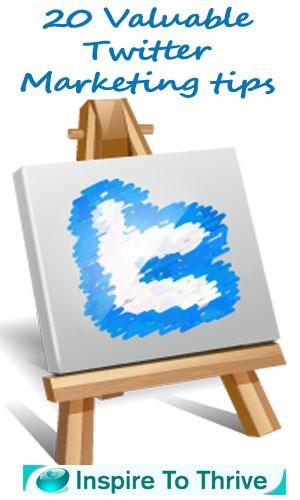 You may have heard some of these Twitter marketing tips before and others you may not be aware of. Twitter is a great marketing tool if used right. Too many people and businesses get on Twitter to tweet their own stuff. They look like billboards with ads each day in the Twitter feed.
Twitter is not about just tweeting your own marketing messages. Twitter marketing is much more than that. It's connecting with others and introducing yourself to new customers every day.
Twitter Marketing – Your Customers
You can learn more about your customers too via Twitter. See what they are tweeting about and learn how they are thinking. Learn what interests them.
You can then tweet about the things that your customers CARE about. They will want to connect with you and follow you. They will become your Twitter fans.
Be sure to respond to to any customers requests. If they are sending really offensive tweets try to respond very professionally and/or try to take it to direct messages or via email if necessary. Ignoring such tweets will not make them go away. Fast response is key on the Twitter network. It's expected!
You can turn those nasty tweets into thank you tweets if done correctly and quickly. You may remember my example tweet with Cox Communications back in 2013. Their response via Twitter was within minutes. I had another experience with Southwest Airlines last year too. It was quicker to get a Twitter response verses a phone call during a flight delay!
@Lisapatb Hi Lisa, I can assist you with your internet. What problems are you having? -Renee

— Cox Customer Care (@CoxHelp) December 7, 2013
Check out these 20 Twitter Marketing Tips!

Are you using Twitter via the 20 ways presented in this infographic above?
What other Twitter marketing tips would you add?
I'd love to know in the comments below

Top graphic via
Twitter Icons
.

Follow Me
Lisa
Lisa loves helping others to thrive online through Social Media, Blogging and SEO. What good is knowledge if you cannot share it with others?
She has 20+ years experience in marketing/advertising with 5 years experience blogging, social media and SEO. Get her new eBook Tweeting Like It's 2nd Nature Today!

Follow Me
Latest posts by Lisa
(see all)
20 Valuable Twitter Marketing Tips To Make You Awesome

- June 29, 2015

How Twitter Has Improved and Made Itself Simple

- June 9, 2015

More Twitter Followers – Are More Followers Proven Useful?

- June 1, 2015