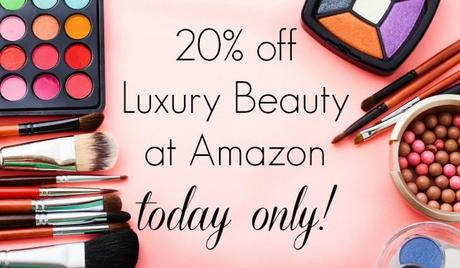 Today Amazon is having a special promotion and Wardrobe Oxygen is one of the few blogs out there able to share it! Today only and for a limited time, Wardrobe Oxygen readers can save 20% on any Amazon Luxury Beauty makeup item with promo code LUXBEAUTY20. Choose from best-selling products from Stila and Jane Iredale to new must-haves from LORAC, Essie, BUTTER London, and many more. Discount is on 1 eligible Luxury Beauty makeup item sold and shipped by Amazon.com (which means if you have Prime it's likely shipping free and quick to you!). Enter promo code LUXBEAUTY20 at checkout. Once per customer.
I got a preview (this post was written before 6am ET on a Monday!) and the brands and items available are pretty fabulous. My picks:
theBalm - Meet Matt(e) Nude Eyeshadow Palette - Want creamy, non-sparkly shadows in realistic colors? This palette's for you. Lots of positive reviews from 40+ ladies and I can attest to the fact that theBalm makes amazing products. Woman owned, witty packaging, paraben free, and cruelty free, it's a pretty nice cosmetics company.
Perricone MD No Eyeshadow Eyeshadow - I keep hearing rave reviews for this. I currently have MAC's Paint Pot in Camel Coat but when it runs out I plan to try this next. It's not a foundation, it's not an eyeshadow, it's just a product to make your eyes look less red, less veiny, makes them less irritated, brighter and more youthful. Sounds impossible? Read the positive reviews on Amazon and everywhere else. I may put this on my Christmas list!
Perricone MD has a bunch of these "no makeup makeup" products, and they all get rave reviews. I know many of you like the no makeup makeup look, or desire a way to look more polished without makeup. Check out the reviews for the No Blush Blush, No Foundation Foundation Serum, and No Concealer Concealer and if you get this, report back and let me know if it's worth the hype.
Stila Smudge Pot - This is a cult favorite for those who love a smoky eye as well as those who desire a crisp precision line with their liner. With almost 100 reviews just on Amazon you can get a feel if this is the right eye product for you!
Stila Stay All Day Foundation, Concealer & Brush Kit - I have many a friend who swears by this foundation for looking natural but staying put. It's a favorite for brides and those who find most foundations to slip and fade. This kit is a great value and gives you everything you need for a flawless face.
JINsoon Nail Lacquer in Crush - JINsoon nailcolor is 5-free: no formaldehyde, toluene, dbp, formaldehyde resin, or camphor and it's vegan. This warm red is iconic and could become your signature shade year-round!
LORAC PRO Mascara - This has been in my virtual shopping cart for months. When I run out of what I currently have I plan to buy it because I keep hearing folks rave about it. With this promo, it may be time to pull the trigger...
Julep Get In Line Invisible Lip Liner - We were just discussing clear lip liners in a recent post! This one I've heard about but have yet to use. From friends I've heard nothing but raves for it, and with this promo it's a nice price.
However, that's not all that is good and part of this promotion; this link takes you to all the eligible products. Let me know if you take advantage of this promotion and what you get. And be sure to come back and give a review!