So here's the dilemma: we all want to eat healthy, but sometimes it's just impossible to cook food at home every day. This could be because:
You're in college or grad school and you don't have a kitchen to cook in, and you either have no fridge or a very tiny fridge
You're a busy professional, your fridge is empty and you use your oven for storage
You always find yourself on the go: you're traveling on planes often or just never at home
You just don't like to cook, but you still want to eat healthy
You have kids and a full time job, but still want to give your family healthy options
I have been in most of these situations in the past! When I was in college, I never cooked and it was really hard for me to figure out which snacks were the healthiest to eat. And when I traveled as a consultant post-college, I was always on the go and didn't want to survive on airplane or airport food all the time. And I'm sure when I have kids, I'll be much too busy to cook every meal, every day.
For all of you who are in similar situations, here is a list of my top 20 healthy snacks (many of which are portable and packaged, but still all-natural and preservative free). I've divided them into two groups: the all-naturals, and the packaged-food-stars. Hope you enjoy these ideas for smart snacking!
The All-Naturals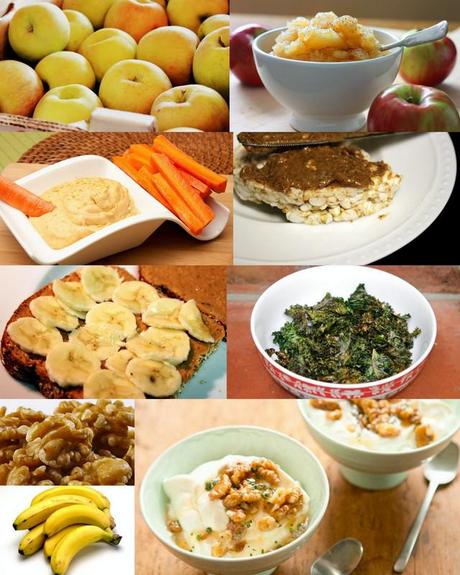 1 & 2. Apples and Bananas
– these are both super portable fruits, don't perish easily, and have 80-100 calories and 3-5g fiber each (3g for bananas, 4-5g for apples)
3. Applesauce
– another great way to get your daily serving of fruit in a non-perishable way. Just be sure to get the unsweetened
apple
sauce with no additional sugar added
4. Carrot Sticks and Hummus
 - fiber from the carrots + protein from the hummus, and as long as you don't go overboard with the hummus you can keep this to around 100-150 calories
5. Kale Chips
 - probably one of the healthiest snacks out there, and if you don't want to make your own, Kaia Foods has great all-natural packaged options
6. Rice Cakes with Almond Butter –
try brown rice cakes, they have 2g fiber and 60 calories per cake, with 1 Tbsp almond butter that's a 160 calorie snack!
7. 0% Greek Yogurt topped with honey and nuts or cereal
 - one container of greek yogurt is 80-90 calories and has 14g protein. Add 1 Tbsp honey and a handful of cereal or nuts, and you're looking at a 200-250 calorie nutrition packed snack.
8. Nuts!
1/4 cup of nuts has about 140 calories and is a good source of fiber and protein. Walnuts are my favorite.
9. Sprouted Wheat bread with 1 Tbsp almond butter and sliced bananas (optional) –
About a 250 calorie snack depending on whether you add banana or not. And it's a healthy twist on the old pb&j!Now, on to
The Packaged-Food-Stars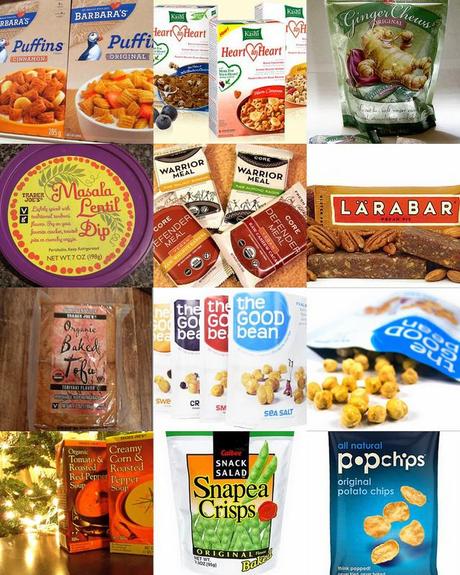 10 & 11. Original Puffins and Kashi Heart to Heart –
two of my favorite cereals; 3/4 cup of each gives you a 120 calorie snack with 5-6g fiber and only 5-6g sugar
12. Shelf Stable Soups
 - a great way to get your serving of vegetables, and they last FOREVER unopened. Once you open them, you just need to use them within 10 days which is totally doable, and they are delicious. My favorites are the ones from Trader Joe's: Tomato and Roasted Red Pepper, Carrot Ginger, and Butternut Squash
13. Snapea Crisps –
22 pieces are only 150 calories, and provide 5g protein and 2g fiber
14. PopChips
 - A great substitute for potato chips, with half the fat and only 120 calories for 23 chips
15. The Good Bean Chickpea Snacks –
These chickpeas pack a nutritional punch! 1/2 a package has only 140 calories, but provides 6g fiber and 7g protein. And they are delicious!
16. Baked Tofu from Trader Joe's –
The teriyaki flavor is my favorite, and this tofu has a great texture and can be eaten straight out of the package.
17 & 18. Lara Bars and CORE Foods Bars
 - Both of these protein bars are made with all natural ingredients, are extremely delicious and low in added sugars. Lara bars make a great snack or dessert substitute, while CORE Foods act more like a meal replacement (they keep you full for 4 hours, have 350-390 calories, 6-8g fiber and up to 18g protein).
19. Masala Lentil Dip from Trader Joe's –
A good substitute for hummus if you want to change things up. Eat it with 1 whole wheat pita for a 200 calorie snack.
20. Ginger Chews
 - A great substitute for sugary candy, 2 pieces will run you only 40 calories and have only 5g sugar each.