If you have two weeks and a sense of adventure, Egypt might be the perfect destination. Despite its 5000-year-old history, you can still see the major landmarks in 10 to 14 days.
We should know. This is the itinerary we followed ourselves.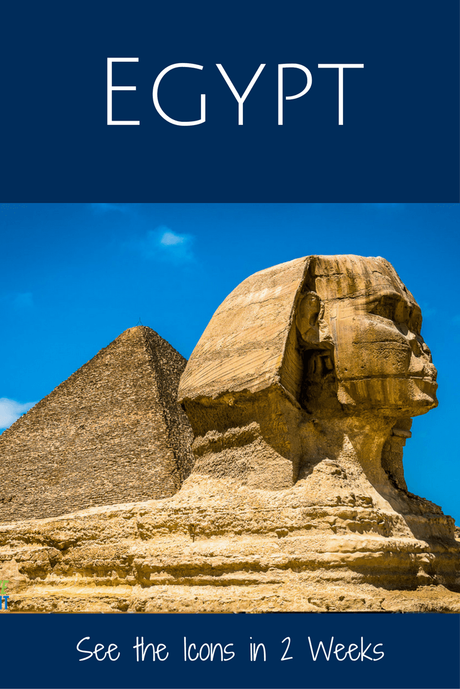 Sure, but is Egypt safe?
Anyone who watches the news knows that the Middle East is a hot spot. In the case of Egypt, any travel warnings are for the most remote parts of the country (such as the Libyan border and north Sinai, and who wants to go there anyway?). Even so, tourism has plummeted nationwide and devastated local economies.
What does this mean for you? With tourists seeking alternate destinations, many of the country's hotels and sites are left nearly empty. Prices have dropped, resulting in an inexpensive and less crowded experience.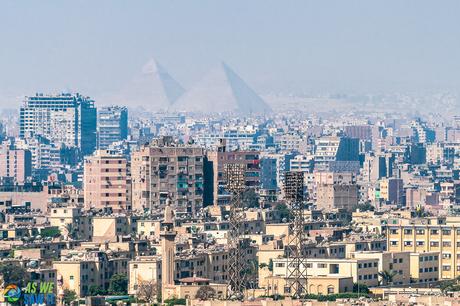 We're the last people to suggest you should take your personal safety lightly. It just means that you need to dig beneath the surface of headlines and hype. Do your own research, talk to any Egyptians you know, and remember that the real-life situation isn't necessarily what the media might be saying.
This is where it pays to hire a guide or take a tour, private or otherwise. That's what we did. Tour companies keep up-to-date on political unrest and take their clients' safety very seriously.
From our experience, there are additional advantages to booking a tour or hiring a guide:
They make most or all of the arrangements, saving you time and streamlining the experience.
They can help you understand the culture.
They can warn you about health risks (and remind you not to eat the salad)
They can "run interference" for you if you're being hassled for baksheesh (we hated that about Egypt)
They speak the local dialect (our guide negotiated a great price, then saved me from being taken advantage of at the Cairo bazaar)
Best of all, many tour guides are certified Egyptologists. That's a good thing, because you would miss out on a lot if you don't understand what you're looking at.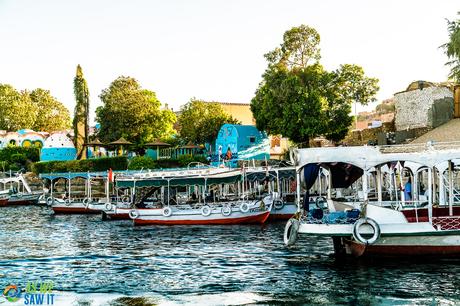 What's on the 2 week Egypt itinerary?
As usual, we created our itinerary with World Heritage Sites in mind. We've visited them all over the world and never been disappointed with the sights. Egypt has 7 UNESCO sites, 6 cultural and 1 natural:
Historic Cairo
Memphis and its Necropolis - the Pyramid Fields from Giza to Dahshur
Wadi Al-Hitan (Whale Valley)
Ancient Thebes with its Necropolis
Nubian Monuments from Abu Simbel to Philae
Abu Mena
Saint Catherine Area
This itinerary visits all but the last two. We wanted to visit Abu Mena Monastery but couldn't. Even though it's between Cairo and Alexandria, the early Christian holy city is closed to the public.
Saint Catherine's Monastery is a 5-hour drive from Cairo, down near Sharm El-Sheikh at the tip of the Sinai peninsula. If either one is on your must-see list (diving, anyone?), an excursion is easy to arrange.
That's why we left wiggle room in this itinerary: Everyone's different. You need time for things like that.
Some places are perfect for the independent traveler. And some, well, aren't.
Yeah, that's what someone once said, and we tend to agree.
That's not to say you can't see Egypt on your own. You can, of course, but Egypt is a bit chaotic and hard to deal with on your own. As I mentioned earlier, it's good to have an Egyptian insider who "knows the ropes," someone who will help you use your limited time well, run interference with opportunistic locals and help you deal with the crazy baksheesh culture. Plus, if he's an Egyptologist, he can point you to the most interesting things at a site.
On the other hand, the problem with guided bus tours and such is that they can suck all the fun from a trip. They have to stay on schedule as they schep your tour group from place to place and try to keep everyone happy. Your preferences aren't a priority. Worse, you're part of a herd. How can you fully appreciate a place if you are never alone with it?
The happy medium is a private guided tour, one that will focus on what you want, rather than what "most people" like to see. When it's a once-in-a-lifetime trip, we think the precious memories the come with a customized plan and travel schedule are worth the extra expense.
If your budget says otherwise, don't let price stop you from enjoying Egypt. I'm including individual tours from Get Your Guide in this itinerary as another option. I hope it helps. If so, please book using the affilate links, because any referral fees we earn will help us pay to keep this blog running. (It's not cheap.) 🙂
Tip: If you want to avoid the crowds and can tolerate heat, we strongly recommend going in May or early June. It's your best chance of seeing the monuments without hordes of other tourists.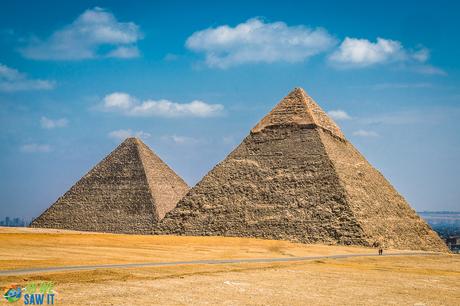 Day 1: Welcome to Egypt
If you're like most people, your international flight will land in Cairo. Cairo is an overwhelming, crazy city, so I recommend making your way to your hotel and relaxing for a while. Allow yourself time to adjust to the heat, dusty air and loud street noise.
We used a tour company, so our tour manager met us at Cairo International Airport to escort us to the hotel in an air-conditioned deluxe vehicle. After we had checked in at the hotel, he reviewed our itinerary with us. It was good to confirm pick-up times for each tour.
Overnight in Cairo.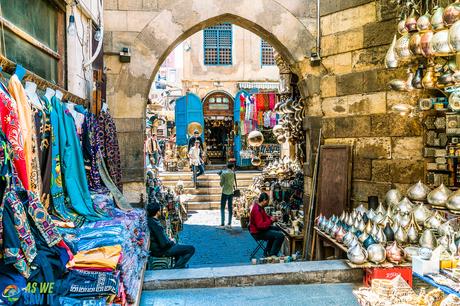 Day 2: Memphis and its Necropolis - Saqqara - the Pyramids of Giza
Morning: Begin your day at Giza, before the crowds and haze descend on the site. Play with perspective by posing with the three enchanting pyramids of Cheops, Khafre. Then head to the nearby Great Sphinx. The iconic head of a pharaoh with a lion's body dates back to the time of Khafre. Also be sure to see the Valley Temple which is connected to the Pyramid of Khafre. (He was a busy king.)
Try walking all the way around the base or climbing the steps. It will give you a clear sense of a pyramid's massive size.
Afternoon: Memphis, the ancient capital of Old Egypt during the Old Kingdom, was founded by King Menes. Then the Step Pyramid at Saqqara, which was designed for King Djoser by his chancellor, Imhotep. Imhotep was one of only a few commoners ever to be accorded divine status after death.
He had an impressive list of credentials: Chancellor of the King of Egypt, Doctor, First in line after the King of Upper Egypt, Administrator of the Great Palace, Hereditary nobleman, High Priest of Heliopolis, Builder, Chief Carpenter, Chief Sculptor, and Maker of Vases in Chief.
Overnight in Cairo.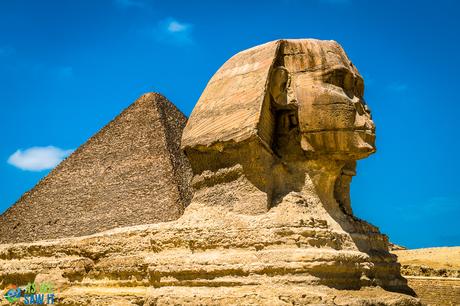 Day 3: Day tour to El Fayoum (Valley of the Whales)
Morning: After all the big-city chaos, it's time to enjoy a little of Egypt's natural side by visiting Wadi Rayyan (Wadi al-Rayan), a protected area in Egypt's harsh and deserted Western Desert. (Day trips here.) This 100 km drive will help you understand more about Egyptian mythology. The western lands were where the sun god Ra went to die each day. The pharoahs were buried on the western side of the Nile, too. It's all connected.
The first stop is also its best known: Wadi Al-Hitan (Valley of the Whales). This UNESCO site holds hundreds of whale skeletons as well as dramatic rock formations that challenge the imagination. Scientists say the desert had been an ocean at one time; perhaps the whales were marooned there as the waters receded from the Great Flood.
Afternoon: After lunch, climb Mudawara Mountain for a spectacular view. The two gigantic freshwater lakes you'll see are connected by Egypt's only waterfalls. After a day of desert heat, Wadi El Rayan Waterfalls will be a refreshing final stop before returning to the city.
Overnight in Cairo.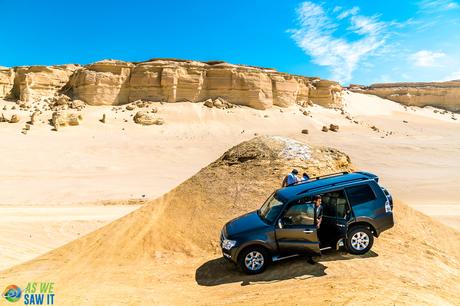 Day 4: Cairo sightseeing tour
Morning: Historic Cairo is a UNESCO site as well. Even if you're not a museum fan, we suggest you begin your Cairo tour with the Egyptian Museum. This is where you can see the famous Tutankhamun treasures, as well as over 120,000 other fascinating artifacts.
Afterward, visit Salah El Din Citadel which was constructed by Salah El Din (Saladin) in 1183 AD to defend Cairo from the onslaught of invading Christian Crusaders. Then visit Mohamed Ali Alabaster Mosque, named for the man who ruled Egypt over 45 years (1805-1849).
To see King Tut's treasures among the fewest crowds, arrive at 9 AM, when the museum opens, and head straight to that hall.
Afternoon: Visit Old Cairo to enjoy the Hanging Church, Ben Ezra Synagogue and a few other sites. Spend some time at Khan El Khalili Bazaar, one of the most famous and oldest bazaars in the Middle East.
Overnight in Cairo.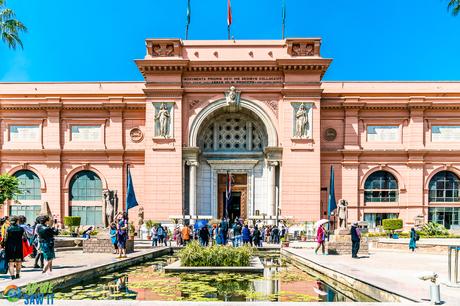 Day 5: Day tour to Alexandria
Morning: Another escape from crazy, hazy Cairo, on an amazing day trip to Alexandria. First stop: Pompey's Pillar, built in honor of the Emperor Diocletian at the end of the 4th century. Then drive to visit the Catacombs which are the largest Roman Cemetery consisting of three levels cut in the rock.
Afternoon: See the Qaitbay Citadel which was built on the site of the ancient Pharos of Alexandria, using some of its stones. The Pharos was one of the seven wonders of the ancient world. Next to Bibliotheca Alexandrina, a major library and cultural center built to commemorate the famous Library of Alexandria, lost to a fire in antiquity.
Overnight in Cairo.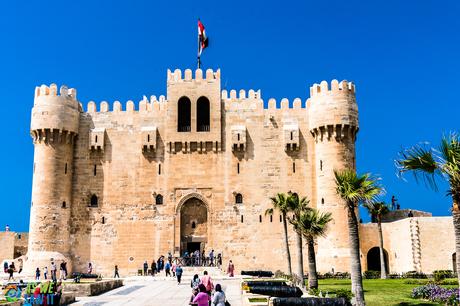 Day 6: Fly Cairo to Luxor - cruise ship check-in - Karnak - Luxor Temple
Even if you're on a budget, don't discount those multi-day Nile river cruises. Thanks to the drop in tourism, prices are an unbelievable deal right now. Our cruise ship was running at only about 30% capacity, although we couldn't tell from the abundant food offerings!
Morning: Fly from Cairo to Luxor (choose 07:20-08:30 or 10:45-11:55 am). We took the earlier flight so we could check in early and explore the ship at our leisure and walk around Luxor's riverfront, known as the corniche.
Planning tip: Due to the Nile's strong flow, cruise itineraries run for 4 Days - Aswan to Luxor and 5 Days - Luxor to Aswan.
Afternoon: The ancient Egyptians knew Luxor as Thebes. The East Bank of the River Nile is home of Ancient Thebes with its Necropolis, a UNESCO site. This is where Pharaonic history begins to come to life, as you tour Karnak Temple (the biggest temple in the world), Sphinx Avenue, and Luxor Temple.
Evening: After dinner, take an evening stroll on the corniche, or enjoy the Karnak at Night light show.
Overnight in Luxor.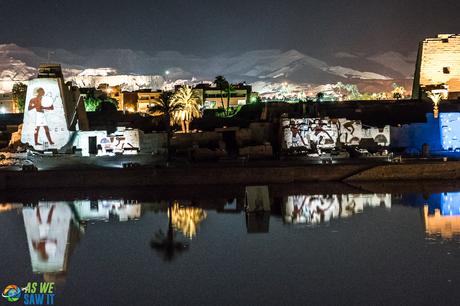 Day 7: Luxor - Nile sightseeing
Morning: Visit the ancient tombs and temples of Luxor's West Bank: the Valley of the Kings, Hatshepsut Temple at El Deir El Bahari, and the Colossi of Memnon. (Valley of the Queens is also on the West Bank, but it's not always included in the itinerary due to distance.)
Consider booking a hot air balloon ride over Luxor. It's a memorable experience and you will return to the ship before breakfast.
Afternoon: Enjoy the passing Egyptian landscape as you cruise toward Edfu. In the afternoon, visit the sun deck and watch as the ship passes through the Nile Lock at Esna, the largest lock in the world.
Overnight in Edfu.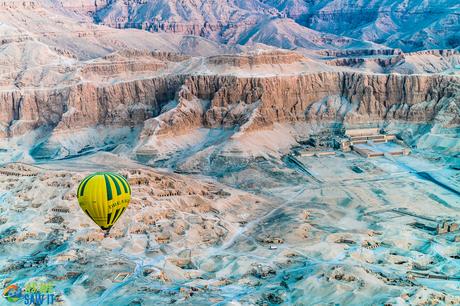 Day 8: Temple of Edfu - Temple of Kom Ombo
Morning: Horus Temple at Edfu.
Afternoon: Sail to Kom Ombo to visit an unusual double temple, dedicated to Sobek the crocodile god, and the falcon god Haroeris (Horus the Elder). Then, stop in at the Crocodile Museum to see a few of the 300 crocodile mummies discovered nearby. Return to the ship for dinner and sail on to Aswan.
Overnight in Aswan.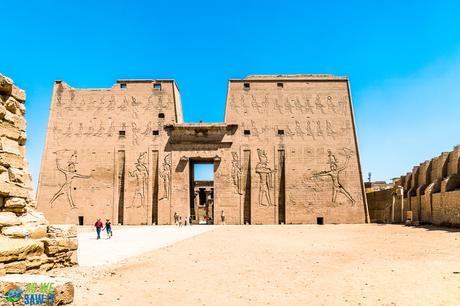 Day 9: Aswan High Dam - Unfinished Obelisk - Philae Temple - Nubian Village
Morning: Pay a visit to the Aswan High Dam, built in the 1960s to control Nile flooding. Then continue to one of ancient Egypt's stone quarries to see the immense Unfinished Obelisk, and finish the morning at the majestic Philae Temple.
Afternoon: Take a trip upriver past the Nile's first cataract, and cool off with a dip in the Nile waters. Then continue on to visit a local Nubian village. Meet a traditional Nubian family, learn about their lifestyle and culture and gain insight into the traditions the Nubians have followed for thousands of years.
Overnight in Aswan.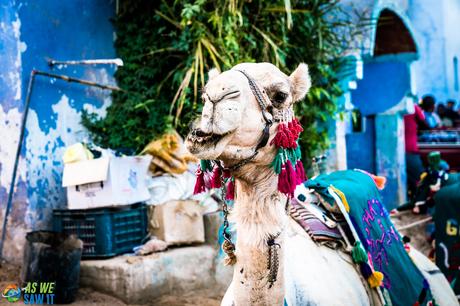 Day 10: Disembark - Abu Simbel - afternoon in Aswan
Morning: Disembark early and drive to Abu Simbel, one of the most impressive UNESCO sites in Egypt.
Afternoon: Return to Aswan. Visit Elephantine Island, take a day tour to Dendara and Abydos temples, or enjoy Aswan Botanic Garden.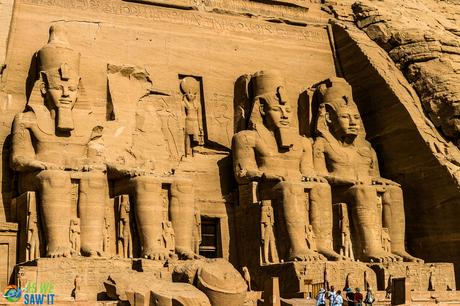 Day 11: Fly Aswan to Cairo
Morning: Return to Cairo.
Afternoon: Take a half-day tour, enjoy the city on your own, or pack for tomorrow's flight.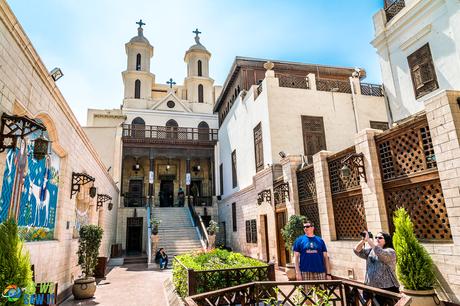 Days 12-14: Here's where your own fun begins!
These are flexi-days for your own plans. Maybe you'd like to spend a bit of time diving in the Red Sea at Hurghada, visit the Egyptian Mount Sinai, or see more Egyptian temples, like Dendara.
We'd love to know what you plan - share it in the comments!
Inspired?
Where we stayed:
Find these books on Amazon: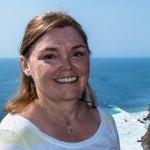 Written by Linda
Linda is multilingual and has been to over 50 countries She has an insatiable love of travel, cuisine, and foreign languages. Her goal is to make travel easier for others and to offer a brief escape to another land.
You may also like...