Most of the Holiday Indie Gifts are still available, so check those out too!
Gift a friend a Social Media Workshop
Starting this Saturday, I'll run interactive workshops who main aim is to to expand your audiences beyond family & friends.
Prices start at $40 and i's a great gift for the friend who needs some help but can't afford a publicist.
Gift a Memory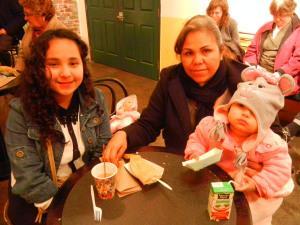 24th ST Theatre has a phenomenal play running right now. Reviews are raving, but even more importantly, all ages connect with the story and enjoy the show together.
WALKING THE TIGHTROPE by Mike Kenny
SATURDAYS 2 & 7:30pm. NOW-MAR30
This magical play celebrates the special bond shared by grandparents and grandchildren. (Ages 6+) Purchase tickets here. More info at http://www.24thstreet.org/now-playing/
Martha Correa
My kids have learned to love the arts through programs like these. Appealing to our Latino communities thanks for introducing always something new.
Alejandra Sinay
Thank you for putting on yet another great production. My son and I are still discussing the plot lines and deeper meanings. 
Paul Vroom, Actor
My inner child and I both thank you for a wonderful production. I hope you pack the remaining houses!
Tickets range from $10-15. Use code UMBRELLA at Checkout for $2 discount.
Family 4-pack of tickets available for just $20 through Living Social.