Politicians contesting from 2 seats are known ~ have you heard of 2 (or multi) seat constituencies ….. ?
'spreading of risks' is one the basic tenets of insurance … 'wise men will not put all eggs in one basket' – and successful Insurers will have spread of risk, geographically and portfolio-wise.  Diversification is an essential part of building your investment portfolio too ~ in adverse market conditions, diversified portfolio may keep you in good stead.   Away in the World of gambling, 'spread-betting' is a type of wagering where the pay-off is based on the accuracy of the wager, rather than a simple "win or lose" outcome…..
To some the political equivalent of spread betting, vying from two constituencies ~ even seasoned politicians do that in India…. Congress party president Sonia Gandhi and Uttar Pradesh Chief Minister Akhilesh Yadav have both done so in the past and in the upcoming election starting April 7, Rahul Gandhi, has hinted that he may contest from a constituency in South India as well as his current seat of Amethi, according to a local media report. Under section 33 of the Representation of People Act, 1951, a person is allowed to contest polls, whether a general election, more than one by-elections or biennial elections, from a maximum of two seats. Before this law, candidates could run in any number of constituencies. If by chance, they happen to win both the seats – they keep one and resign the others – thus in someway neglecting the people who voted for them.  
Chidambaram in Cuddalore district is known for the temple. The town is believed to be of significant antiquity and has been ruled, at different times, by the Cholas, Pandyas, Vijayanagar Empire, Marathas and the British. The town is known for the Thillai Nataraja Temple.  This is seat of Srivaishnavism also for it houses the Govindaraja Perumal Templeand is called Thillai Thiruchithirakoodam.   
Chidambaram is a Lok Sabha constituency
– presently a reserved one.. it has undergone some change due to delimitation  and now comprises of : Kunnam; Bhuvanagiri; Kattumannarkoil (SC); Chidambaram; Ariyalur & Jayamkondam assembly constituencies.  Tamilnadu is to witness multi-cornered contests …… one one side the Saffron party claims a huge Na Mo wave and seeks to have some representation from Tamil Nadu, which is denied by Congress politicians…….. and there are also reports that Senior Congress leaders have decided not to contest Lok Sabha elections. Newspaper reports  quoting Congress headquarters in Delhi say Finance Minister P. Chidambaram, Shipping Minister GK Vasan, former minister Jayanthi Natarajan, EVKS Elangovan and former TNCC chief KV Thangabalu do not want to contest the polls. Chidambaram instead wants to take the Rajya Sabha route and wants the Sivaganga seat allotted to his son, Karthi.
In an interesting 'misreporting'  Economic Times on 6th March 2014  made a howler stating

'DMK allots P Chidambaram constituency to VCK'

…… the report on its caption mentioned it as 'P Chidambaram constituency"…. It read the DMK inked a seat sharing agreement with Dalit party VCK allotting it Tamil Nadu's Chidambaram constituency for the general elections. ….. after many persons pointed out that 'Chidambaram' is a place and P Chidamabaram, the finance Minister actually is from Sivaganga, it was corrected …. Now the report stands amended : http://economictimes.indiatimes.com/news/politics-and-nation/dmk-allots-p-chidambaram-constituency-to-vck/articleshow/31553998.cms... incidentally, the tag to the post still puts it as : 'Insurability' … what is the connection to Insurance here ??.... here is a screenshot of its page – see the comments made there…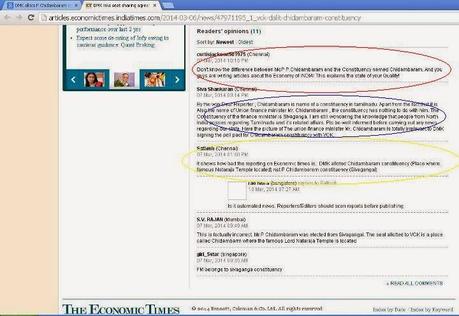 Here is the result of 1957 Parliamentary election of Chidambaram constituency :
1 . R. Kanagasabai Pillai (INC) 176501 23.21%
2 . Elaya Perumal (INC)  INC 175589 23.09%
3 . Arumugham (ind)  118491 15.58%
4 .
Dandapani Padayachi (ind) 109521 14.40%
.......... and 4 more….. both Kanagasabai & Elaya Perumal were declared elected and represented Chidambaram constituency… strange, one may feel now !!!!.............................  the second general elections, which were conducted for 494 seats in 403 constituencies, represented 13 Indian states and 4 union territories. At that time, there were 312 one-seat, and 91 two-seat and no three-seat constituency. The multi-seat constituencies were discontinued since the third general elections in 1962.

With regards – S. Sampathkumar.


14th Mar 2014.