There is almost certainly some place in the world that contains the essence of your story, somewhere that makes you pause for a moment when you run your fingers over a map.
Perhaps a crucial chapter of your life was written in a particular house, maybe a definitive kiss was stolen under a singular, flickering lamp post.  The essence of your story may be a river into which you fell, which changed the way you breathe forever. It could be a restaurant where you struck up a crucial business partnership over Ouzo, or a mountain top where you gleaned a life-changing insight. In this age of travel, there is nearly always somewhere other than home that carves some indelible mark on us. For me, that place is Italy.
The first time I ventured into The Boot was with my then 5-year-old daughter and my boyfriend. We slipped in, unnoticed, from France, the showy claustrophobia of Monaco giving way to the rugged green of Liguria. We took the autostrada south, through severe tunnels gouged into ancient rock. High viaducts offered glimpses of a distant Mediterranean so enticingly blue it set off an indescribable yearning within us.
We dropped down to the crazy coastal road and found our canary yellow car rental outrun by mint green scooters, braiding through the traffic like metallic wasps. We reached Chiavari, a busy seaside town where we met up with friends of ours, one of whom grew up in the area. They drove us to a restaurant in the mountains which offered dramatic views of the surrounding hills which were wrinkled and warm, deep crevices unfolding into an abundance of flowers and green. Glasshouses sparkled in the sun and vines spindled upwards towards the light. We ate the best meal of our lives on that mountainside. A fresh tomato melted in my mouth, extra virgin olive oil dripped down my chin.  The restaurant owner was dismayed when my daughter asked for butter, "Cosi inglese!".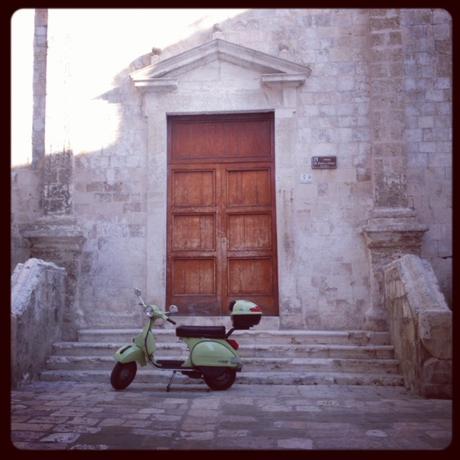 Later that night, hazy with wine and laughter, our friends took us to Sestri Levante and made us close our eyes while they lead us somewhere by the hand. When we opened our eyes, we were standing in a crescent moon of sand, the Baia del Silenzio – the Bay of Silence. Lights danced on the black waters that lap the shoreline. A few boats tinkled and rolled, tugging at their moorings like impatient puppies. The bay curved around us like a mother's arm and we were bewitched. Our friends call this place Mermaid Bay as it is where wishes come true and the air sparks with enchantment. On cue, my 5 year old (who couldn't believe she was up so late and still warm in her cotton dress) looked down and found an abandoned bucket and spade at her feet. She squealed in delight at the magic of it and rushed to the shoreline to build night castles for mermaids.
A few days later, we went back to the Bay of Silence alone to watch the full moon crescendo over the mountains. My daughter paddled in the magical waters while my boyfriend and I leant up against a beached rowing boat watching her. The moon took an hour to fully ascend and was joined by a carnival of twinkling stars.  As we sat on the damp sand, my boyfriend asked me to marry him. I said, "Yes" and the ragged magic and romance of Italy was etched into my heart for eternity.
We married a year later and over time, life happened to my husband, my daughter and I. Back in England, we lost jobs, and began new ones.  My daughter, then 12, was quarantined in China during the Swine Flu scare, and I could not get to her for days. I miscarried a baby, before giving birth to another daughter. My father died suddenly, two weeks before my 40th birthday and my husband had to spend large chunks of time working abroad while I was adrift on a sea of grief.  My 'baby weight' just stuck around and became, well, just weight. The joy and exhaustion of parenthood and a thousand tiny things wore us down and we worried. A lot. An aching nostalgia for a different time and place set in.
We needed Italy.
>>>>>>>>>>>>
Rome in August shimmers in a fug of dust and heat. As my husband and I walk through the Villa Borghese, the grass is straw-like beneath our feet. The sun pummels our shoulders and a trickle of sweat makes its way down my back. We take in the view and spy St Peter's Basilica, its rooftop shining like a dull coin as we contemplate the power and weight of it. There is something available about Rome, not in a whorish way, but in a simple, inclusive way. 'Here is my food',  it seems to say, 'Here is my weather, this is my history.' But it feels like so many secrets lie in the Vatican City.
My husband is bolder in Italy and in Rome, he is alive. We walk hand-in-hand with no smaller hand between our own. We take adult-sized strides up the Spanish Steps and stroll briskly along the banks of the liverishly yellow and rumbling Tiber without stopping to study every piece of gum and cigarette butt on the pavement. We hop on and off buses with destinations we don't know, we get drunk in the 30 degree evening air. And we kiss like lovers do. We fall into the cool shade of Pantheon and are haunted by the Colosseum where the floor is cut away to reveal the labyrinth beneath where slaves once paced the hours before being catapulted above to face their nemeses. The terror and intensity of the past is embedded in the walls of the Colosseum the way sheets soak up sweat. Blood and sand, pain, death and power, they're all here, embedded in the brickwork as ink sinks into skin.
When I look for the women of Rome, I find them in its ghosts. There is Lady Olimpia Maidalchini-Pamphili whose angry phantom crashes a black carriage over the Ponte Sisto towards the Trastevere. The restless spirit of Beatrice Cenci, beheaded for murdering her violent father in the 1600's wanders the Castel Sant'Angelo with her head under her arm. The beautiful hand of Costanza de Cupis haunts a window of her palace in Via dell'Anima. The lustful ghost of Emperor Claudius's wife, Messalina, roams the Piazza Navona pinching the bottoms of young men, while Emperor Titus's lover Berenice avenges her execution for witchcraft by refusing to leave Portico di Ottavia.  The women are phantom witches, vengeful and sad, caught in loops of their own searching. They remind me of how very easy it is for a woman to become invisible; through motherhood, through the careless privilege of men, through histories which do not honor her, through middle-age. And by their persistence, the ghosts remind me of how very real I am.
The more time we spend in Rome, the more we fall in love with the idea it conjures for us of both the ferociousness and grandeur of age. It is a city that counters the frivolity of youthful perfection with the fierce beauty of its decaying monuments. Suddenly I am a Colosseum, a Gorgon head, and all the Venuses in the world cannot reach the depths of me. Rome shows me that we are at once both beautiful and ancient, sculptors of our own histories, twisting and rumbling through the years, changeable as the Tiber.
In Rome we relearn how to mark our course without the boundaries of a map or the constraints of a watch. We fall in love with our beguiling new world of cracks and things breaking. As we step through the doors to board the plane home, a new chapter begins and we decide there will be grandeur and grace as our marriage matures, not decay and sorrow; we will be a God damn fine wine.