On Saturday I took part in a photo challenge called 1day12pics, which was devised by Emma and Michelle.  The idea is to take 1 picture every hour for twelve hours and each month they will nominate a day for everyone to get involved either on Social Media or by blogging about it.  So, this month the date was set for Saturday 7th June and it was rather handy that I had a day out at the very lovely Anglesey Abbey in Cambridge planned with my mum, aunts, gran and cousin- much more interesting pics than me being at home!
I shared my pictures on Twitter as and when I took them, although as usual my phone battery ran out, so I didn't post them all at the right time, but I did take 12 pictures.  So here they are: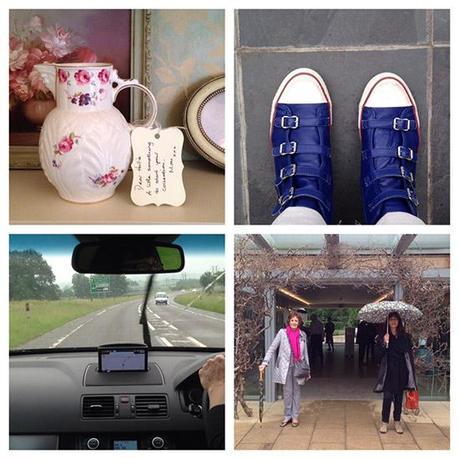 From left to right:
1/ A little vignette from my bedroom shelf with the vintage jug that my mom gave to me as my very first piece in my vintage china collection.
2/ Ready to go in my new kicks!
3/ Driving to Cambridge in the pouring rain.
4/ Arrived at Anglesey Abbey- a shot of my mom and gran outside.  The entrance was adorned with a stunning display of contorted hazel (at least that's what we think it was!).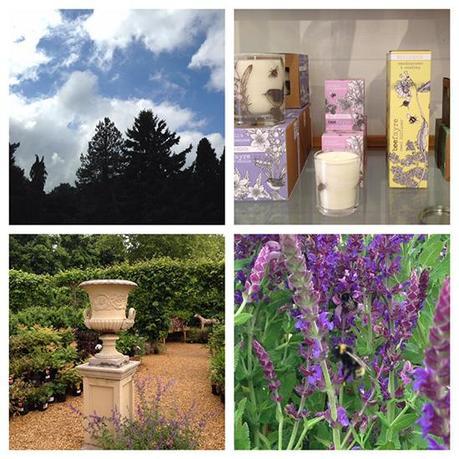 5/ Finally it stopped raining and the sun came out!
6/ You can always rely on a National Trust shop to have lots of lovely things and we spotted our good friends at Beefayre on the shelves.
7/ I rather liked this huge urn for sale in the garden shop.
8/ Lots of lovely bees in and amongst the salvia.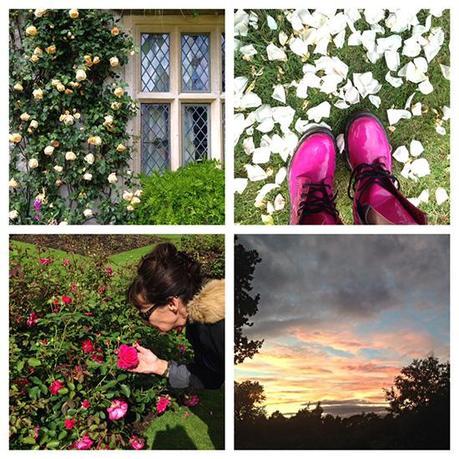 9/ Last time we visited Anglesey Abbey, the roses weren't out yet, and I'm so glad we went later in the year this time, because the rose garden was just absolutely stunning.
10/ My cousins crazy pink boots amongst a bed of rose petals.
11/ My mom smelling yet more of the beautiful roses.
12/ I went for a walk on Saturday evening and was lucky enough to spot this gorgeous sunset.
If you're looking for a day out and Cambridge isn't too far from you then I would definitely recommend Anglesey Abbey, there's a fantastic café with lots of choice and very lovely lunches, as well as a rather large and delicious selection of cakes (speaking from experience, of course!).  The gardens are beautiful and the house, as you would expect is lovely too, although we didn't go in this time.
If you would like to join in with #1day12pics then head over to either Emma or Michelle's blogs for more info.  Hope to see you there next month!
Hollie x
#1day12pics: Anglesey Abbey by Hollie Brooks