Halloween is right around the corner, and we have just the thing for you to accessorize fashionably whether at work or play. And guess what? They're all timeless pieces that can be put to use both in and out of season. Check out our staff picks for the month of October, which involve golden spiders and all things jet metal!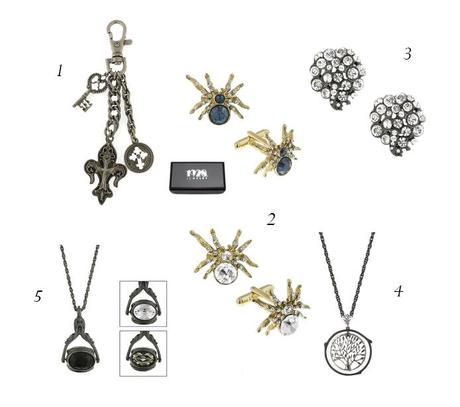 October Style
1.) Black Angel Key Holder – Looking like it's been stolen from a pirate's treasure chest, this sturdy and edgy charcoal key holder features an artistic fleur de lis cross flanked by a smaller cross and key charm.
2.) Spider Cuff Links – These creepy, crawly cuff links are embedded with crystals and golden elegance making it a fun and luxurious gift for your man. Comes in a matte 1928 Jewelry gift box.
3.) Black Label Crystal Cluster Earrings – A gorgeous pair of crystal cluster earrings with a jet metal backdrop. Chic? Most definitely.
4.) Tree Pendant Necklace – This large pendant necklace drops 26 inches from your neck and makes a stylish casual statement with a white flowy top and jeans. A mix of edgy and boho.
5.) 3-Sided Spinner Necklace – Victorian inspired, this unique necklace features 3 faceted crystals for each side. The perfect necklace for dressing up or down.