In a down economy, the only UP turned out to be costume jewelry and the reasons are many! What would we do without the glamour of fine jewelry minus the high ticket price that takes every outfit up a notch? Costume jewelry was actually introduced by Coco Chanel in the 1920s, and right now we are loving this oh-so-chic pearl bow necklace (think a girl's version of a tie)!
The strands of pearls hanging from the bow drops 8 inches.
4mm cultura glass pearls
17″ necklace around the neck
Garnet red glass crystal accents
Victorian Era Style
Lead-free
Made here
A beautiful box-snap clasp encloses the necklace at the top by lightly pressing a gold tone lever. On top of the filigree enclosure sits a 7mm cultura cabachon pearl. A lovely collectible!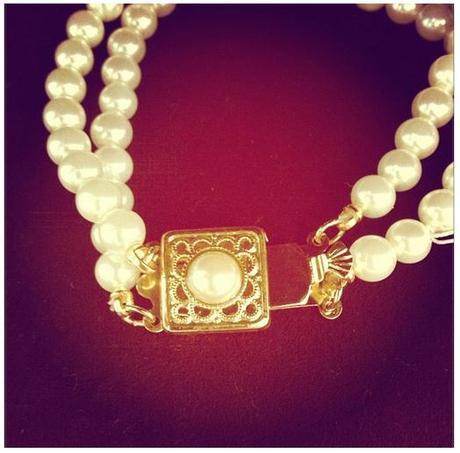 Necklace encloses with a fancy snap box clasp!