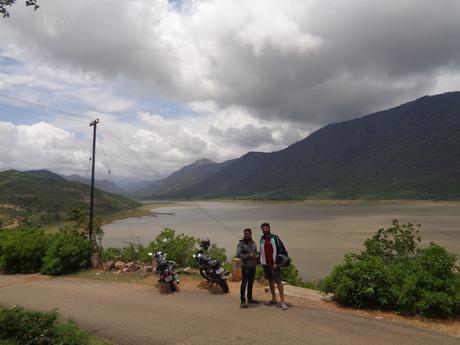 Place
: Gundal Dam
Distance
: 150kms x 2 = 300kms
Directions
: Bangalore > Kanakpura > Mallavali > Kollegala > Gundal Dam
Krew
: Dileep (Koof) > Ashok (Momz) > Karthik (Sp)
Bikes
: Enfield > Pulsar

  
Previous Visit
: Ganalu Falls & Shivanasamudra
Budget:
Rs 540/head
IN LESS THAN 50 WORDS:
One crazy unexplored places around Bangalore. But the day of the trip was chaotic there were riots in Kanakpura and Ramnagar region due to the arrest of DKS. We had ride through slushy fields and get away from the mob and the burning tyres. One of those trips where we felt so much resistance to reach the place, one we reached it, all things fell in place and smoothness followed to the end.
INTRO & PLAN:
As koof had come from Nagpur for semester end holidays, we had met few times at Laxmi and then we decided to finish of the JD during a trip. Hence we first planned a ride to Gandikota and then we decided to head to Gundal Dam and finish the JD at Buyyandoddi with some fish fries.
TIME: 22:00 (29/8/2019)
ASSEMBLE & LEAVE:

Yeah I was up by 5AM, did a few push-ups and sit ups, all the physical training had kept me pretty good shape. Koof came to my home and parked his bike, we both took off on my bike to meet Momz at PES NICE toll. After formal greetings, we took off via the NICE road towards Kanakpura road.  TIME: 07:30


RIDE 1: (Bangalore – Kanakpura – Malavalli – Kollegala – Gundal Dam)

This would have to be one of the most resistance filled yet fun ride. Every moment, our radar was full on alert. As we exited the NICE road, there were cops all around the place sending back 4-wheelers. We thought it might subdue as we proceeded out of town, and we could have never been more wrong. We fueled up our bikes fearing the petrol bunks might close down. As we proceeded the weather chilled down but the smell of smoke in air could be felt throughout. As we were aproachin Kanakpura, my mouth started watering thinking of the yummy Masala Dose at Vasu hotel, but then there stood a mob of 20-30 people setting fire to buses and tyres and there was absolute chaos all around the place. Keeping a safe distance, we asked a few local auto drivers for alternate routes and then proceeded through villages and re-joined the main road after a few kilometres.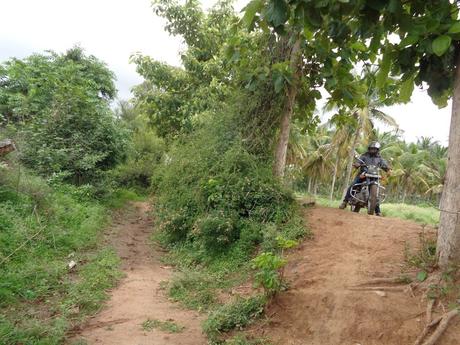 Breathing a sigh of relief we continued for a 5-10kms and there was the second mob blocking the road with a fallen tree and setting fire to it. So we took another deviation through the fields, but as it had rained, our bikes got stuck in the slushy mud and we had some fun removing it out and helping others who took the detour following us.
Finally after the ruckus, and shoes completely smeared with slush, we came out of the villages, it was actually very much fun absorbing the ambience of villages rather than blindly riding on highways. Anyway, as we entered the pipeline road, we were able to cover some distance, but at a slow pace. Then we heard at Sathnur both the main Kanakpura road and the Pipeline road had been block by a mob, this was quite frustrating. When we encountered the mob, who were still beginning to set fire to tyres and shit, I decided to give an unsual twist, went straight to the fellow who was setting the fire and asked him the best route to Kollegala. This took him aback, Momz was confused and so was that poor chap. Knowing where all the strikes were happening, he politely told us the best route. Thanking him we proceeded to reach Halaguru for some much deserved breakfast.
TIME:10:15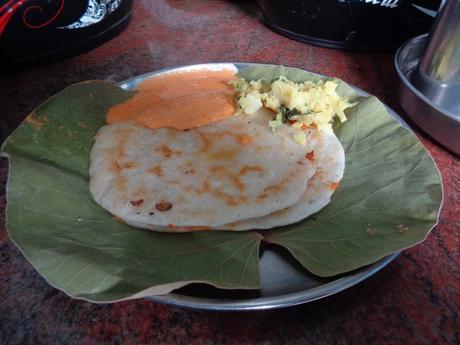 Sitting inside as we began our breakfast the shutters were closed as the mob had begun striking outside, we thought of the option of visiting any nearby place and returning or somehow reaching Gundal staying at Kollegala overnight and returning back the next day.
The ride after Halaguru became peaceful as we entered the Mandya District. No signs of any riots, hence we cruised along a bit fast to make up for the lost time. Saying a big hi to Shivnasamudra we cruised into Kollegala. Proceeding from Kolegala, it was time to test our memories of the route to Gundal.Getting every turn right, remembering the solar farms, chicken farms we made it to Gundal in one piece.
TIME: 12:00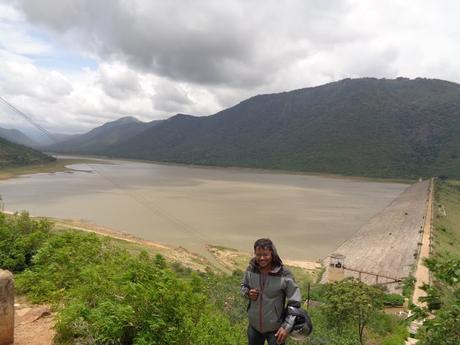 GUNDAL DAM:
Riding on top of the bund was a pure joy. The view you get to the left is simply breath taking. We decided to go and inspect the Travellers bungalow on top and then return for a dip in the waters. We reached the top of the bungalow and the view from here is simply magnificent. Taking the contact details of the Government officials, we thought we would swim first and then decide whether to stay or move back to Bangalore.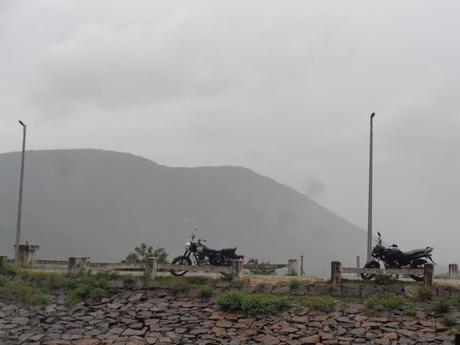 As we rode back towards the bund, the sight in front of us shook us. The right side of the bund was completely invisible with fog and rain and the winds were blowing towards us. As we proceeded hardly 5mins, down came the showers. We still rode on top of the bund and parked our bikes and rested for a few mins near the gates.
Then we decided either way we were getting into the waters, so doesn't matter much if we get drenched. We parked our bikes on the bund and one foot into the water, koof came running back, we started laughing. Then I took a turn and then I came running back. Before momz could enter we pushed into the waters :P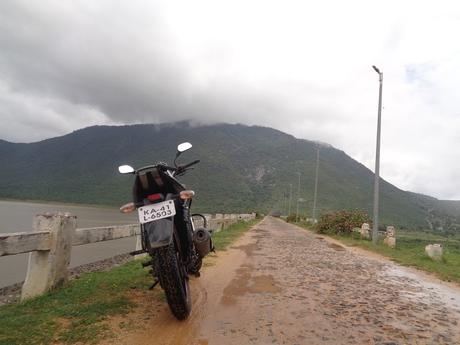 The water was freaking cold and the skies were playing all along. Few moments of sun and few moments of rain. One point of time half of the reservoir was sunny and the other half was raining. It was simply crazy! After about 30mins in water we decided to head back out and return back to Bangalore on the same day keeping our fingers crossed. We called up the Buyyandoddi Fish place and requested them to keep 5-6fishes aside as we would be dropping by.
TIME:13:30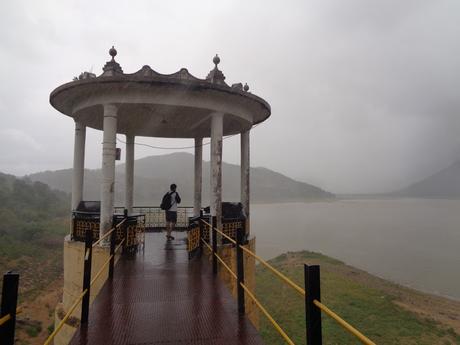 RIDE 2: (Gundal dam – Kollegala – Mallavali – Buyyanadoddi – Kanakpura - Bangalore)
The ride back was a flat 150kms, but with an awesome stop at Buyyanadoddi. As we left Gundal we knew we had burnt a lot of our time navigating the detours. Hence we sped up and as we did, down came the rains. It was not as intense as last time but nevertheless heavy, but we didn't want to get stranded 15km away from Buyyandoddi and couldn't rain as in the Ganalu falls trip, so we pulled over, buckled up, kept all phones inside and rode in the rain. Like they say "if you don't ride in the rain, then you don't ride!" but things eventually cleared up and taking a deviation from Halaguru, we stopped at a small bar nearby picking some sides, we sat at Buyyandoddi for the next 1.5hours as the rain picked up, the temperatures plummeted, the fish was piping hot and down it went in one smooth go!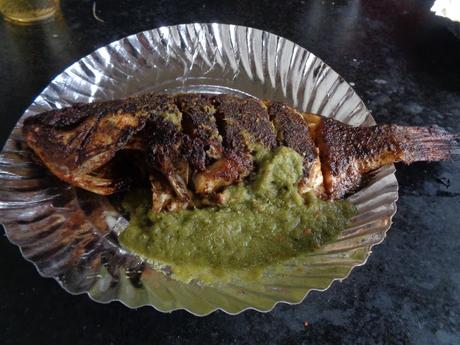 Once we left Buyyandoddi, we knew we had few precious minutes of sunlight. The entire Mysore road was closed due to the riots. .Kanakpura road is dangerous after sunset. Hence, we had to make full use of the sunlight which was available then. So we rode at good pace pretty much non-stop, cruising past Kanakpura, finally about 15km from Bangalore we pulled over for a leak and then as the sunset in deep, we entered the NICE road and reached back home for some good Golgappas.
TIME: 19:30

CONCLUSION:

"This was one crazy chapter, i mean considering the intensity of the ride. We had to constantly make PLAN B,C,D .. and it went on. The angry mob is never nice thing to encounter on a trip. But we kept options open and pulled the chapter off. "

Until next time, Cia \m/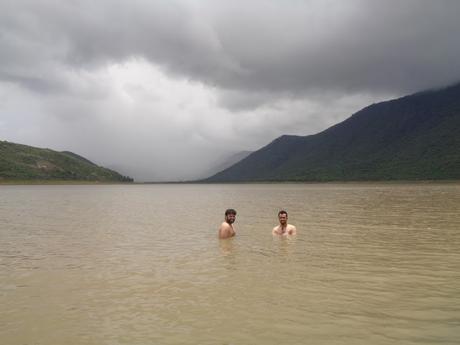 PICASA ALBUM: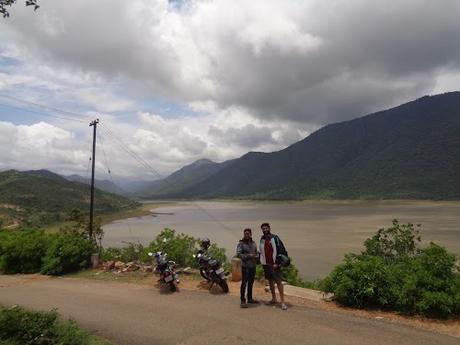 MAPS: