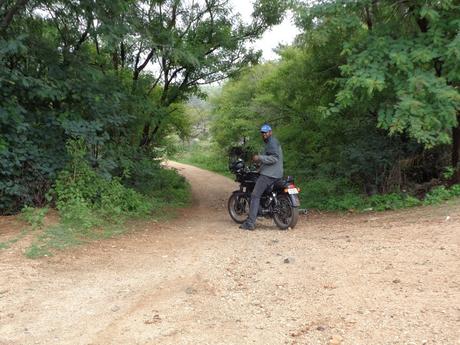 Place
: Ganalu Falls & Shivanasamudra
Distance
: 150 x 2 = 300km
Directions
: Bangalore > Bidadi > Channpatna > Sathnur > Halagaru > Ganalu > Shivanasamudra
Krew
: Chinmay (Big Show) > Ashok (Moms > Karthik (Sp)
Bikes
: Pulsar > Enfield

  
Previous Visit
: Shivagange – Into the clouds
Budget:
Rs 508/head
IN LESS THAN 50 WORDS:

  
This was one crazy trip, the main highlight of the trip was the insane ride back in on of the heaviest rains seen on our road trips. Ganalu falls was in our radar since some years, but had never had manged to tick it off!
INTRO & PLAN:
With waters being released from KRS dam and rain showers every day in Bangalore, thought it had been quite some time since we did a ride in heavy rains. So with only one objective in mind – "to ride in heavy rains" we set ourselves. Chinmay & Moms were the two on confirmed list. So, with no concrete place in mind we decided to meet at Bidadi and then decide.
TIME: 22:00 (19/8/2019)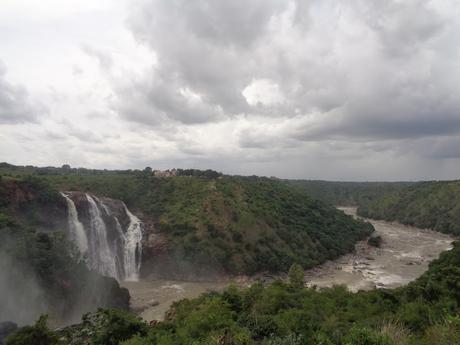 ASSEMBLE & LEAVE:

Yeah, I was up at 4AM, did a few push-ups & sit-ups. After a sip of coffee I left home towards Bidadi. This was 30km ride and boy Mysore road had changed a lot, but nevertheless had that charm it had since we first set foot on it back in 2009. Pulled over at Bidadi for some yummy breakfast.TIME: 07:30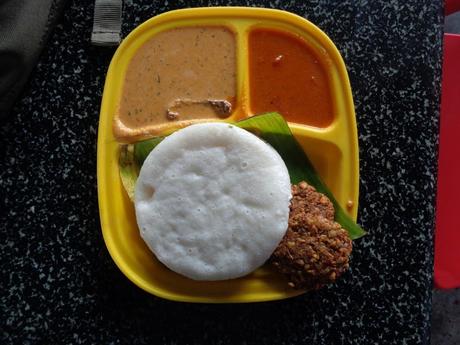 RIDE 1: (Bidadi – Kabbaladurga – Halguru – Ganalu Falls)
Once we finished our breakfast, we cruised along at a decent pace on Mysore road. Since it was a weekday, the traffic was somewhat less. After reaching Channpatna, we took the country roads towards Sathnur. The temperatures turned down, the air became pleasant and oxygen rich and greenery flooded both sides of the road pleasing our eyes. We slowed down enjoying every bit of the surroundings. It was not long before we spotted, or did we spot? We could see on outline of the mighty Kabbaladurga totally shrouded in mist. She looked somewhat mystic and scary at the same time. Saying a big hi to my favorite hillock, we took a 30mins break in the fields nearby.
We joined the Kanakpura road as we reached Sathnur and continued towards Halaguru. At Halaguru we pulled over at a bakery and bought some coffee chocolates, honey cake, jamoon, lolly-pop and you know why :P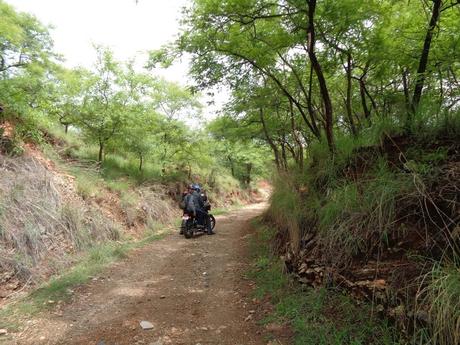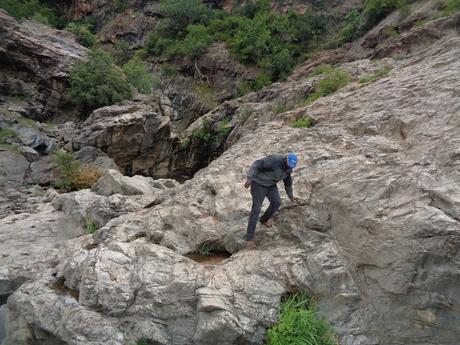 Asking the locals for direction we deviated from the Kanakpura road and the off-roading began. Once the deviation to muthathi was past us, the ride turned into a really chilling one. We saw a board which said "You are entering forest premises" But no guards, the roads were muddy and filled with gravels and stones, the vegetation on either side started turning thicker and thicker, not a soul around. Finally we spotted the rocky stones and we knew we were at Ganalu falls in the middle of absolute wilderness.
TIME: 10:45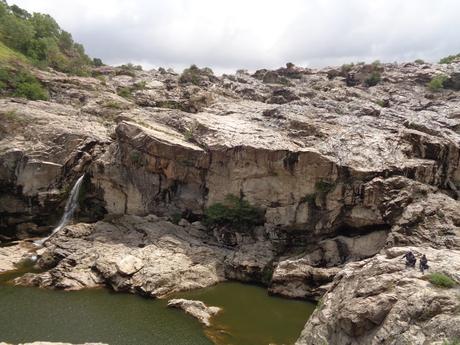 GANALU FALLS:
We were slightly disappointed and confused as to why there was not much water. But the place was just perfect, totally in the middle of the forest with no humans for kilometres together. We started making our way down the rocks. The descent was steep and on sharp edged rocks. Cautiously negotiating each step, we explored the place and found a nice place to sit and light some stuff.
We spent 1.5hours joking, laughing our asses off and remembering college days and various other incidents. Finally we decided to leave as it had begun to drizzle and we didn't want to get stranded on the rocks in rain as we had left our shoes near the bike.
After reaching the bikes, we took off towards Shivanasumdra totally in goom mode.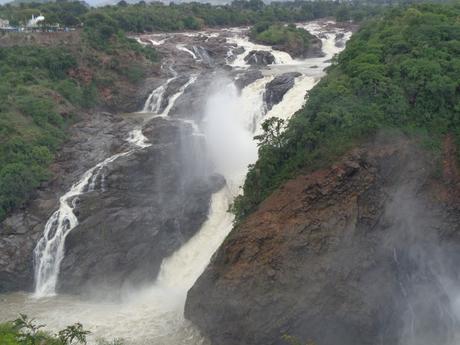 SHIVANASAMUDRA:
Shivanasaudra consists of two falls Gaganachukki & Barachukki. As the waters were in full flow in both the falls, people were prohibited to go near the falls. Hence only see the falls, admire it and return was the plan. We covered both the falls in about an hour as we were totally afloat. We had some tomato masala, nippat masala, churmuriand cane juice as snacks as we had plans to eat Buyyondoddi Fish Dry.
TIME:14:50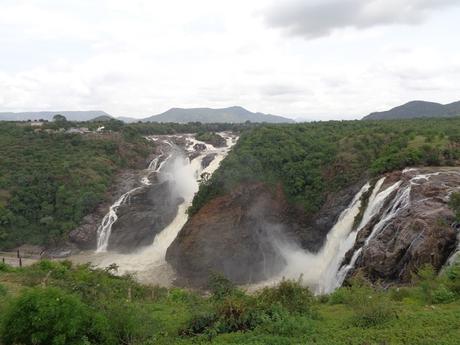 RIDE 2: (Shivanasamudra – Mallavalli – Sathnur – Channpatna – Bangalore)
This was the rain ride and the highlight of this chapter. As we left Barachukki we were still feeling afloat. About 15kms prior to Malavalli we witnessed a sight that got us thumping and pumping but at the same time sent chill down our spines. We were riding in sun and warm winds, ahead was thick, black clouds all over the sky. We knew it, we were in for some buffalo mode riding.
We pulled over at Malavali, with all thick clouds all above is and winds were chilling and icy cold. We put all our phones into a zip cover, called up the Buyyondaddi fish guy and asked him to keep 4-6 fishes aside and we looked at each other and we were set for the rain ride.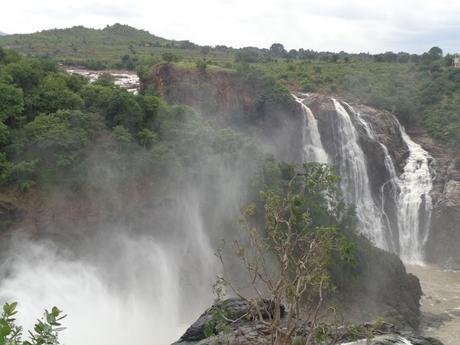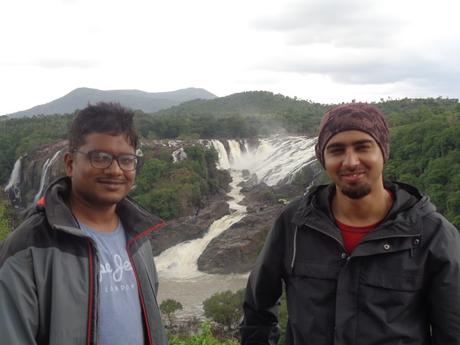 As we began the rain came down mercilessly, it was so heavy there were no bikes on road. We cruised along at a decent pace until a point where wind speeds also started picking up, now this was dangerous and we took a call to pull over for some time for some tea. The rain falling down in full speed on the asbestos sheet above was rattling our ears deaf. Had never seen such intensity of rains.
After some light tea, we took off and as we rode on once my shoe, socks and undies all had drenched in rain, there was nothing to lose all we could do was keep calm, ride and most importantly enjoy it after all that was the whole purpose of this chapter.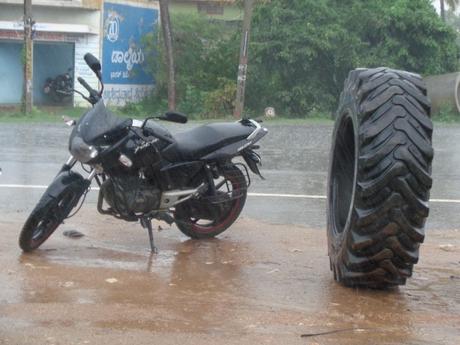 Even though the rain intensified, we kept a decent pace of 60-70's gliding through the blanket of falling waters from the skies. Such a joy it was! As we reached Sathnur the rains decreased. We pulled over infront of Kabbaladurga once again for a small breather. Called up the Fish guy and told him we would not be able to make it and promised him a return soon.
We decided to re-join Mysore road as it was the safe option considering the on setting darkness. We re-joined back at Channpatna and pulled over for a second tea stop as we had skipped lunch.
Ride back from Channpatna was descent, as we approached Bangalore, we took the NICE road and exited near College and stood there was 15-20mins still shivering from the cold but what a great feeling it was.
TIME: 19:30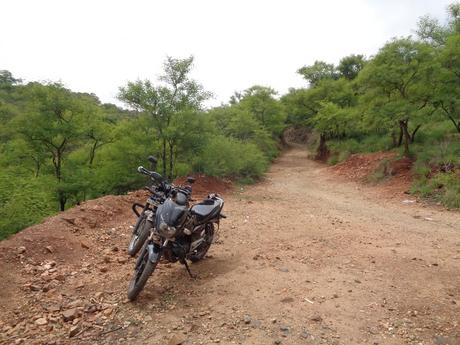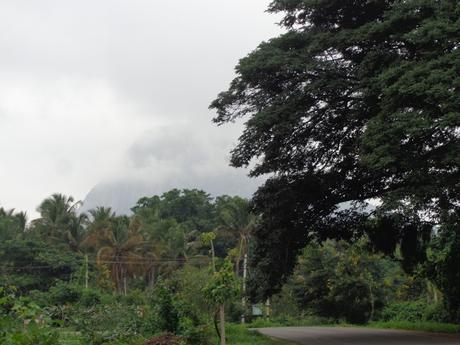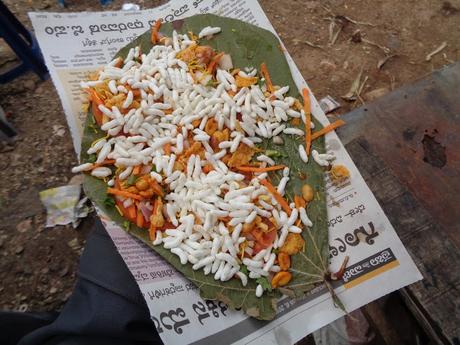 The TWO incidents :
As I reached back home, camera had stopped functioning. I realised at Channpatna I had taken out the camera and put it my waterproof jackets pocket and then forgot to close the zip of the pocket :P. Kept the camera in a bag of rice and sealed it tight. And lo behold, on the next day morning it was working fine. Chinmay had lost his ring, and we didn't know when and where, the rain ride had kept us focussed and it was quite disappointing. Once he reached home, he also found the ring in his pocket which we had searched earlier.
Sometimes everything just sets right by itself. It was quite strange two incidents I thought worth mentioning. Guess the rains were happy with us withstanding their onslaught.
Until next time, Cia \m/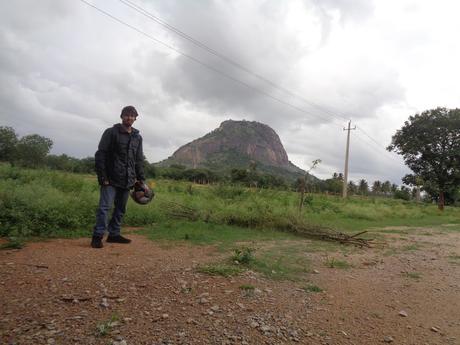 MAPS:
FULL ALBUM: