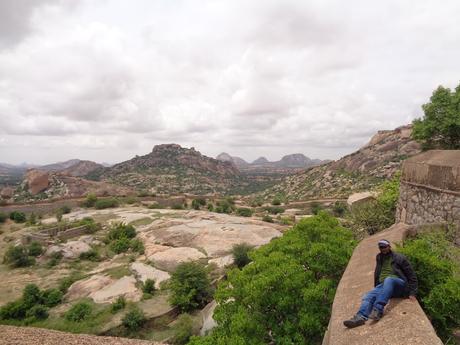 Place
: Ratnagiri Fort Trek
Distance
: 150kms x 2 = 300kms
Directions
: Bangalore > Dobbaspete > Madhugiri > Ratnagiri Fort
Krew
: Chinmay (Big Show) > Ashok (Momz) > Deepak (Deefu) > Karthik (Sp)
Bikes
: Classic 350 > Thunderbird > Pulsar

  
Previous Visit
: Badami, Aihole & Hampi.
Budget:
Rs 485/head
IN LESS THAN 50 WORDS:
This was the second trip for the month for the month of July 2019. The previous being the classic Badami, Aihole, Pattadakkal and Hampi tour. This trek was quite simple and straightforward. And by the way it was our 175thtrip, like always we didn't go overboard and plan something very big, we just stuck to what we do best, explore unknown or less heard of places.
INTRO & PLAN:
It was about two weeks since we returned back from the Heritage tour, mind and body feeling totally refreshed. With Deefu shifting to Vizag shortly we planned the 175th trip to be a fort hill trek. Chinmay and Momz also were on the confirmed list.
TIME: 20:00 (18/7/2019)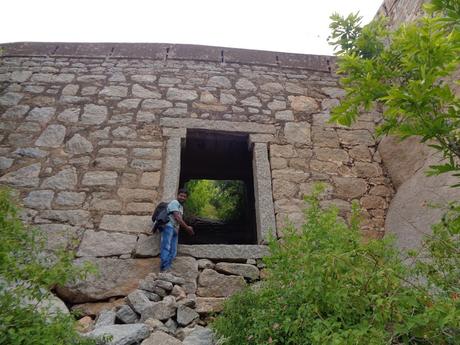 ASSEMBLE & LEAVE:
Oh yeah woke up at 04:00, did a few push-ups & sit-ups, had a sip of coffee & was all set to go! Once I confirmed all were awake, decided the meeting point to be at the Kamadhenu hotel. I wanted to just ride alone for the first 50kms, so I cruised along at a decent pace and pulled over at Kamadhenu hotel and was playing chess as I waited for others to arrive. Once the other three arrived, we had a yummy breakfast.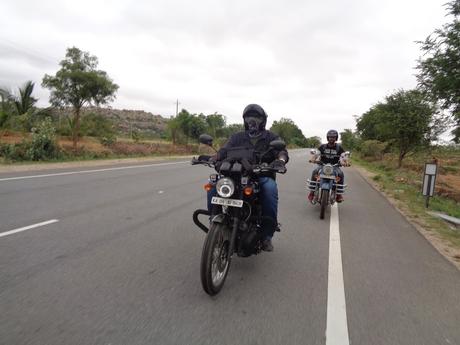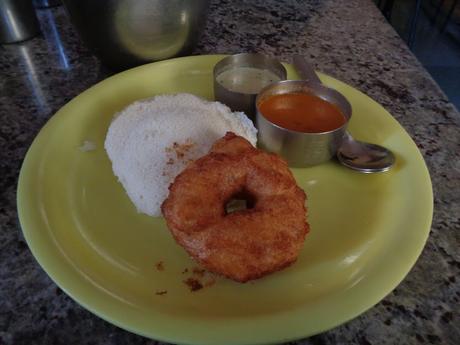 Moms went on to explain his experiences in yoga classes, once as he was asked to count his breath he slept off and how others left the class and he was lying for an extra whole hour :P
Moms is always Momz.
TIME: 08:00
RIDE 1: (Bangalore – Dobbaspete – Madhugiri – Ratnagiri Fort)
After some yummy breakfast, we rode into Dobbaspete and took the road towards Madhugiri. The ride was smooth and all the three bikes were aligned to perfection, as we glided along the snake way in smooth manner the clouds were covering up the sky giving hint that it might rain. Once we reached Kortagere bypass, Chinmay told us he knew a kick-ass tea guy, so we pulled over for some awesome tea.
TIME: 10:30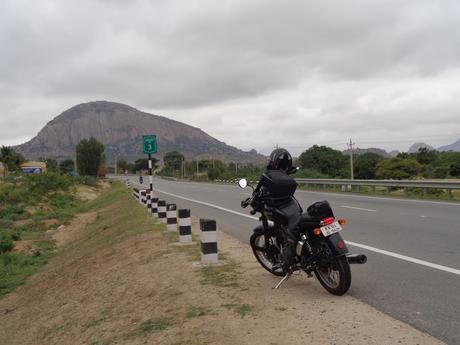 We knew Ratnagiri lies somewhere after Madhugiri and before Medigeshi. So once we reached Madhugiri, we slowed down and began asking locals for directions. Once we found the right deviation and proceeded further, we could spot the hillock kilometres away waving big hi to us. We zoomed ahead into her arms, parking the bike near the foothill, keeping our helmets and belongings in a house nearby and requesting them to take care of it, we were set for the trek ahead.
TIME: 10:30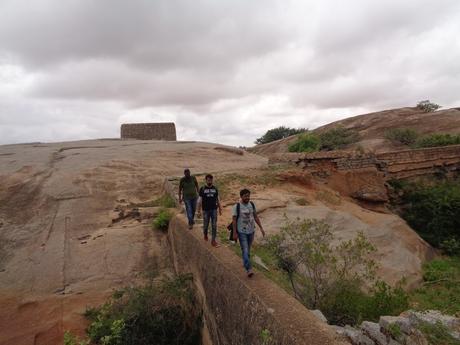 RATNAGIRI FORT TREK:
It took us about an hour to ascend the fort. The weather was pleasant and we were pumped, keeping in mind we had the whole day ahead of us, we took the trek slow and had a good time at the hills. I have divided it into 3 segments:
i)
Way to the Door.
ii)
Amazing Mid-Riff.
iii)
Last Stairs.
So, try keeping up with me on this one. Here goes: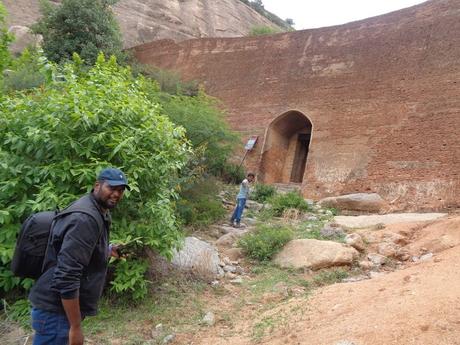 i)Way to the Door:
The stretch between place of parking the fort's door entrance is a tricky one. Best advise would be to run your eyes around until you spot an unmistakable huge fort door. Sounds simple right. Trust me, first time it was confusing and crazy. It would take about 15mins to reach the fort door.
TIME: 10:45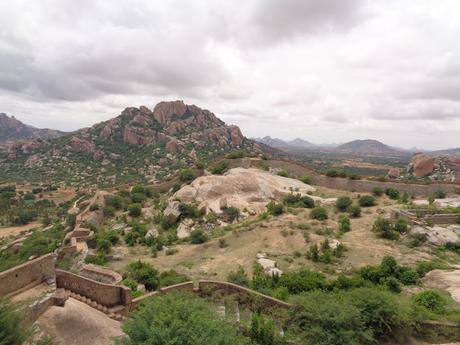 ii) Amazing Mid-Riff:
This is main segment of the trek and consists of narrow stony path running through various gateways. It gives you good time lapse and makes sure you are alert. As you began to climb up the fort, the view of begins to uplift and you really begin appreciate the construction of fort. The climb as such is non-tiring and a clear pathway exists. This stretch would take anywhere between 15min t0 30min. But I would suggest you to take it slow during this segment and enjoy the place.
TIME: 11:15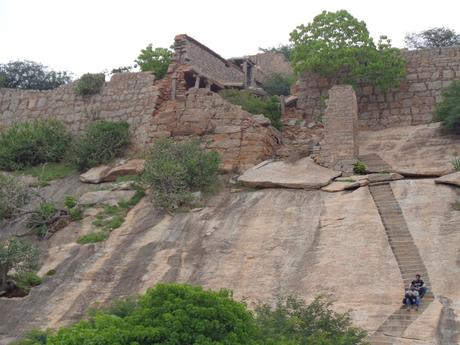 iii) Last Stairs:
This was the last stretch of this awesome trek. And once you began climbing up, knock the stairs, yes, kick the rock and you will be shocked that the mega strong stone is actually hollow. Once the stairs is ascended it opens up the top of the fort where a few granaries lay in ruin. The view from the top is breath takin and we usually ended up the small cave for some rest.
TIME: 11:30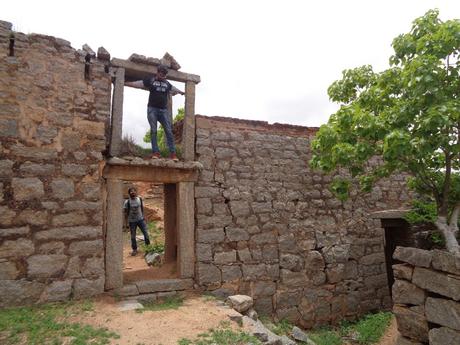 TOP
:
Sitting at the top, we were enjoying the evergreen stories (real life events) of Momz. In fact we might start a TV show on this :P I took out some toffee and water, and as we re-energised back we spoke about college days and shit. We also recollected a lot Bali Pass trek events which filled the air with added laughter. After resting for a while we decided to head back down.
TIME: 12:30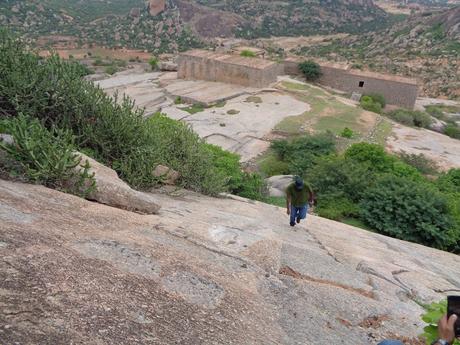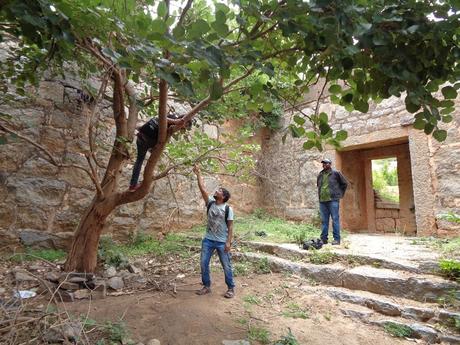 TREK DOWN:
The trek back down was a smooth one. It took us just 30mins to descend. Making our way cautiously through the final ascent, we enjoyed our way through the mid-riff. We fooled around climbing trees and fort walls.Once we ended up near the door, few locals had come to farm, they plucked out few fruits and handed it over to us an wished us a happy journey back. It was so heart-warming. We felt happy and smiled back, gulping down the fruits we made it back to the bikes.
TIME: 13:00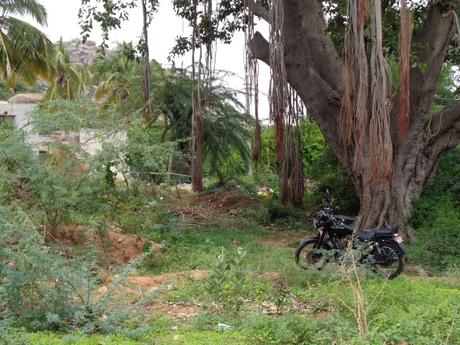 RIDE 2: (Ratnagiri Fort – Medegeshi – Madhugiri - Dobbaspete – Bangalore)
Riding back, we decided to have lunch at the Madhugiri hotel where we had belted "Mudhe Oota". As we reached Madhugiri, unfortunately the hotel was closed. Hence we pulled over at another hotel nearby and had decent meal.
The ride back after then was smooth, we cruised at a decent pace. But one funny thing about the ride back was that every element was trying to stop me. First a dog came all ofa sudden in front of my bike, then few people jumped across, then a car on the highway stopped middle of the road, finally then came pouring down the merciless rain, guess what ignoring the signs I just smiled and rode ahead and reached back home to feed my pigeons.
TIME: 17:00
Until next time, Cia \m/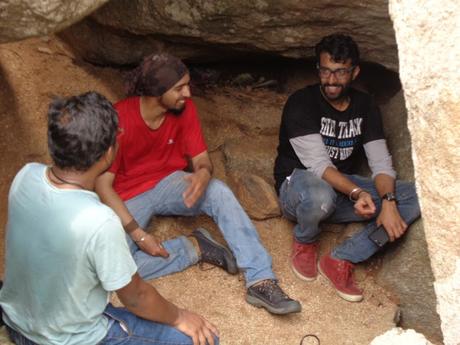 MAPS:
ALL PHOTOS: