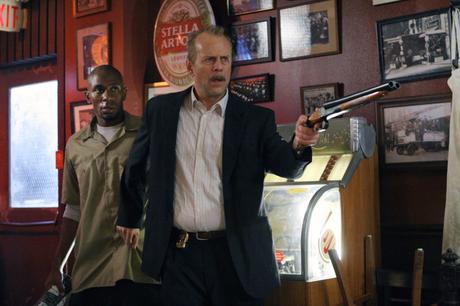 Director: Richard Donner
Writer: Richard Wenk (Screenplay)
Starring: Bruce Willis, Yasiin Bey, David Morse, Jenna Stern, Casey Sander, Cylk Cozart, David Zayas
Plot: An aging alcoholic cop is assigned the task of escorting a witness from police custody to a courthouse 16 blocks away. There are, however, chaotic forces at work that prevent them from making it in one piece.

Tagline – 1 Witness… 118 Minutes…
Runtime: 1 Hour 42 Minutes
There may be spoilers in the rest of the review
Story: 16 Blocks starts when an alcoholic cop Jack Mosley (Willis) is asked to do one more job before his shift is over, transferring a witness Eddie Bunker (Bey) 16 blocks away, only what seems like a simple job takes a turn for the worse.
Eddie is the key witness that will expose police corruption, with Frank Nugent (Morse), Jack former partner looking to tie up loose ends, forcing him to fight against his friends to do the right thing.
Thoughts on 16 Blocks
Characters & Performances – Jack Mosely is an alcoholic cop who tends to keeps to himself on the job, he is just waiting for retirement, but is forced into taking one more job, escorting a witness across town, where he will need to learn who he can trust from within the force to do the right thing. Bruce Willis is strong in this role, he works well as the aging cop without doing the full action scenes. Eddie Bunker is the witness that needs transporting, he talks a lot and has a criminal background makes him come off like a normal criminal in the eyes of Jack, he has however turned his life around looking for redemption with what he has discovered. Yasiin Bey is fun to watch as the quick talker even if this is more of a serious action film. Frank Nugent is the man leading the hunt for Eddie, he is a former partner to Jack and tries to push him into following his instructions, he is trying to control the situation before it gets out of hand. David Morse is as always great to watch in the villainous roles in film, this is no different, always being the presence on camera.
Story – The story here follows an aging alcoholic cop that is given an assignment to escort a witness across the town for a court case only to find himself being hunted down by a group of cops that want to keep their secret. This is one of the action films that does get to give us a simple idea that will rely on the characters needing to learn about change along the way. We get to see how Jack finds a new direction and a former criminal will look to keep his life on the right track, while the typical cops wanting to keep things quiet are hunting them down. It is an easy watch, without relying on twists along the way.
Themes – 16 Blocks is an action thriller that will keep the action in New York with the contained streets and the action being tactical, even if it is panicked. The pace of the story is great, give us time to breath as we learn about the characters between the action sequences.
Final Thoughts – 16 Blocks is a great action film that will give us plenty of entertainment throughout with a good character development.
Signature Entertainment presents 16 Blocks on Digital Platforms 7th June and on Amazon Prime Video 18th June