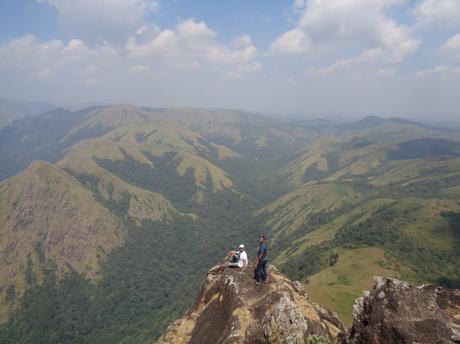 Place
: Ethina Bhuja betta trek
Distance
: 275kms x 2 = 550kms
Total Trek Distance (time)
: ~ 2kms. Route we took is from Nyanbhairaraveshara temple(1hour – ascend ;0.5h - descend)
Directions
: Bangalore > Kunigal > Hassan > Sakleshpura > Hanbal > Ethina Bhuja
Krew
: Deepak (Deefu) > Datta (Dattu) > Ashok (Momz)  > Karthik (Sp)
Bikes
: Beat  
Previous Visit
: Horsley Hills
Budget:
Rs 5500/head
IN LESS THAN 50 WORDS:
Alright, this was an amazing trek to conquer one of the most sort out peak of Western ghats as a mark of Deefu's birthday. As I was down with fever and cold we decided to experiment a little and go in car. From the Hanbal side the trek is pretty easy and can be covered in just 3-4 hours in total. The view from the summit of this hillock is just crazy – the entire western ghats!
Ethina Bhuja = Ox's Back (Kannada)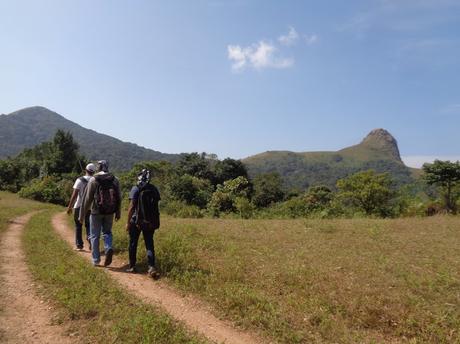 INTRO & PLAN:

Acchooo, yeah that was my status. Bad, terribly bad and down with cold. A week had passed since Deefu's birthday so we thought we could celebrate it in Western Ghats. So, the major peak of Western Ghats was planned – Ethina Bhuja. Also, finally after a lot of fluctuations I agreed to go in a car hehe. This trek from Nanya Bhaireshwara side can be planned as a one day trip in car easily, we had other plans in agenda so crashed for 3 days.

TIME: 22:00 (11/11/2017)

ASSEMBLE & LEAVE:

Yeah I was up at 04:30, still down with little cold had forgot to charge my camera. Damn, I thought, did a few push-ups & sit-ups and had a hot cup of coffee. Rode to Dattu's place where the meeting was scheduled. Once Deefu and Momz arrived we left Bangalore.TIME: 09:30


RIDE 1: (Bangalore – Nelamangala  - Kunigal – Hassan – Sakleshpura – Hanbal - Homestay)
This was 250km drive pretty much straight forward and simple. As we left Dattu was in control of the wheels and Deefu and me sitting behind had other plans haha. After covering a good 75kms we pulled over for some yummy breakfast at our regular hotel.
TIME: 11:00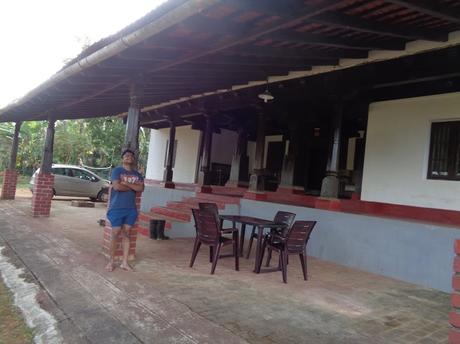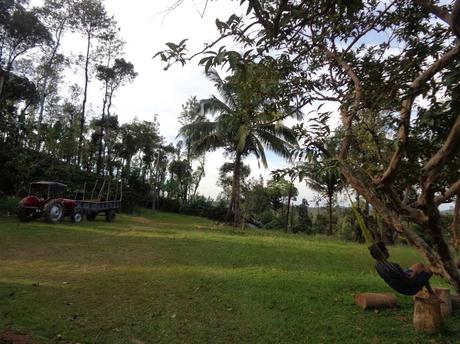 After some yummy breakfast, we pulled over next near Yadiyur to re-fill out stocks. After we left all hell broke loose. We put Contra theme song and started discussing on different levels of the game. Hahaha took us back to school days for sure. And with head floating around, next was Adventure island hahaha. After we crossed pass Hassan, we pulled over for a small break. Continuing further we reached Hanbal and with the directions clear in my head we proceeded to reach the home stay where Kushan was eagerly waiting for our arrival, it damn good to see an old friend.
TIME: 15:30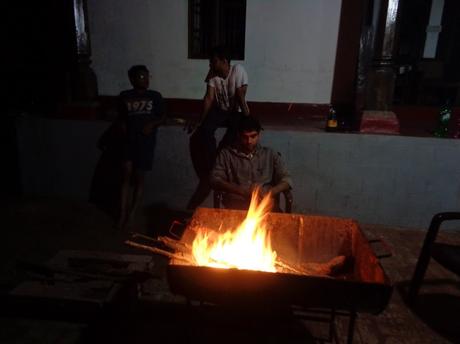 WOODS HERITAGE:
As Kushan welcomed us, I asked as o where Pintu (his super dog) was. He said it was resting as it was hit by a sickle and had picked up a brutal scar. Quickly we freshened up and began having a yummy lunch awaiting us. With no signal for next 3 days I packed both my phones into my bag.
Since it was a Sunday, most of the people had left and we had the entire home to ourselves, it felt freaking great. Still afloat, we made It down and relaxed outside for a while. Then we as soon as we saw the new badminton court oh yes, it was on.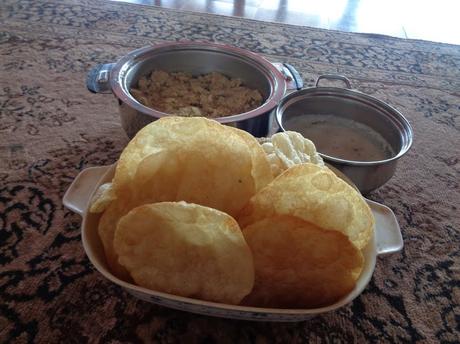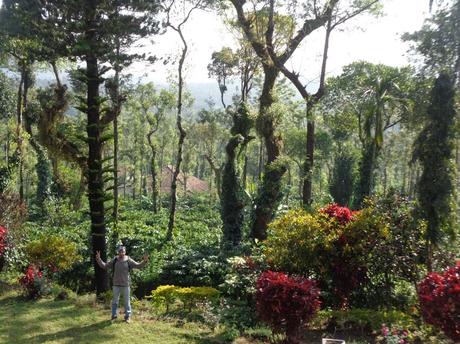 Enquiring about Ethina Bhuja we played on for another couple of hours. After which we decided to take our stuff and have a session in the middle of the plantations – the elephant route hoping to sight the mighty creature. As the sun began to fade for the day, it light the mountains afar with a reddish hue. Darkness descended quick and we went having round after round sitting on the rocks amidst the dark.
We returned to the homestay gliding along the plantations, looking out for elephants and then as we made it, we realised the camp fire was already lit and awaiting us. We got some more wood and sat around the camp fire having snacks and discussing about tomorrow's plan. The session went on until 12AM and then we finally decided to crash.
TIME: 23:45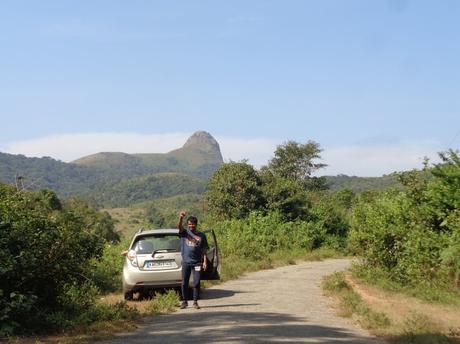 DAY 2 – The Reckoning Day!
PREPERATION:
No prizes for guessing who was up first. Yup, was up by 4AM, and went outside and sat immersing myself in the solitude and pouring. Went on and on until I finished a whole full bottle. Once everybody were up we began playing carom. Once we finished a yummy breakfast we awoke the lizard's sprit within us and were all set for the trek. We drove till Nanya Bhaireshwara temple, parking the car at the temple were ready for the trek.
TIME: 10:30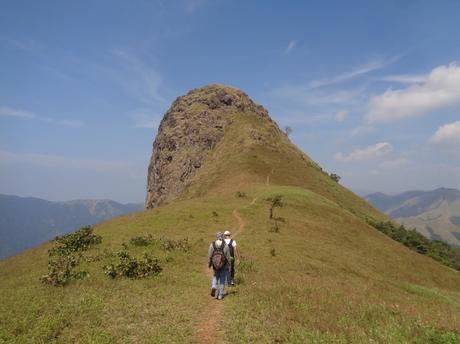 ETHINA BHUJA TREK:
Alright, the trek was an easy one. It took us exactly 1 hour to reach the top inclusive of breaks. We ascended the hillock from the Nanya Bhareshwara temple side. So, like said earlier 3 days might not be required. The segments of the treks are as follows:
i)

  
Initial Stretch
ii)

  
Through the forest
iii)

  
Climb the ox back
So, those were the 3 strecthes, now try to keep up with me here,
i)
Initial stretch
As we left the temple premises, the route was quite clear. And we began to move into the junglein quite jolly mood, making sure our ears were ticking. The jungle is known for elephant attacksso better keep that ear ticking.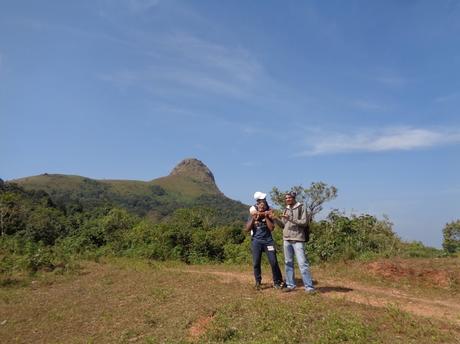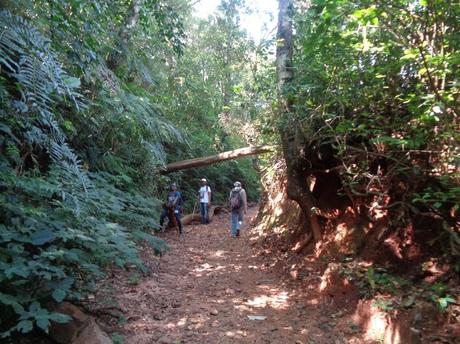 ii)
Through the Forest:
After quite some distance, the muddy trail turned into pebble filled terrain. This made things tricky and slippery. We missed out a turn and actually got lost into the wilderness here but not for long. We were wading out way through chest level crops chopping off and clearing path using knives and sticks.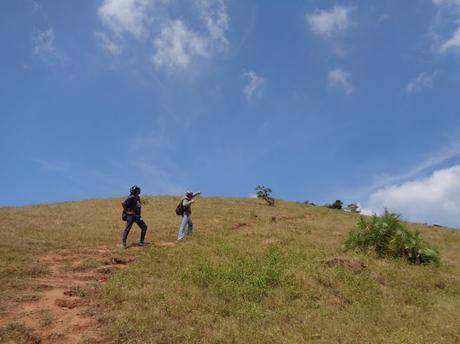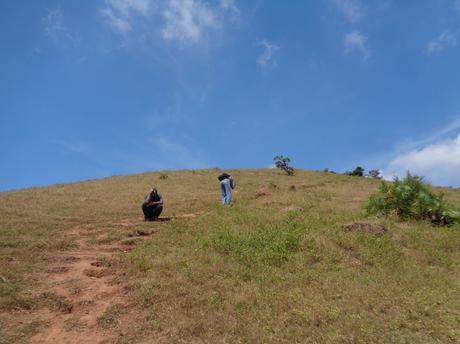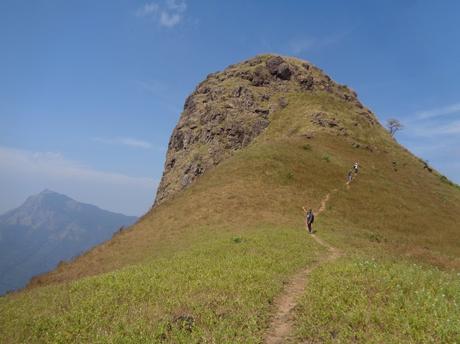 iii) 
Climb the ox's back:
After pulling through the forest we had one hill to ascend (locals call it the 1st hill) the peak was
not visible from this point. But knew 100% it was quite close and it was just over that 1st hill. We fooled around, played along and once we finally completed the 1st hill, the goal was clear in our sight. Pushing hard, we reached the final ascent. This was a muddy trail and was quite easy as well. But I'm sure in monsoons it would slippery and offer hell to climbers. Afte 15-20mins of pushing, we were on top. Wohoo!!
TIME: 11:30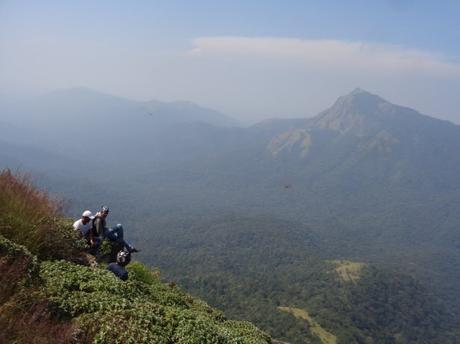 TOP:
We were actually a little disappointed with the easiness of the trek. But the view the summit offered blowed us away. We could actually see the entire Western Ghats and it filled us up with Pride and Joy. Jennukallu &Deepadkallu could be seen afar. Staring right into our face was the mighty Amedikallu. We sat on a edge of the cliff and just took in the greenery amazing it was. We had a few chocolates and water and sat enjoying the view for some more time. After spending an hour on top we decided to head down.
TIME: 12:30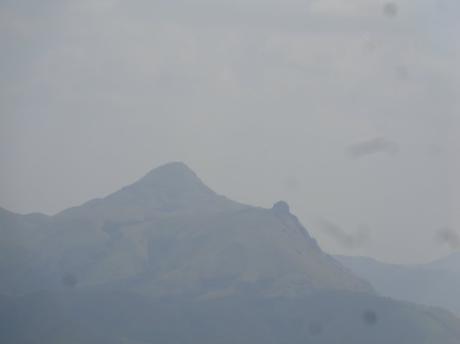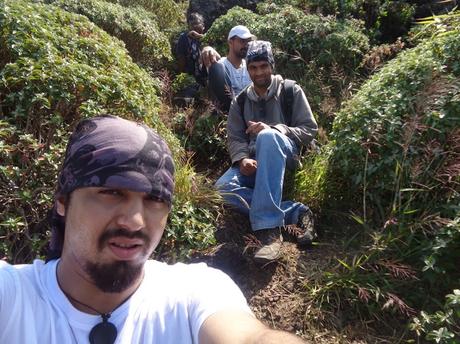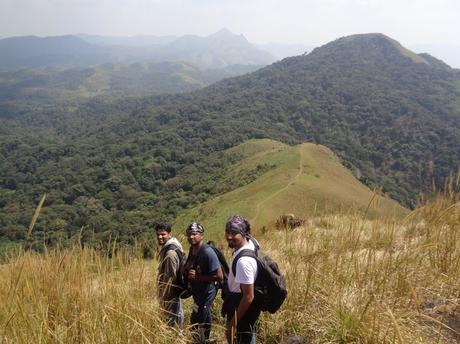 DESCENT:
The descent hardly took us 30mins. We were totally rejuvenated from the view atop the summit. It was time to dance and head down. And we pulled each other's legs all along the way to make it back to the temple in 30mins.
TIME: 13:00
We visited the temple as a mark of respect to the place, we were offered fruits and water. After refreshing ourselves we decided to head back to the home stay and belt some good lunch.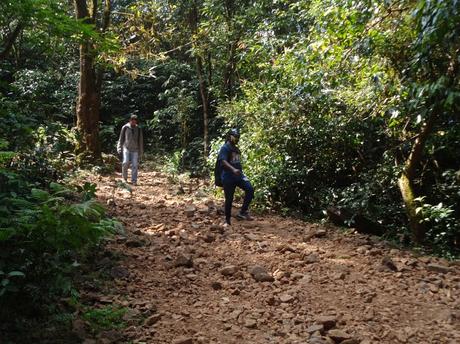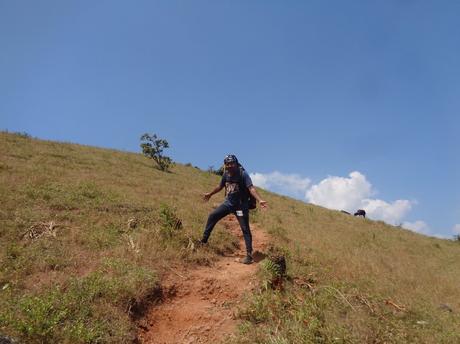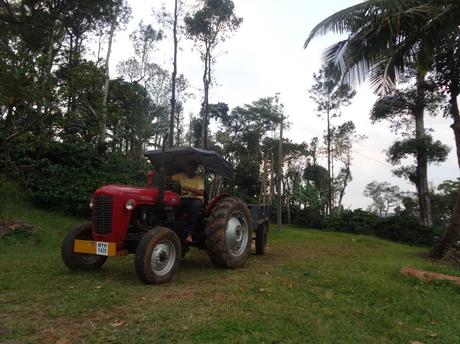 HOMESTAY:
As we reached the home stay, a yummy lunch awaited us. We freshened up and started belting down some good good lunch. I came down with fever, the plan was to visit Aarekall gudda for a small trek. But I crashed in and had a deep sleep. Woke up by evening, by then Ashok and Deefu had gone for another round of session supplies. Dattu and me continued to play badminton. Once the sun began to go down, we put up a campfire and began. Pintu and all the other dogs were with us and we had a great time. Finishing the dinner we crashed pretty late as there was no pressure for the next day.
TIME: 01:00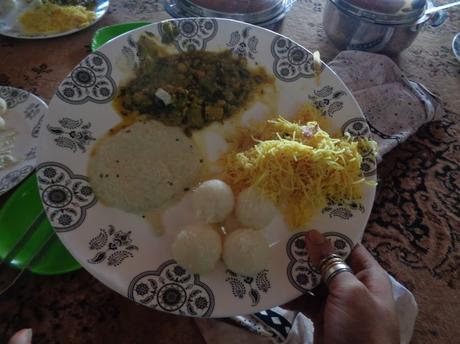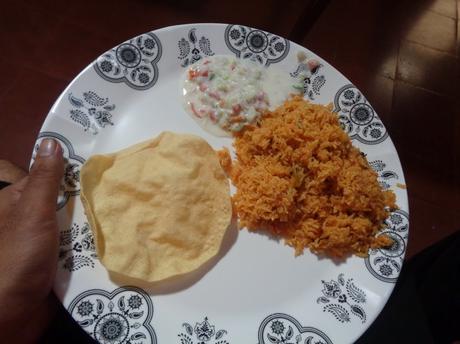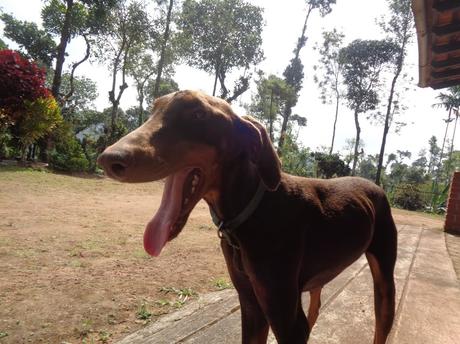 DAY 3 – RIDE BACK
And the award for the early bird goes to? Yeah, was up again at 6:00, not bad, still feverish but ready to kick some ass. The left over 1 full was opened right in the morning and started carom. After a heavy yummy breakfast we thanked Kushan and bid farewell to the awesome Pintu hehe.
TIME:10:00
On the way back, we visited the Abbi falls for 5-10mins. And then it was a non-stop drive towards Sakleshpura and Hassan. On the way, Deefu made us listen to Donnu Donnu song from Maari (Tamil) and that was it. It was my first time hearing that song and , that was it :P. Next 3-4hours, it was the only song that was played until we reached Dattu's place haha!. From here we thanked each other for making it and split to reach our respective homes.
TIME: 15:00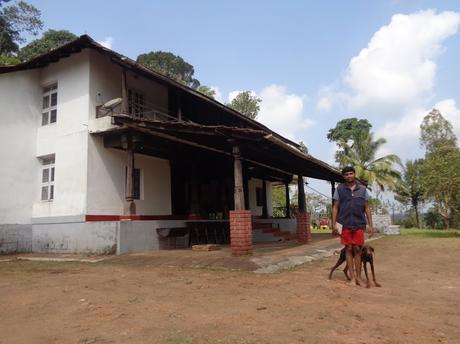 CONCLUSION:
"This was more of relaxed and fun filled chapter. Ethina Bhuja despite of the fierce reputation proved quite easy. Enjoyed all the three days and more importantly the might peak of the Western ghats was conquered with running nose hahahaha!   "
If you are planning to head out this side, drop me a mail or message so that I can hook you up with the same home stay.
Until next time, Cia \m/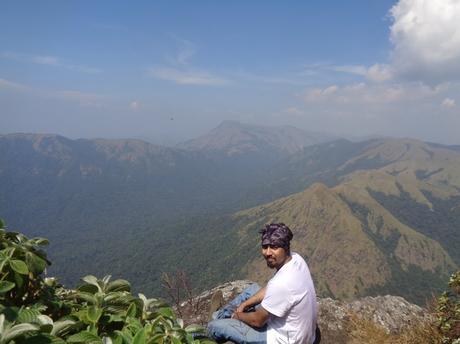 PICASA ALBUM: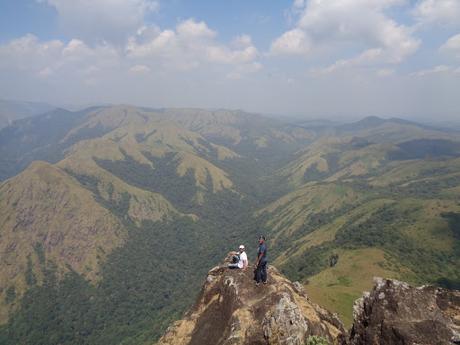 MAPS: