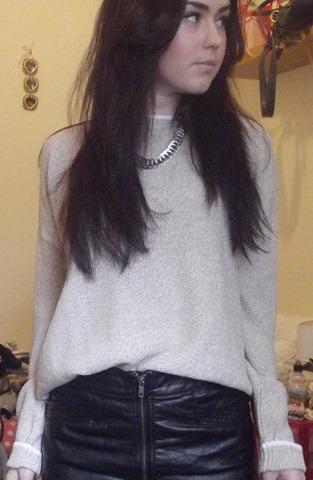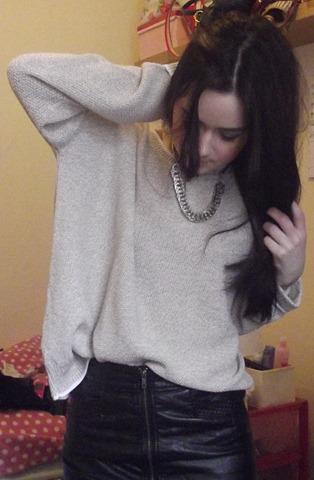 Jumper Topshop / Skirt H&M / Necklace Topshop SALE / Flatforms ASOS
I signed up to LOOKBOOK.nu this week and I've become obsessed. I'm stuck in this style rut and have no inspiration to change it whatsoever. And even if I did, it wouldn't matter because I have to cover up with a big chunky coat and scarf anyway. It's not nice living up here I tell you that. Luckily I did find these fleecy lined tights from Primark so it means I can wear my skirts and shorts again without freezing to death –bonus. This is what I wore today to meet one of my girlfriends; we met up purely for tea and a LUSH trip –I bought the lemon cuticle balm, it's a beaut. I wore my ASOS flatforms for the first time to try and wear them in, but bloody hell they're painful! Was one step ahead of them though and had brought my comfy loafers with me in my bag in case the inevitable new shoe blister arrived on my tootsies. My night tonight has consisted of me massaging the edges of them so that they soften a bit –how romantic – and I gave myself a gorgeous foot and hand massage with the best combination of LUSH products EVER – check out my Instagram to find out what I used, username is 'inordinateplush'.
Oh check out my Twitter to see some looks I've hyped on LOOKBOOK –or, just look on my LOOKBOOK?-, maybe suggest some people to fan if your on there too? Or maybe I could become I fan of you? –hey I'm a poet.