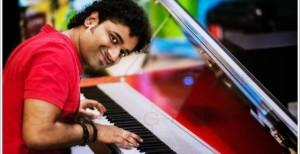 March 13, 1999 Devi Sri Prasad made his debut as music director and today the music director has completed 15 years in industry. The fact that DSP still looks so young should be enough for us to know that how young his debut has been. Over this 15 years period he has grown from strength to strength seen great highs and lows as well. We take a look at 11 such albums (in no particular order of favoritism) which punctuated the journey of the musical sensation.
Aanandam
This was the first major breakthrough for the young music director. The songs were a rage during the time of its release and the album still continues to be a hot favorite among the fans of the music director. The film was DSP's first full-fledged collaboration with director Srinu Vytla, together they would go on to work in many albums in future.
Varsham/Venki/Arya
After delivering one successful album after the other over a period of time post his first big success, the music director entered the big league with this troika of hits. So far the music director has been branded with a class image Varsham changed that a bit, Venki confirmed it and finally Arya sealed the deal for him as a mass sensation as well. Some of the numbers from these albums are heard still today in popular FM's and other programmes in Television.
SD MBBS
2004 was a landmark year in the career of Devi Sri Prasad. For the first time the domination of Mani Sharma as the only music director to give music for a big hero was challenged and so was his throne as the number one music director in Telugu cinema. With back to back success this year DSP proved his mettle and improved his position but a film with Megastar Chiranjeevi was ultimately the crowning moment for him. And who can forget the now legendary "Shankar Dada MBBS Hu Ha Hu Ha" chant.  It became an anthem of sorts for Megastar in the years to come.
Bommarillu
Post the stupendous success in the year 2004 which ended on a high note with Mass and Nuvvu Vasthanante Nenu Vaddantana, DSP had a weak year musically in 2005 despite his films doing well. Finally after a long gap he delivered a memorable album that was critical as well as commercial success in Bommarillu. Both the film as well as its music is still popular among the movie lovers.
Jalsa
The first time combination of DSP with Megastar was a massive success, this raised tremendous expectations on the music director's first combination with Powerstar as well. There was an insane amount of expectations on the album among the fans and music lovers and the music delivered and how. Ever since the title track leaked out it was a sensation. In fact the music has been such a big success that it's seen as the biggest reason for the film's commercial success too because the film otherwise opened to pretty average talk. All the songs were chartbuster and it is still regarded by many as best album in the combination of Pawan Kalyan and Devi Sri Prasad.
100% Love/Dhada
DSP had many hit combinations and one among such combinations which would feature very high among the fans list is his combination with Sukumar. DSP was plagued with stale, routine  and template charges for a long time and finally he came up with something fresh with the album 100% Love. The music director upgraded his sound a bit and started to freshly package and present, his otherwise predictable offerings. Dhada, a colossal failure commercially ranks very among that list of fresh packaging and it would in years to come become his new template.
Gabbar Singh
This was pure and simple sensational chartbuster album that had instant appeal as well as the longevity. The album arrived with great expectations and delivered on all accounts with each song becoming equally popular during the course of the film's run.
Mirchi
Post Dhada this was another Dhada like album in that it's whole packaging that worked wonderfully. Unlike that film Mirchi was a grand success and helped the album reach and stay in public memory as well.
Besides these albums the music director has many other successful and popular albums as well but these are the top 11 albums which we feel showcased the journey and growth of the music director as a dominant force in Telugu film industry. Here's wishing the music director has many many more successes and many years of career ahead of him and achieve new milestones.