These healthy office snacks are portable, delicious, and packed with protein to keep you fuelled! Prep them ahead so you have something healthy to reach for when hunger hits.
Whether you are trying to eat healthier, or to save money, the snack recipes in this post are going to be perfect for you!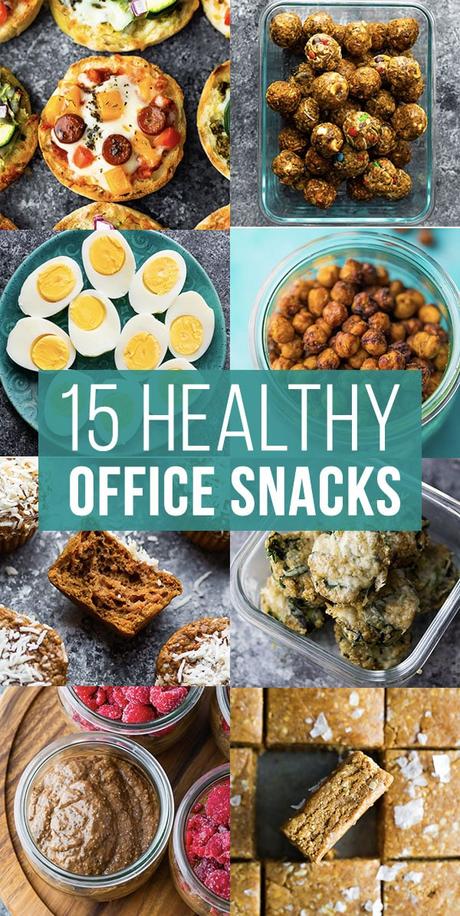 Meal prep is the best way to take will power out of the equation: it's almost impossible to argue with convenience! While you might think of prepping breakfasts and lunches ahead for the week, don't forget about snacks, too.
Having healthy office snacks on hand is a great way to keep hunger at bay, without being tempted by the vending machine or that coworker who always brings baked goods in.
The snack recipes in this post contain a good source of protein, that will help keep your energy up all day long!
Easy office snacks
In addition to the recipes in this post, here are some other snack ideas:
trail mix, or healthy nuts such as almonds:  Be careful with portion size; 1/4 cup is around 175 calories, and should be good to give you a boost of energy to power through the afternoon lull
fruit: my go-to is an apple in the afternoon. I love adding protein in the form of cheese or nut butter (1.5 oz is one serving size).
smoothies: this one is hard if you don't work at home. I love having a green smoothie (this one is my favorite) mid-afternoon to keep my energy levels up.
hummus: it's so versatile! Use it as a dip with veggies, spread it on rice cakes, or roll it up in tortillas (how about with some cucumber slices?).