Hi everyone, here is a list of products which rocked last year (2014)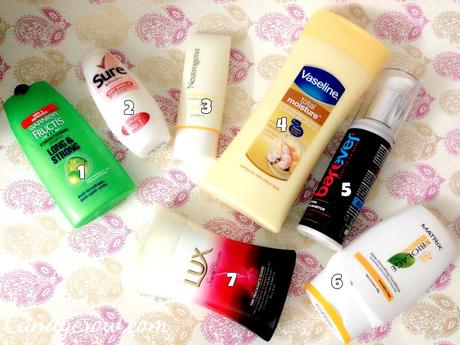 1. Garnier Fructis Long & Strong : I have switched so many shampoos last year, after a lot of misses I  settled down with this shampoo. It is affordable, easily available, does not dry out hair, no extra hair fall. Price : Rs 130 (175ml)
2. Sure Dry Shield : This roll on not only keeps me odor free but it also make me smell good for more than 18 + hours. Price : Rs 70 (40ml)
3. Neutrogena Ultra Sheer UV moisture : This is my favorite sunscreen cum moisturizer. You can find the detail review here  Price : Rs 349 (30ml)
4. Vaseline Total Moisture :  This is my hero who saved my skin from dry and stretchy skin during winter. Little is enough to moisture your skin and it's effect last for 8 + hours. Price : Rs 230 (300ml)
5. Barever Hair Growth Inhibitor : This one has cut down my parlor visit to half, for a detailed review click here Price : Rs 1100 (80gm)
6. Matrix Biolage Deep Smoothing Conditioner : This beauty is paraben free, makes my hair tangle free, does not weigh it down, and does not add on to hair fall. Price : 170 (100gm)
7. Lux Scarlet Blossom Body Wash : This one smells amazing, lathers well even in hard water, also leaves skin soft and moisturized. Price : Rs 55 (125ml)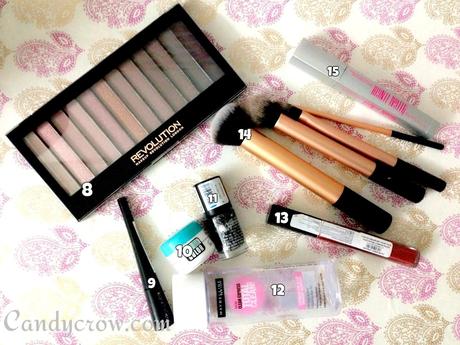 8. Makeup Revolution Iconic Eye shadow Palette : It is a dupe of  urban decay naked palette, the pigmentation is quite good and have a smooth texture. If you are looking to buy a pretty neutral shade palette without burning a hole in your pocket this is the one to go for. Price : 1200
9. Maybelline Hyper glossy liquid eyeliner : This one has got me so many compliments, it is jet black, bold and glossy - all the things that I look for in an eyeliner at an affordable price. Detail review here Price : Rs 245
10. Kryolan Derma Color Camouflage Cream : It is a highly pigmented makeup which can be used as a foundation to cover up stubborn acne marks, skin discoloration and dark circles. Price : 350 (4ml)
11. Maybelline Glitter Mania : It is a dupe of OPI sand paper collection at an affordable price. Starry night is my favorite in their collection. Price : Rs 125
12. Maybelline Total Clean : It helps in removing eye and lip make up effectively without stinging and cloudy feeling. It is a must have for makeup remover. Price : Rs 275
13. Revlon Color Burst Sienna Sparkle : It is a beautiful brownish plum color lip gloss which stays on for 3-4 hours and fades away evenly. Price : Rs 550


14. Real Technique Core Collection Brush :

Makeup brushes play an important role to create the flawless look, These brushes are soft, easy to wash, dries quickly and no shedding. Price : Rs 1999
15. Maybelline Illegal Length Mascara : It helps in adding length and make eyelash stand out, must have for beauties with thin lashes. Price : Rs 550
Hope you enjoyed the post.
What was your favorite product of 2014 ?