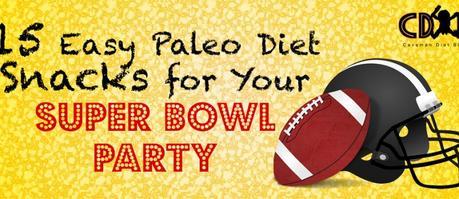 Rock Your Super Bowl Party
15 Easy & Epic Paleo Diet Snacks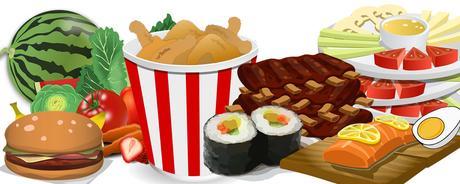 This post was originally published on February 1, 2016 and has been updated to include new recipe links for healthy Superbowl celebrations!
It is that time of the year! Enjoy these 15 sweet, salty, and savory Paleo diet snacks at your Super Bowl party or any party for that matter. Paleo diet snacks are not restrictive at all!  You can create amazing mini-recipes that are healthy and satisfying. Most importantly, Paleo diet snacks can be super fun to eat!
This list is but a short subset of the plethora of paleo diet snacks that are available to you. Here's a much more expansive paleo snack list that is sure to please.
So, let's jump right into these 15 delicious paleo party snacks; select your favorites, and try them out any time of the year!
Sweets:
Sweet and salty fruit mix:  Dried cranberries, apricots and raisins. Dash in sea salt, and add macadamia nuts or almonds to the mix. Delicious and 100% Paleo friendly.

Raisin and almond mix

Plantain chips with coconut flakes- Slice plantain (green, ripe bananas) into coin-thin slices. Bake them until crispy. Season them with sea salt and coconut flakes and cinnamon.
Citrus bar– Offer a spread of easy-to-eat sours, such as tangerines, "halos", cut- up grapefruit and blood oranges. Ease the acid by placing a bottle of raw honey near the "bar", so people can drizzle it on their oranges. Offer kabob sticks so they can pinch their pieces and eat them easier.
Crudités– How can we forget our favorite crunchy, raw veggies such as celery, cucumber, broccoli, cauliflower and carrots dipped in honey, fruit jellies, and/or dairy-free dips?
Salties:
Jerky buffet– Get your favorite dried meats, uncured and dehydrated without sugar. FACT: Jerky preserves its original flavor even when prepared without preservatives. This brand is my fav.
 Olive bar– Green olives, stuffed olives, black olives, red olives…all olives! Sunfood offers a variety of raw and organic olives.
Sashimi– Order your favorite fresh fish such as salmon, mackerel, yellow fin and even scallops. Slice them fresh. Drizzle all with lemon and vinegar to preserve the flavor.
Oysters– Order a few bushels of fresh oysters and shuck away through the game!
Riblets, wings, shrimp kabobs, meatballs– Did we forget to mention that Paleo diet snacks allow ALL grass-fed meats in the "menu"? Eat away! Pork, beef, fish and chicken are not off limits! Pick the best selections and fire them away on your grill. Consider making these beef meatballs,  chicken meatballs or pork & apple meatballs 
Tostones– This Caribbean favorite consists on sliced plantains, deep-fried in extra virgin olive oil, until they are crunchy. Season the plantain rounds with sea-salt and dip in a mixture of oil and chopped garlic cloves. They are delicious.
This is ripe, green plantain and the "tostones"
Savories
Chamoy Apples; Photo credit: M.P.Ossa, thedietblogchic.com

Deviled eggs– Season with sea-salt and paprika and decorate with a black olive for an extra kick of flavor.

Quiche– Stuff a few eggs (or egg whites) with a chuck load of fresh veggies and meats. No crust needed. Coat your baking pan with olive oil and bake until well-cooked. Who said eggs were only good for breakfast? Season with your favorites for added flavor! Here's a fantastic crustless quiche recipe
Guacamole– Rather than buying it at the store, mash a whole avocado (skin and pit off) and season it with sea-salt and lemon juice. Add chopped onions and chopped peppers. You can even add hot sauce to spice it up. Use it to dip your crudités.
Chamoy apples– Dip green apples in raw honey. Cover completely with chamoy powder. Sprinkle paprika, hot pepper flakes and sea-salt. Refrigerate and slice up.
**Chamoy is a pickled fruit concentrate made in liquid and powder forms that is very sour. It is composed of lime juice, chili powder and fruit, typically apricot, plum or mango. However, it is often paired with hot peppers to bring an incredible flavor that goes extremely well with fresh, crunchy fruit.**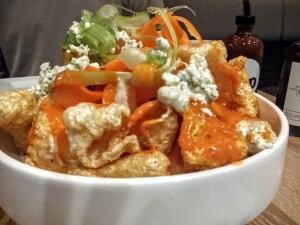 Chicharrones, Photo credit: M.P.Ossa, thedietblogchic.com
15. Chicharrones– Commonly known as pork rinds, "chee-cha-row-nes" are the Spanish way to eat pork rinds, which means that they are taken to the next level. While you can buy them already bagged in the supermarket (make sure you read the ingredients), the seasonings you add will make a huge difference. Try: a) sea-salt, b) chamoy, c) paprika, d) lemon pepper seasoning, e) cinnamon and , f) celery powder/seed. Your friends will not stop talking about them! If you're not sure what brand is the least processed; hop over to Fooducate and search for pork rinds.
---
15 Epic #Paleo Snacks for your #SuperBowl #party
Click To Tweet
---
There you have it. Paleo Diet snacks can be fun and tasty. Try these recipes, mix and match, and add your own signature flavor to everything. It has never been a better time to Paleo all the way!