Bloggers to Make You Think!
As this year is ending it's time to start thinking about what we will do in the New Year. Who will we learn from? Who can teach us more and help us along the way to succeed online? I choose 15 bloggers that I have come across that have taught me many things. I thought if you haven't been following these bloggers to make you think you may want to in the coming year 2015.  Hard to believe it has been 15 years since Y2K , isn't it?
A few of you may have seen some of these bloggers comment here at Inspire to Thrive but others I hope you haven't come across yet. I know I love visiting blogs with roundups of bloggers that I haven't yet met. It's a wonderful way to meet new people in your niche.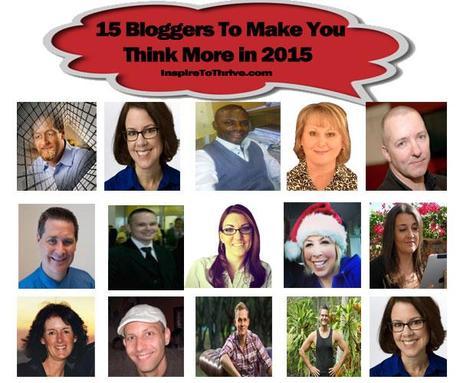 Here are the 15 Bloggers:
Danny Brown from DannyBrown.me – I love his tagline – "There's more to life than social media." Danny is an author with 3 books under his belt. He writes about marketing and social media.  His blog has been named as #1 blog in the world by HubSpot! He has many other awards as well for his blog since 2011. He also gives speeches at major corporations on marketing and social media. Danny is just truly amazing.
Ryan Biddulph from Blogging From Paradise – I've known Ryan for some time in the blogosphere but really came to respect him when I read his eBook Blogging From Paradise – How to Retire to a Life of Island Hopping through Smart Blogging.  Ryan really made me think about why I am blogging and how to take this blog to another level in the future. His ebook was simple and with step by step instructions. He has since written a series of eBooks.
Adrian Jock from Adrian Jock.com - Adrian blogs about internet marketing. He has written a series of internet eBooks as well. You may have seen Adrian comment here and there on this blog. I believe I first met him here around April on a post I did about comments and how many before you give backlinks to commenter's on your blog. We didn't agree at first and I ended up thanking him for pointing out our differences of opinion. We have, I believe, become friends ever since. Life would sure be boring if we all agreed all the time. What I really like about Adrian is he watches your back – if there's an error and he notices, he will let you know. I truly really like that!
Carol Amato of CarolAmato.com - I've known Carol for a while but got to know her better this year by visiting her blog more often. She blogs on how to grow an online business but the one post I loved was about her going zip lining. It's on my bucket list now! It's funny how an off topic post can resonate with a reader and turn them into a regular reader of your blog.
Don Purdum from Unveil the Web - I just met Don this year by seeing his comments at some regular blogs I visit. He writes awesome content on internet marketing, social media and tips on business. He has been running his own businesses since 2004 and is also a sort after speaker. He always responds to comments and on social media. If you haven't followed Don be sure to add him to your list too!
Mike C from Sugar Pine Realty – Mike's blog is not just about real estate – it's about life and much more. This was one of the first blogs I came across via Twitter over 4 years ago now. I loved many of Mike's posts as they were about life, social media, relationships, etc. A few on real estate and how it may also related to life. Most of his posts you will be able to relate to. They are short and simple. Most have bullet points. He is very active on Twitter too.
Ramsay Taplin from Blog Tyrant  – This young man really knows his stuff! Ramsay started in his early twenties and sold a fitness blog for over $20,000. He loves to work from his couch and never would want to work in an office. He teaches other bloggers how they too can work from their couch and not have to deal with a 9-5 rut.
Ann Handley from Ann Handley.com – Besides blogging, Ann is an award winning Wall Street Journal author and keynote speaker. She is a writer first and marketer second. Her blog is definitely not boring and you'll be entertained as you learn along the way following Ann Handley.
Michelle Dale from Virtual Miss Friday- Michelle shares her insights on real life experiences in online businesses, intrepid virtual assistance, travel and digital nomad life with her family. You can learn a lot from Michelle as she shares what she has learned and her topics have quite a range.
Glenn Shepherd from Glenn Shepherd.com - Glen blogs about internet marketing and he got involved just a few years ago back in 2012. Glen has a variety of topics and teaches us creatively through his posts. I never get bored reading his posts and I don't think you will either.
Ms. Liz from Home Notion – Ms. Liz writes all about content marketing. She also writes about blogging too. She shares her strategies for writing valuable content that will get shared and read again and again. She is another blogger I met via Twitter. 
Jackson Nwachukwu 0f Worth Blogger – Jackson has been blogging since 2009 and is from Nigeria. I came across his blog when he named me one of the 12 Most Stubborn and Fearless Female Bloggers. That got my attention I must admit. I've been reading his blog ever since. He has gotten very clever with his headlines and topics on how to build a blog worth reading. I'm sure you will learn some new tips via reading Jackson's blog in the coming year.
Jenn Herman from Jenn's Trends – Jenn writes mostly about Instagram, she is the Instagram Queen! I'm amazed at how many posts she can write just about Instagram. If you want to learn more on Instagram Jenn is the one to follow in the coming year.
Paul Spoerry from Paul Spoerry.com – Paul is a coder and web geek who loves to blog. He writes a lot of tech posts which I love and some things off topic which can be interesting too. This is another blog that won't get you bored when you visit. I'm sure you will learn about technology from Paul.
Kim Garst from Kim Garst.com – Kim Garst is a social media queen that we can all learn from. She engages over on Twitter with over 300,000 followers. And she still has time to engage with me on Twitter! That truly amazes me. Here blog is all about social selling made easy. I love her posts, she keeps them simple!


@Lisapatb Lisa, which one was your fave?

— Kim Garst ツ (@kimgarst) December 11, 2014
Other Bloggers Too
There are many other bloggers I will be following in the new year to learn from like Adrienne Smith – a network superstar,  Tim Bonner – always teaching us something new, Enstine Muki – teaches us how to make money online, Ana Hoffman - with her marketing skinny weekly shares what's new around the web and more,  Sherman Smith - teaching you about running a home business , Donna Merrill - shares her online marketing tips, Sylviane Nuccio - shares her writing tips along with travel and coaching tips, Barbara Charles - teaches us about business, marketing and motivation and Brenda Pace - keeps us thinking about life, social media and more. These are just a few other blogs I read and learn from all the time. 
Which bloggers make you think from this past year? Did you know all 15 of the above bloggers?
Who else would you add to the list?
Image courtesy of Boykung at FreeDigitalPhotos.net

Lisa
Lisa loves helping others to thrive online through Social Media, Blogging and SEO. What good is knowledge if you cannot share it with others?
She has 20+ years experience in marketing/advertising with 4 years experience blogging, social media and SEO. Get her new eBook Tweeting Like It's 2nd Nature Today!

Latest posts by Lisa
(see all)
15 Bloggers to Make You Think in 2015 and Beyond

- December 18, 2014

Google Panda is Back at it Again – 6 Things You Need to Know!

- December 8, 2014

Interconnecting Your Social Media Accounts – Good or Bad?

- November 25, 2014
Powered by Starbox