15 Advertising Tips From Regulation Z
Disclaimer: This article does not represent legal interpretation or advice. To see the below stated rules in their entirety, please click here.
A loan originator's marketing strategy has become a two-sided coin. On one side, there is a genuine necessity to promote and advertise using every tool within arm's reach. On the other side, regulations have become an overbearing and complicated machine that suffocates any form of creativity on social media and print advertising. Your originators are between a rock and a hard place; their intense desire to market is matched by absolute fear of regulatory conditions.
Since the Consumer Financial Protection Bureau (CFPB) manhandled authority from the Federal Reserve Board (FRB), amendments have been made to the Truth in Lending Act, or Regulation Z, which governs advertisements concerning financial information, among many other things. Though the CFPB is well-intentioned, the Dodd Frank amendments can be considered the strictest and most complex laws set forth. 
Most violations of Regulation Z are unintentional, but ignorance of the law isn't a defense. While these rules are complex and the fines are heavy, Regulation Z shouldn't scare finance professionals from omitting any marketing strategies. With a proper understanding of the rules, the originator's coin becomes manageable and, in some respects, it even becomes a beneficial situation. After all, originators who understand the current regulatory climate often have a greater advantage over their competitors. In order to help you understand Regulation Z, here are 15 tips to remaining compliant in your marketing plan: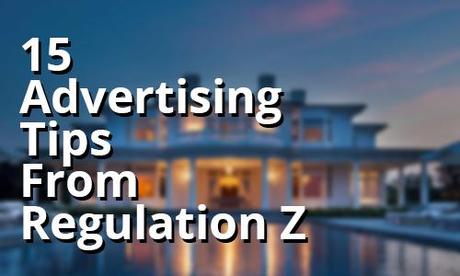 1. Apply print advertising rules to social media.
The official commentary to Regulation Z states that "any social media communication… must comply with Regulation Z's advertising provisions." Advertising is considered to be "any commercial message that promotes consumer credit" and not restricted to print. The same rules that apply to social media and print apply to any form of electronic media. The commentary also states that "the regulation's advertising rules apply to advertisements delivered electronically." (See 15 U.S.C. 1601 et seq.; 12 C.F.R. pts. 226 and 1026.)
2. Use disclosures when necessary.
Whether on print or online, Regulation Z requires that any information about loan terms and cost must also include a disclosure. Regulation Z is designed to promote the "informed use of consumer credit". Disclosure requirements will vary based on whether the credit is open-end or closed-end. Some exceptions are discussed in later tips. (See 12 C.F.R. 226.24(d)(2))
3. Clearly state your rates and terms.
Another aspect of Regulation Z is that if an advertisement for credit states specific credit terms, "it must state only those terms that actually are or will be arranged or offered by the creditor." In other words, advertising relating to credit must present what Regulation Z deems to be "clear and conspicuous" information. (See 12 C.F.R. 226.24(1)(a))
4. Adopt or evaluate your companies social media policy.
As employees may be viewed by the public as a reflection of their company, financial institutions may be at compliance risk by what their employees say on social media when they're off the clock. For example, if an employee is communicating via social media with a customer regarding a loan product, policies should be in place to ensure they are receiving all of the appropriate disclosures. Employers should evaluate the risks of social media to determine proper policies to adopt. (See FIL-56-2013 (IV) Truth in Lending Act/Regulation Z)
5. Make the equal housing logo easy to find.
At least in all written and visual advertisements. Websites that accept loan applications online may be considered a lobby for Fair Housing Compliance purposes and should also contain the logo. The advertisement must prominently indicate the logo in a manner "appropriate" to its medium. (See Fair House Advertising § 109.30 (a))
6. Know the difference between equal housing opportunity and equal housing lender.
If the advertisement is written or visual, it is necessary to include the equal housing opportunity logo. With respect to oral advertisements, the Equal Opportunity Lender logo must be present or spoken in the context of "This financial institution is an equal housing lender". (See 24 CFR part 110 & Fair Housing § 338.4(b))
7.  Make sure you always use your fully licensed name.
Even if it's unintentional, advertising a name other than the fully licensed name that corresponds to your NMLS# can handicap regulators and consumers from understanding who you are. In this case, you may be fined. (See 12 C.F.R. 226.24(i)(4))
8. Keep your NMLS# visible.
Your NMLS ID improves the supervision and transparency of the residential mortgage market by providing the public with a tool to track companies "across state lines and over time". Established by the SAFE Act, NMLS ID's are required to be made readily available to customers "in a manner and method practicable to the institution". They should be clearly visible on all application forms, advertisements, business cards and websites.  (See 12 CFR 1007.104(a))
9. Gain permission to quote someone.
Are you wanting to quote someone on your website or include their words in a video? If the quote came from a previously copy written article or review site, you'll need written permission. Moreover, you must include the author's name, the publication date, the title of work, and the name of the publication in which it appeared. (See EAS-405)
10. Don't include lyrics on ads without permission either.
If you want to display the lyrics to John Lennon's "imagine" on your website or video, you're going to need Paul McCartney's permission. 'To find out who holds the rights to a particular song, contact the American Society of Composers, Authors and Publishers (ASCAP), or Broadcast Music, Inc. (BMI). After permission, you'll need to include the author's name, publication date, title of work, and the name of the publication it first appeared. (See EAS-405)
11. Be aware of trigger words that require disclosures.
When additional information is added to an advertisement to interest the consumer, you may be required to disclosure further requirements. If trigger words like interest rates, the dollar amount of down payments, or anything related to the closing costs, you are required to further calculate and accurately disclose the following:
The available interest rate

The accurately calculated APR

The payment schedule

Any Required down payment information

State whether the rate may increase
In addition, you should also state whether the interest rate may increase at any time after and if the availability is subject to any material requirements or limitations (which must be specified). (See 12 C.F.R. 226.24 (d))
12. Know your state regulations.
In some states, it may be required that at least one responsible individual who is accountable be named in your advertisements. Your state may also require the advertisement to reflect a message such as "To check the license status of your Mortgage Loan Originator, visit: www.example.com". Some states even have additional state specific disclosure requirements that must be added to your website.
13. Don't say "government loan program" unless the loan really is.
The Truth-In-Lending Act prohibits making any statement in an ad that the product is a "government loan program", "government-supported loan", or is otherwise endorsed by a government entity unless the ad actually is for an FHA or VA loan. (See 12 C.F.R. 226.24(i)(3))
14. Convey your message differently to avoid disclosures.
Adding disclosures can eat up the available real estate on your ad. If you do not wish to add disclosure requirements, you can still convey the same message with a few minor changes. For example, instead of saying "15 and 30 year loan terms available" say "We offer a wide range of mortgage terms, available to fit your needs". Or, instead of "No closing cost loans!" say "Loan programs with no out of pocket expense are available to qualified borrowers." (See 12 C.F.R. 226.24 (i))
15. Give your ad these 7 things.
In order to comply with the SAFE Act, advertising requirements set for at a federal level under Regulation Z must contain the following (See 12 CFR 1007.104(a)):
The legal name of the mortgage company

The NMLS ID of the company

Full, physical business address

The business phone number – the land-line is required.

The name of the originator as it appears on the NMLS website

The NMLS ID of the originator

The equal housing opportunity logo
MortgageDashboard Develops Award-Winning Loan Origination Software.
Get to Know Us