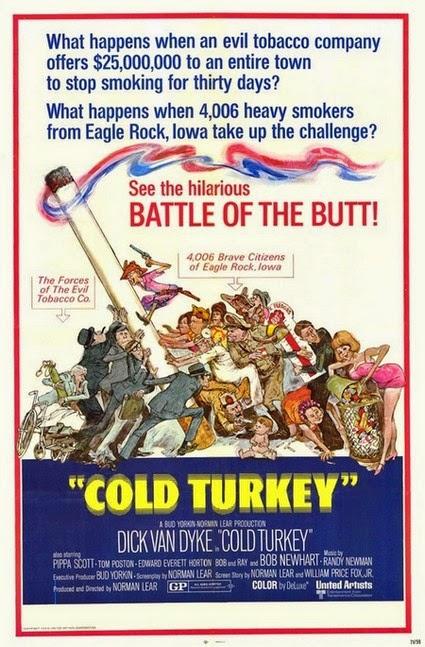 Directed By:
Norman Lear
Starring:
Dick Van Dyke, Pippa Scott, Tom Poston
Tag line:
"The Exciting True-Life Story Of America's Most Decorated Hero"
Trivia:
The bulk of the film was shot in Greenfield, Iowa, with many of the actual residents playing extras in some scenes
In the 1970s, Normal Lear was the king of television comedy, writing, producing, and directing such classic programs as All in the Family, Maude, and Sanford and Son. His big-screen output, on the other hand, was much more limited; during his 50+ year career, Lear directed only a single motion picture: 1971's Cold Turkey, a darkly satirical film about a small town in Iowa that attempts to give up smoking for 30 days.
It all began as a public relations stunt for the Valiant Tobacco Company. Advertising exec Merwin Wren (Bob Newhart), hired by Valiant to improve its image, convinces the company's founder, the elderly Hiram Grayson (Edward Everett Horton), to offer $25 million dollars to the first American town that can quit smoking for an entire month. Valiant's Board of Directors chastises Wren for coming up with such a potentially dangerous contest (if one town can quit, others might be inspired to try it as well), but the confident Wren reassures them that no community in America, regardless of how small it is, will be able to give up smoking for such an extended period of time.
But then, Merwin Wren has never been to Eagle Rock, Iowa.
With only 4,000 residents, Eagle Rock is dying a slow death. Many of its businesses have closed their doors for good, and families are moving away on an almost daily basis. Realizing what $25 million would mean for his town, mayor Quincy Wappler (Vincent Gardenia) turns to Eagle Rock's most respected religious leader, Rev. Clayton Brooks (Dick Van Dyke), for help. Before long, Rev. Brooks has launched a campaign to get Eagle Rock to agree to give up cigars, cigarettes, and pipes for 30 days. Of course, not everyone is eager to participate. Dr. Proctor (Barnard Hughes), who runs the hospital, smokes a cigarette before every operation to soothe his nerves, and fears he'll have a breakdown without his daily nicotine fix. Using his skills as an orator, Rev. Brooks gets the whole town to voluntarily quit smoking. But as all of Eagle Rock braces for the difficult days ahead, the tobacco industry issues Merwin Wren an ultimatum: get someone to light up before the contest ends, or face the consequences.
First and foremost, Cold Turkey has an excellent cast, many of whom would go on to appear in some of Lear's TV projects, including Jen Stapleton (Edith Bunker in All in the Family) as the Mayor's wife, and Paul Benedict (Bentley in The Jeffersons) as a new-ago guru who uses the power of suggestion to help the townsfolk battle their cravings. Dick Van Dyke delivers a strong comedic performance as the man of the cloth who inspires an entire town, yet never allows his own wife Natalie (Pippa Scott) to get a word in edgewise, while Tom Poston has a brief but memorable role as Mr. Stopworth, a chain-smoking alcoholic who, instead of turning over his cigarettes, agrees to leave town for the contest's duration. Cold Turkey is also notable for being the first movie that composer Randy Newman ever worked on (his song, "He Gives Us All His Love", plays during the film's clever opening title sequence, where the camera follows a dog walking down the middle of a street in Eagle Rock, passing signs advertising businesses that have long since packed it in).
As he'd do time and again with his various TV shows, Lear uses the comedy in Cold Turkey to shine a light on such social issues as commercialism and the corruption of big business. Yet while his television programs would occasionally preach at you, the writer / director never allows Cold Turkey's message to interfere with the fun.