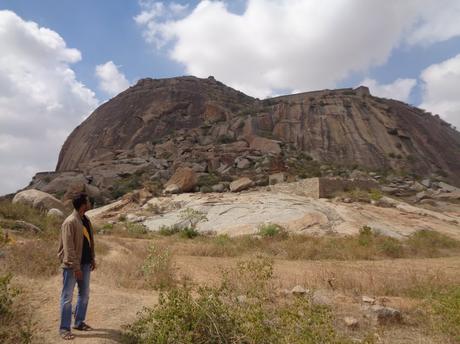 Place
: Ratnagiri Fort Trek
Distance
: 150kms x 2 = 300kms
Directions
: Bangalore > Dobbaspete > Madhugiri > Ratnagiri Fort
Krew
: Aditya (Adi) > Deepak (Deefu) > Karthik (Sp)
Bikes
: Classic 350 > Pulsar   
Previous Visit
: Penukonda Fort Ride.
Budget:
Rs 350/head
IN LESS THAN 50 WORDS:
This was the second trip for the month of January 2017 and boy it felt good to be back in town. Ratnagiri is a 7 tier fort and offers a good explorative climb. Our trek was as usual fun filled and more of fooling around. Ratnagiri is situated right at the border of Karnataka & Andhra Pradesh and was the power center of Cholas & Pandyas. Ending the trek at Adi's hometown of Medigeshi was just the cream to top this chapter off!
INTRO & PLAN:
It was 5 days since our epic fort ride in Penukonda. So I wanted to hit some new place as the feeling of getting a fresh place kind of gets me a little high :P hehe! So, once Deefu confirmed his coming on the trip it was a trek no doubt as he is one of the pioneers in establishing the trek segment in our club. And when Adi also confirmed Ratnagiri was something that popped into my head as it was close to Adi's home town Medigeshi.
TIME: 20:00 (20/1/2017)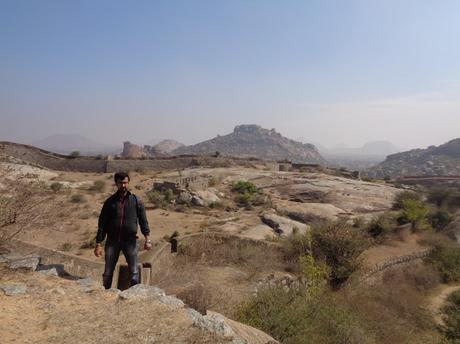 ASSEMBLE & LEAVE:
Oh yeah woke up at 04:00, did a few push-ups & sit-ups, had a sip of coffee & was all set to go! Called up Deefu & Adi woke them up as well. Went near Adi's home picked him up and we both headed on the ORR towards Deefu's place. Deefu joined us on ORR at the Mahalakshmi layout junction on his "Blue Blizzard" his new enfield. It looked like a perfect bike for him.
TIME: 07:00
RIDE 1: (Bangalore – Dobbaspete – Madhugiri – Ratnagiri Fort)
This was 135kms ride on good road but with lot of speed breakers. As we departed Bangalore, we cruised along at 80's on the Tumkur road wading our way in between the vehicles which were looking for their own spot's as well. The ride was smooth and soon we were cruising beside each other comfortably on the main highway. We pulled over at our regular hotel for some tasty breakfast.
TIME: 07:30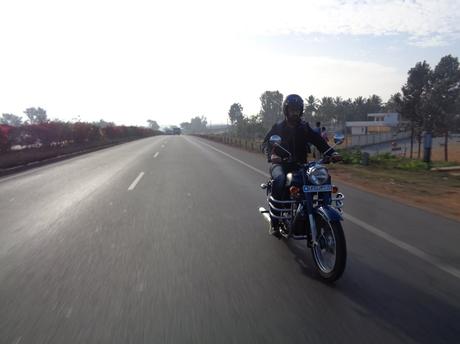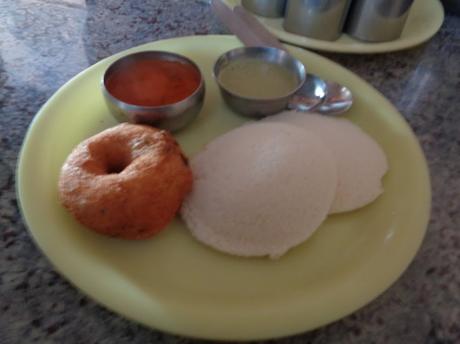 After some yummy breakfast, we rode into Dobbaspete and took the road towards Madhugiri. The roads were freshly laid but the amount of speed breakers was little too much. We continued to maintain good pace to reach Koratgere.  Deefu & me were reminded of the "muddhe oota" & "goli soda" we had had at the bus stop 5 years back returning from Channarayanadurga. We continued towards Madhugiri. We could spot the might Channarayanadurga standing in all her glory waving at us. it was not long before we could spot the mighty Madhugiri, the very sight of this hillock sends chills down my spine.
TIME: 09:45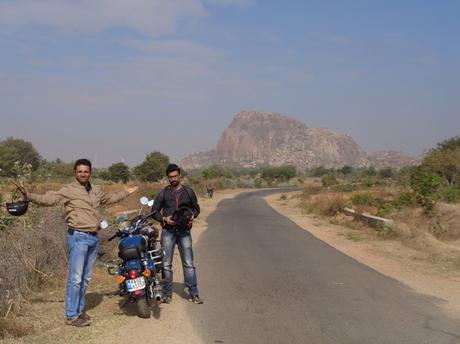 Asking the locals for directions we proceeded towards Pavagada. Then as we proceeded about 10kms towards Pavagada, one guy almost blindly came crashing into, I shouted at him then smiled and asked for directions. He was totally confused as it was totally a new way of asking direction :P. Finally once we took a deviation of the main road the roads tuned narrow and flooded with lush greenery. It was a pleasure to ride and soon we could spot Ratnagiri. Ratnagiri is very small town hardly 4.5km perimeter. We parked our bike near a home and requested the lady at the house to keep an eye on our bike. We handed over our helmets and enquired further about the place. Then, with the goat's spirit awakened within us, we were all set to conquer this hillock.
TIME: 10:30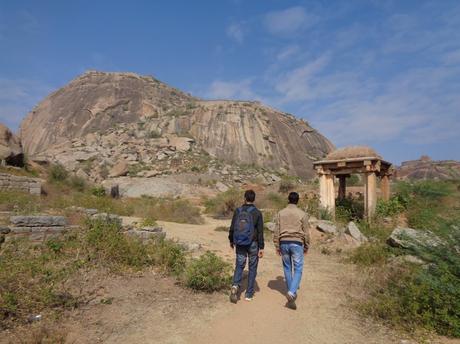 RATNAGIRI FORT TREK:
It took us about an hour to ascend the fort. The weather was pleasant and the trek was quite explorative. Like said earlier it is 6-7 tier trek so a lot of ruined buildings could be found all along the way up. Surprisingly we hardly took any breaks and went straight up exploring our way throughout. About this trek it is actually pretty hard to differentiate/segregate the climb up into segments as one would lead to another without any significant change. Even then I have divided it into 3 segments:
i)  
Way to the Door.
ii)
Amazing Mid-Riff.
iii)
Last Stairs.
So, try keeping up with me on this one. Here goes: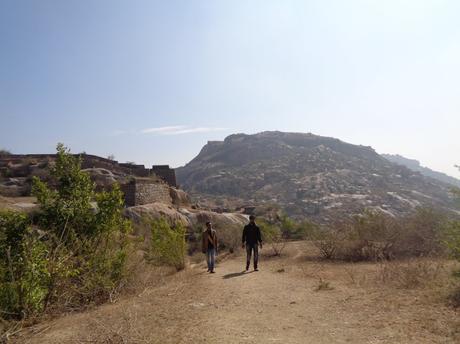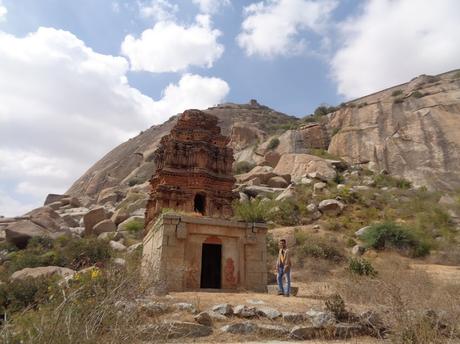 i)  Way to the Door:
As we left the bikes we had to pass through ancient doorways and abandoned wells. We tried hard spotting the entry point into the fort but couldn't find any. After climbing up a outpost we could see what seemed like a bike doorway on a fort wall, that seemed like the entry to us. But getting there took some time. We had to wade our way through the fields and tried cutting down the time to reach the door as we weren't sure whether it was the right one. With lots of thorny bushes around what seemed like a simple task proved not so easy. Finally when the door seemed real the lizard spirit took over me & deefu and we started ascending this steep rock face towards the door. Adi waited patiently as felt it was risky and eventually he found a simpler route. He called out to us and informed us. We both were stuck on a steep face of a rock not completely up or down, hehe.. it was slightly scary. but we made it down to base and re-routed the path and found ourselves at the entry of the first gateway.
TIME: 10:45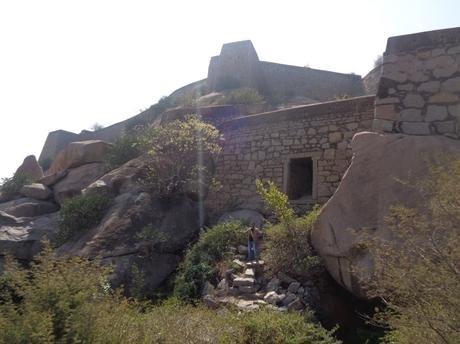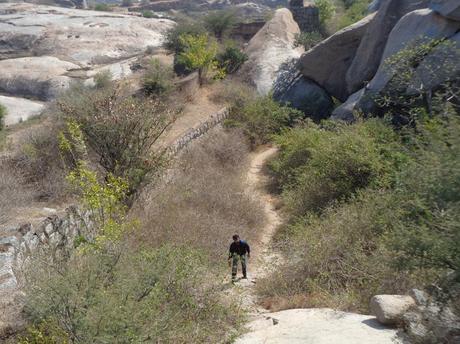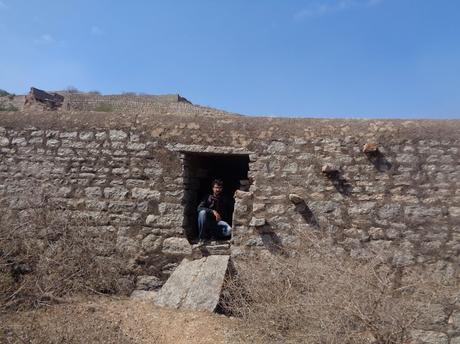 ii) Amazing Mid-Riff:
This part of the trek I must say was the core of the entire climb. It constituted the major chunk of the climb as well. As we entered this stage the real beauty of the fort began to unveil. There were 6-7 such layers all offered false path ways to misguide the invading soldiers and all had soft spots where the defending soldiers could fire. This was truly an amazing experience. Also there were some narrow pathways through bushes and trees but it was clear enough to be spotted. There were consistent outposts to overlook the tiers below. The fort seemed to get more incredible as we ascended tier by tier up!  The gate ways were all dug up by people searching for treasures, but these offered a nice pit stop for us to rest. Finally we reached a flat land after about 4-5 tiers to find a lot of ruined buildings. We explored each and every one of them and finally spotted the stair way that led to the top of the hillock.
TIME: 11:30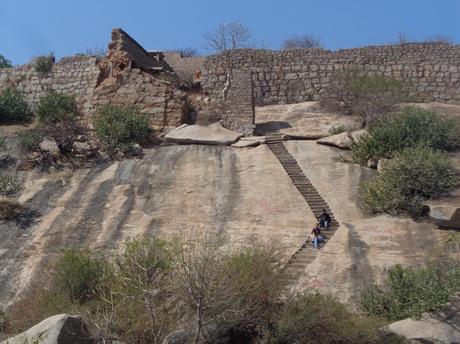 iii) Last Stairs:
This was the last stretch of this awesome trek. As we ascended these stairs energy began to drain out of our knees (hate stairs!). The wind speeds had picked up and it was soothing. We took a final breather and entered the last tier.
TIME: 11:45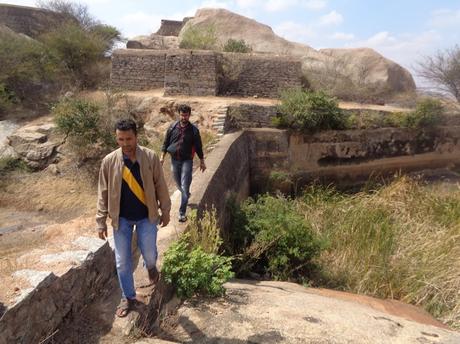 TOP
:
There were lots of buildings on top. Buildings which seemed like resting places and few like granaries. There were also small ponds on top which was pleasant to see. We split and explored the fort top and then decided to find a nice place and crash down. We found a small cave like opening which was cool and perfect for a rest.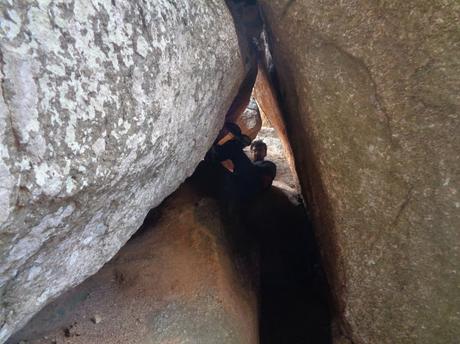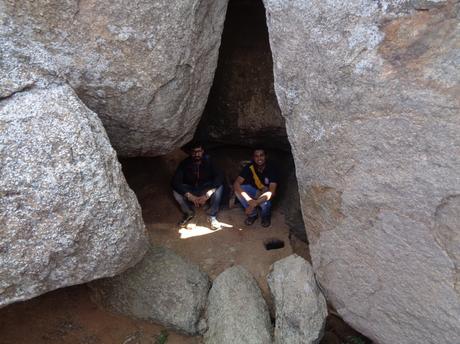 We three knew each other since 15 years, so yeah hell lot of things in common and more importantly we knew each other boundaries pretty well (and respected that pretty well!) But all we ended up speaking was about or college stories as we had did our engineering in different colleges. Adi asked us if we wanted to have lunch at his home at Medigeshi, we agreed upon that wonderful idea. We spent about 45-60mins relaxing on top and then finally decided to head back.
TIME: 13:00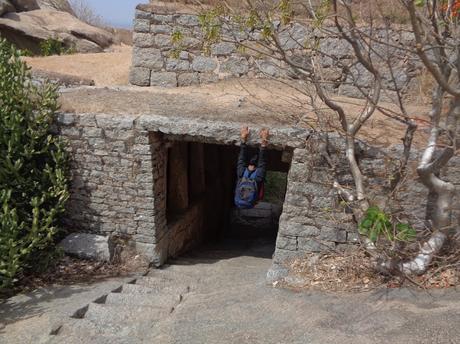 TREK DOWN:
Well, the trek down was a smooth one. We enjoyed and Deefu was almost playing around holding the structures and swinging from one corner to another. Without much breaks we descended the last stairs and mid-riff in very short time and then we could find a few goatherds with their herd. We caught few of the young ones and played around with it. Then we kind of got out of the main front door and then lost way. We could see the paths which lead back to the few houses clearly, but the thorny bushes all over the place made maneuvering difficult. After few tricky jumps we made back on flat land, then we realized we had missed out on a ruined temple which was on the other side. So we visited the temple and went back to house where we had left our helmets and bike.
We requested for some water and the lady offered us to stay back and have lunch as well (such kindness!) Then we said we had to go to Medigeshi as we had already requested for lunch over there. Thanking the wonderful lady again, we departed Ratnagiri :)
TIME: 13:30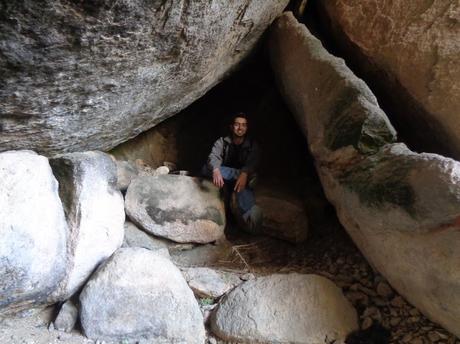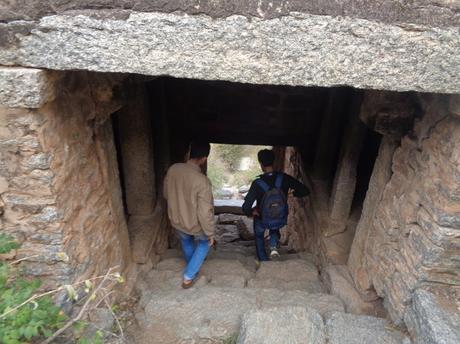 RIDE 2: (Ratnagiri Fort – Medigeshi)
This was a 150kms ride back first to Adi's hometown Medigeshi and then back to Bangalore. First enquiring the interior route to Medegeshi we rode through fields and greenery and finally could spot the mighty Medigeshi. I had climbed this hill a couple of years back, it was a nice trek as well. Finally we reached Adi's home for some, trust me on this one, good good home made food.
TIME: 14:00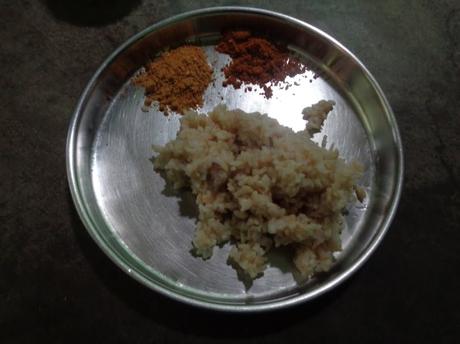 MEDIGESHI:
By the time I finished lunch, I could hardly move and had trouble standing straight hehe! We thanked his grandma for the wonderful lunch. Then we roamed the streets of the peaceful town bare-footed and visited the temples Adi and his uncle. It was very kind of his uncle to show us all the temples and significant buildings and the new well that was bored which acted as a source of water to the town. After which he also showed a few good hillocks which offered a good climb. He insisted we stayed overnight and left in the morning as we could spot a few peacocks early in the morning.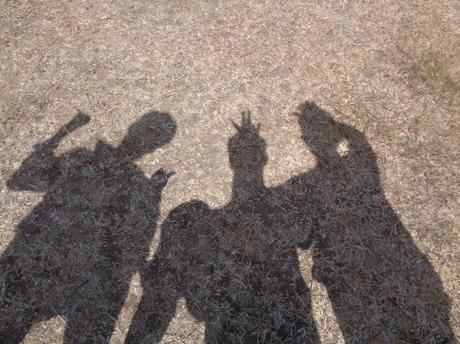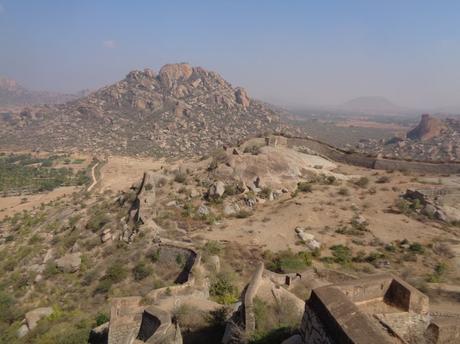 Then we rode to his farm and collected few fresh lemons. Then we pulled down a few coconuts after having a couple each, that's it I was a goner. I felt like a sumo champion and sat in fields saying I couldn't move hehe! We rested in the fields for some more time and then headed back to his home.
We were offered some peanuts and coffee again. And as the sun had begun making his way back home, we decided so must we. Thanking his uncle and grandma for the hospitality and showering us with so much care and love we departed the peaceful town.
TIME: 16:45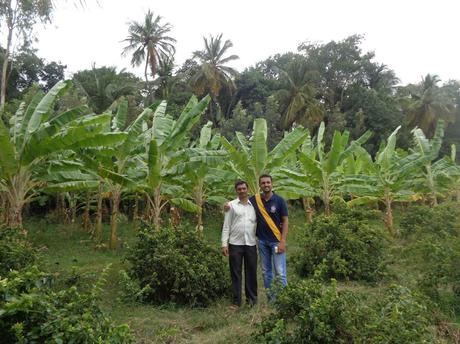 RIDE 3: (Medigeshi - Madhugiri - Dobbaspete - Bangalore)
As we rode towards Madhugiri the clouds showered us with some rain. But we continued to ride, but at a slower pace. We had a small pitstop, then we decided to reach Dobbaspete before the darkness could set in. So we rode non-stop to Dobbaspete, I thought Deefu had stopped at Dobbasepete and stopped just outside the town but couldn't spot him anywhere.
When we tried calling up, his phone was switched off. Then we waited for 15-20mins and then continued at a slow pace for another 10-15km and pulled over again for sometime. After which we decided to head further when Adi told he wanted to have some tea. Making sure the bike is parked visibly to road we ordered some tea, just then Deefu pulled over hehe!. It was good tea re-union and the darkness with dense traffic had set in.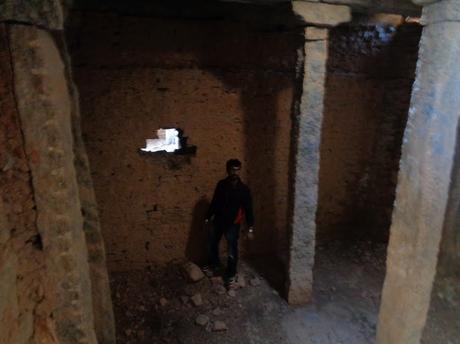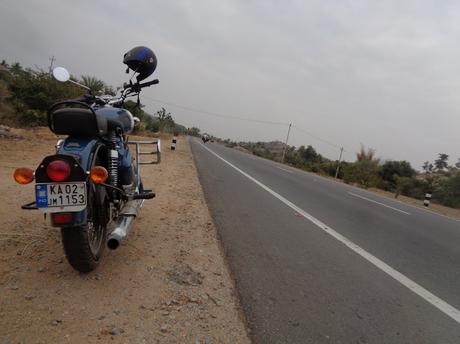 After the tea, we had a good 50kms to go. I knew I would only hold Deefu back, I told him if was getting late he could carry, but he told he would ride behind me and all three of us would travel back to together (for me, this meant a lot!) After that I didn't go much slow either :P we cruised along at a decent pace through the dense traffic to reach the Yeshwanthpur junction where Deefu went his way. Adi and me got on the ORR and cruised back to our respective homes as well.
TIME: 19:45
CONCLUSION:
"Such a different chapter this was! It was humbling experience visiting such a peaceful town. The hospitality and love shown towards visitors was wonderful. Moreover riding back all the way to close the chapter even though we split made this chapter a superb one. And oh yeah, the trek was amazing too :P Hehe"
Until next time, Cia \m/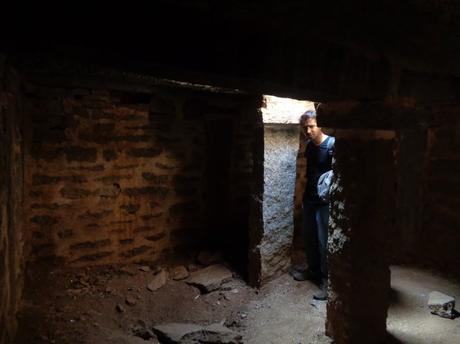 MAPS:
ALL PHOTOS: