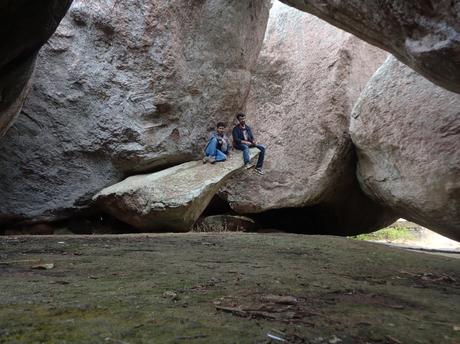 Place

: Nijagal betta trek

Distance

: 60 x 2 = 120km

Directions

: Bangalore > Nelamangala > Dobbaspete > Nijagal Betta

Krew

: Deepak (Deefu) > Karthik (Sp)

Bikes

: Pulsar  

Previous Visit

: Markonahalli Dam

Budget:

Rs 200/head (approx..)

IN LESS THAN 50 WORDS:

Alright, this sweet and small trek was done in primarily to welcome back Deefu to Bangalore. Nijagal is a small hillock in Dobbaspete. It offers the perfect start for rookie climbers and gives a very nice view of the surroundings from the top.

INTRO & PLAN:

Okay, it was year since Deefu had participated in any of the chapters, last trip being the Shivagange trek. He was in Chennai for a year or so. Once he shifted back to Bangalore, he gave a green signal for treks. So when looked around for places I thought Nijagal would be ideal as it had been 2.5 years since we visited this place and also, it was a small hike, a perfect one to get things going again. Ashok, Dattu & Kushal when asked decided to sit this one down.

TIME: 22:00 (2/12/2016)

ASSEMBLE & LEAVE:

Oh yeah woke up at 05:00, did a few push-ups & sit-ups, had a sip of coffee & was all set to go! The meet up was scheduled at Deefu's place. He had already booked his blue blizzard but since he couldn't get it for this trip we decided to ride out on my bike.  

TIME: 08:15

RIDE 1: (Bangalore – Dobbaspete - Nijagal)

Ride to Nijagal was a short one, hardly 60kms on NH-4. As we started off, we proceeded at a slow pace as the traffic was dense. But kinda knew Nijagal we can get to ourselves if we head out early. We rode at pretty much decent pace talking over what adventures Deefu had done at Chennai :P (Had been a year since he made it to trips!) It was not long before we pulled over at our regular hotel on NH-4 for some yummy Sambhar with Idly & Vada. (yes the order is right, sambhar at this place is so frikking awesome :P)

TIME: 09:00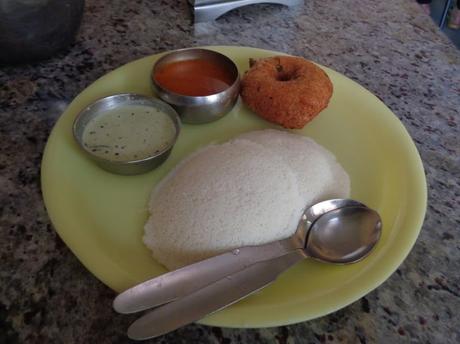 Alright with our tummies satisfied, we had some light tea outside and left the hotel. Dobbaspete being just 5-10kms we reached in no time and could spot Nijagal standing in all its glory afar. We parked the bike near the base of the hillock and with the astral goat's spirit wide awakened within us, we were all set to conquer this hillock.
TIME: 09:45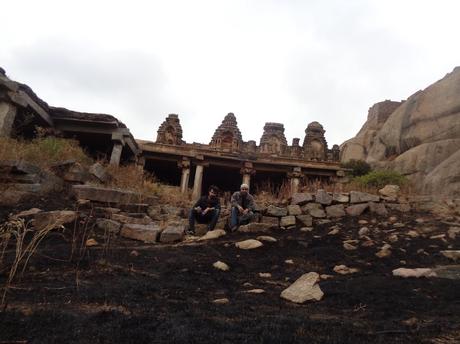 NIJAGAL TREK:
Ok, Nijagal isn't a big trek and all. But this time we were so pumped about that we were hiking after long we kinda finished it 25-30mins (scratchin head!). I mean it would take 45-60mins usually, so yeah keep an hour so for yourself alright! Like always divided the trek into the following chunks:
i) Initial walk way
ii) Hike uphill
iii) Dark Caves
iv) Lost Ruins
Ok, so, these are the chunks, let's get this alright!
i) Initial walk ways:
The initial walkways consist of steep muddy path and a few gateways. One might feel the energy getting drained fast during this stretch, but hey just turn around and look at the might Shivagange afar, im sure your fuel would be re-filled. By the end of the last gate, we get an overview of the entire place.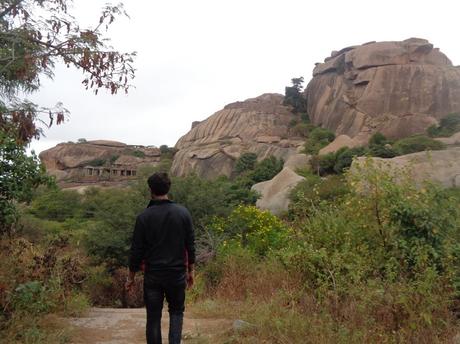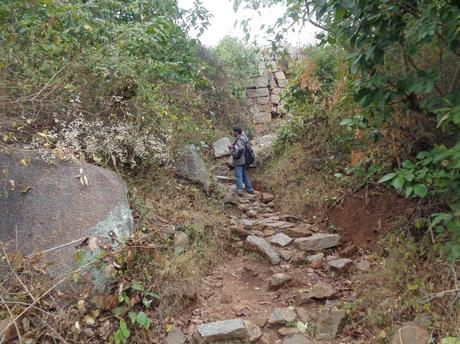 ii) Hike uphill:
Okay, this stretch is pretty much it. One stretch where you might find yourself little pulled back if not a regular climber. For us, it was like a race to the top (looking around at the same time as well! ) There exists a dharga at this stretch as well and a lot of monkeys too.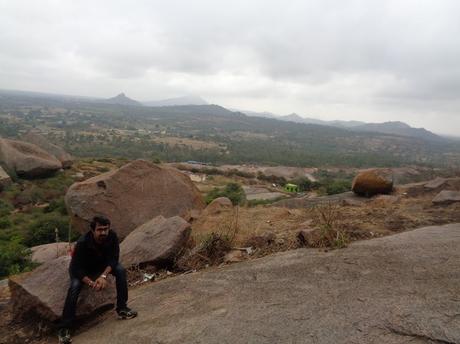 iii) Dark Caves:
The dark caves are on the top and offers a very good resting place. But this time we wanted to explore a little more as we had made to the top a bit too early. We climbed on the ruined buildings and started figuring out new techniques to climbs as well. At the end we settled into the caves for a good 1.5hours.
TIME: 11:45
iv) Lost Ruins:
Ok, after spending about 1.5hr son top we decided to head back down. This time like before via a different route as we could see the old ruined temple as well.  This stretch is a sweet one offering some good challenge.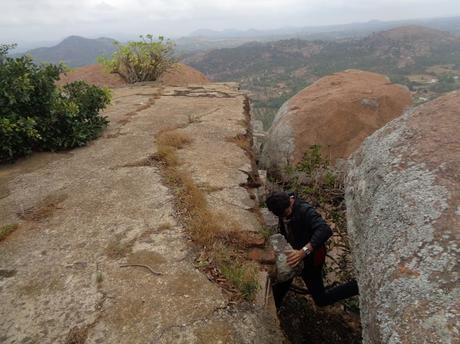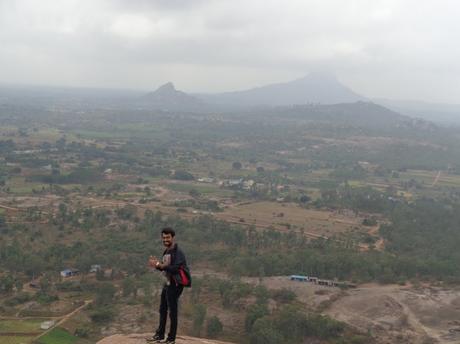 We reached the ruined temple and with fresh eyes we looked at the temple and the pillars. The grass around the temple was torched; we sat inside the temple for a few mins and decided to leave. We could see a few locals storming into the place. Good thing we had started early and had the place to ourselves (Yeah, we're selfish, and we're honest about it \m/ ).  As we started walking towards our bikes, we called up DAttu, Ashok & Kushal and asked them if they could make to White horse, and ting ting ting, everybody confirmed immediately Haha! :P
TIME: 12:00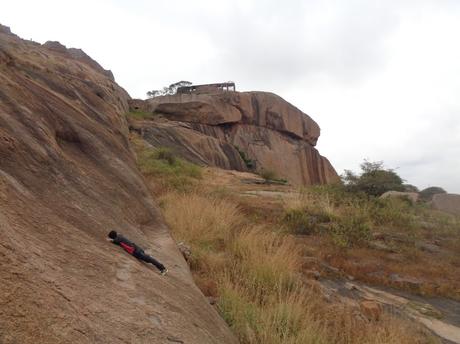 RIDE 2: (Nijagal – Nelamangala – Bangalore)
Ok, this was a 60km ride back with a cache clear stop at White Horse. We rode back at a decent pace to reach WH at about 13:30. It was damn good to catch up with old school friends in a place where we had all studied – Malleswaram. After spending a good 3-4hours we decided to leave back to our respective homes.
TIME: 17:30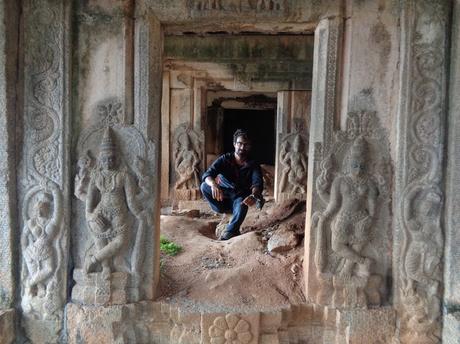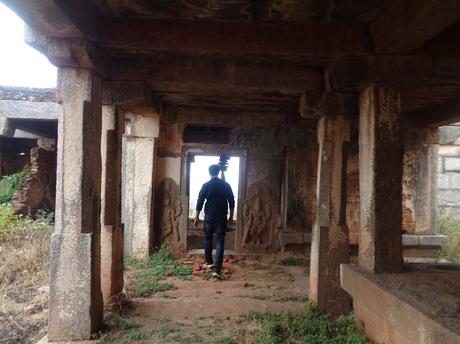 CONCLUSION:
" Alright, a small chapter, but a much needed one after a big break. It proved to be a perfect chapter to get things moving!"
Day well spent huh, Until next Ta-da Cia \m/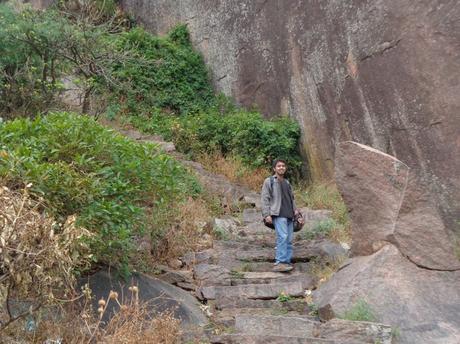 MAPS:
ALL PHOTOS: