Philippine Daily Inquirer, 04.04.2011
Not only was the number remarkable, but the variety, too--from glitzy musicals to intense dramas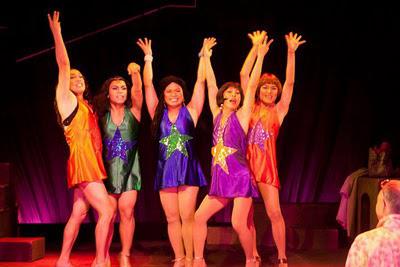 A FUNNY THING happened on the way to the summer break. Ordinarily a fallow period as the local theater companies gird themselves for their summer workshops, this year's first quarter saw something different: a glut of productions opening one after the other and running simultaneously, making this period certainly the busiest and most prolific local theater has seen in years.
Within a five-week stretch, from early February to mid-March, some 13 different shows were playing at the metro's disparate venues. Not only was the number remarkable, but the variety, too--from glitzy musicals and star-studded plays to plain-spoken campus works that demanded as much attention for the homegrown sense of daring they promised, and the often top-flight professional talent they attracted.
There were five new major productions (Peta's "Care Divas," Repertory Philippines' "The Joy Luck Club" followed by "The 39 Steps," Upstart Productions' debut effort "Breakups & Breakdowns," Atlantis Productions' "Next to Normal"); four returning shows from seasons past (Tanghalang Pilipino's "ZsaZsa Zaturnnah," 9 Works Theatrical's "Rent," Dulaang UP's "Orosman at Zafira" and "Amphitryon"); and four campus-based works (Dulaang Sibol's evergreen "Sa Kaharian ng Araw," Dulaang Laboratoryo's "Cyrano: Isang Sarsuwela," Ateneo BlueRep's "Hair," UP Department of English and Comparative Literature's "Screen: Macbeth").
Count them--a dozen and one productions. Not all first-rate, of course, but the fact they were playing all at the same time made for a gratifying and all-too-rare buffet of choices. What's a professional theatergoer like us to do? Devote weekend after weekend to chasing after these shows, most of which played for a measly three weeks and then were gone.
Given this embarrassment of riches--and at the risk of encroaching on Amadis Ma. Guerrero territory and his quarterly "report card" on the performing arts for this paper--we've managed capsule appraisals of the major entries in this ersatz theater festival of sorts.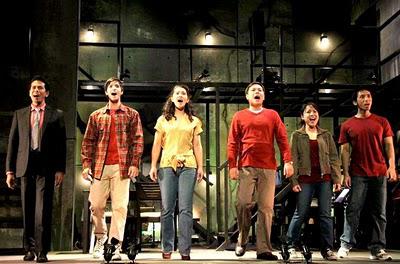 Next to Normal
What Lea Salonga said about this production is spot-on. "The best... Atlantis has presented in its many years of producing theater," she wrote. The material itself (music by Tom Kitt, book and lyrics by Brian Yorkey) is a winner--a raw, riveting musical that succeeded in rewriting the boundaries of the genre (a family coping in ways absurd and heartbreaking with the matriarch's bipolar condition—how downbeat and un-Broadway musical could you get?) while also stretching the capabilities of any cast brave enough to take on the lacerating, propulsive pop-rock score.
The cast director Bobby Garcia assembled was nothing if not stout-hearted. This early, the year's finest performance by an actress in a musical might already be in the hands of Menchu Lauchengco-Yulo, whose Diana Goodman was a moving, astounding turn--so soon after her Mrs. Lovett in Rep's "Sweeney Todd," the latest high-water mark in a musical-theater career already unparalleled hereabouts. She had excellent company in Jett Pangan, Felix Rivera, Markki Stroem, Jake Macapagal and newbie Bea Garcia, whose poise and force onstage marked her out as a leading lady to watch.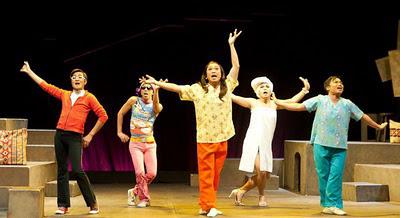 Care Divas
For sheer must-see pull, this original Filipino musical, which had its closing encore performance only last night, gave "Next to Normal" tough competition as the quarter's standout production. Like the Tony-winning musical, Peta's "Care Divas" successfully mined a most unlikely subject matter--about five Filipino caregivers in intifada-era Israel moonlighting as drag queens, their craftily conceived club numbers, by the way, highlighting Vince de Jesus' nimble work on the music and lyrics.
Liza Magtoto's perceptive script and Maribel Legarda's tight staging combined to serve up a rambunctious, flamboyantly entertaining yet poignant work. It wasn't without flaw--a scene or two that pushed the sexual-political polemic felt risibly contrived--but the overall peppiness of the proceedings, boosted by the piquant performances of the cast led by Melvin Lee, Jerald Napoles (alternating with Ricci Chan) and De Jesus himself, eventually sanded off the rough edges to a (literally) glittering, sequin-flecked finish.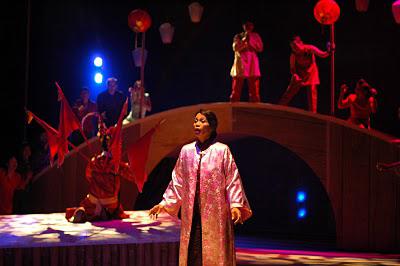 The Joy Luck Club
A talky, unwieldy stage adaptation (by Susan Kim) of the Amy Tan novel that benefited tremendously from Anton Juan's judicious textual restructuring and expansive direction.
He and Repertory Philippines cobbled together an elite group of actors--Pinky Marquez, Frances Makil-Ignacio, Jay Valencia Glorioso and Rebecca Chuaunsu as the Chinese mothers; Ana Abad Santos, Cris Villonco, Jenny Jamora and Lily Chu as their American-bred daughters--to tell this story of intergenerational conflict and rapprochement. Their performances, notably those of Villonco, Marquez and Glorioso, were sharp enough to hack through the thicket of the script and offer moments of clarity and insight.
Juan's trademark visual flair, enabled by Ohm David's versatile, evocative bamboo-inflected set and John Batalla's supple lighting, worked overtime to charge this long-winded would-be epic with heft and heart. The result: a triumph of poetic staging over banal material.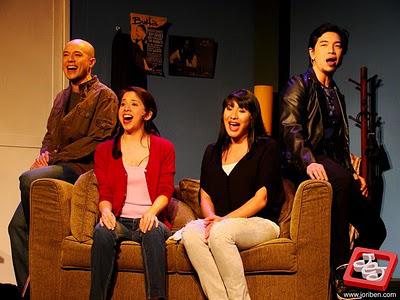 Breakups & Breakdowns
A promising but not particularly satisfying original work from Joel Trinidad, who wrote this four-character musical, with Rony Fortich supplying the music. Game, earnest performances came by way of Carla Guevara-Laforteza, Jenny Jamora, Emy Alcid-Trinidad, Reuben Uy and Trinidad himself, who, whatever might be said of the work itself, deserves kudos for staging this material, even establishing a new theater company (Upstart Productions) to underwrite it.
But, yes--the musical itself? A rather wan effort. While Trinidad showed a knack for uncorking zippy dialogue and quirky characters, "Breakups & Breakdowns" had the self-conscious feel of a TV sitcom, its too-episodic punchline-blackout setup denying the play any emotional center. The inorganic talk (Girl: "There's an intruder in the house!" Boy: "What is this, Buckingham Palace?") reflected a confusing geography. Playwright on the rise? New York perhaps. Yet a downpour, and there's a flood. Manila? Who are these people?
The two strongest singers--Guevara-Laforteza and Alcid-Trinidad--sang Fortich's sweet-sounding if slight score with gleaming voices. Much of the rest of "Breakups & Breakdowns," alas, was as flat and diagrammatic as the first lines of its opening song: "Boy meets girl, and girl meets boy and..."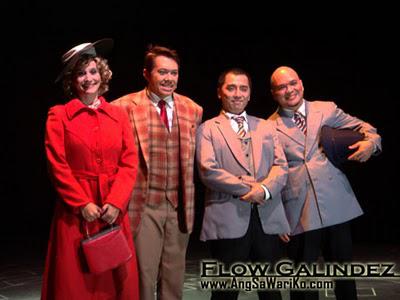 The 39 Steps
Rep's follow-up to "The Joy Luck Club," this busy, belabored farce, directed by Ana Abad Santos, aroused the occasional chuckle, but came off mostly as a foggy slog to those unversed in Hitchock lore and filmography. Adapted by Patrick Barlow from both the John Buchan novel and the subsequent Hitchcock film, the veddy British play had the quality of an in-joke--conspiratorial but also exclusionary.
There were cleverly staged allusions and sequences--the nasty birds, for instance, and the iconic "North by Northwest" pursuit. But by the final scene, and despite the yeoman exertions by the cast--Michael Williams, Juliene Mendoza, a comebacking Lisa Infante-Robinson and a hilariously shape-shifting Rem Zamora--the silliness remained small-bore, refusing to soar into the sublime.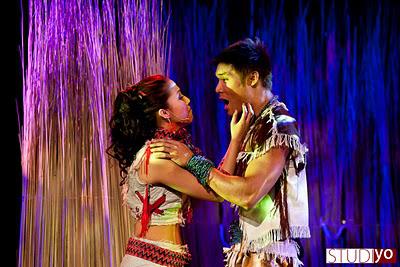 The reruns
In brief: TP's "ZsaZsa Zaturnnah," having gone from cult musical to frequently trotted-out warhorse, sidestepped staleness with Pinky Amador helping reinvigorate the show as the new Queen Femina. None of the three Dodongs, though--Red Anderson, Rocky Salumbides and Prince Stefan--could sing, at least in musical-theater terms.
Some of the best singing, whether in this or any other season, emanated from another venue: the cavernous SM Mall of Asia CenterStage, where Dulaang UP's "Orosman at Zafira" had relocated for a commercial out-of-UP run. Unsteady on its first weekend, the neo-ethnic pageantry, directed by Dexter Santos, would eventually regain breathtaking potency on the wings of its turbo-charged choreography, as well as Maita Ponce, Tao Aves, Jean Judith Javier and Nazer Salcedo's definitive vocals.
9 Works Theatrical's "Rent," on its third run, was a much-improved show, the cast visibly more settled into their characters. But for every Job Bautista whose Angel had curdled into mannerism, there was the hungry vitality of new member Mian Dimacali, her fresh take on Maureen quite the show-stopper.
At UP's Guerrero Theater, meanwhile, Jose Estrella's remounted "Amphitryon," Von Kleist's play adapted into a blend of high-toned and colloquial Filipino by Jerry Respeto, was in beguiling, fine-tuned form. The final sequence that had pinwheel foliage fluttering in the air was a virtual coup de theatre--grandeur and enigma conjured through inspired stagecraft.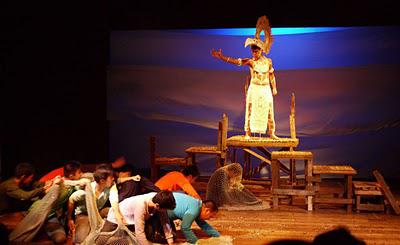 The campus productions
For theater at its most direct and disarmingly heartfelt, one needed to trek to the Ateneo de Manila High School, where Onofre Pagsanghan's Dulaang Sibol, more than half a century later (Pagsanghan himself is in his 80s), continues to make the case for the virtues of naïf theater. The recently restaged "Sa Kaharian ng Araw," operating on the youthful cast's unmiked voices, homespun costumes and scenery, and purity of expression, still entranced the senses.
For "Screen: Macbeth," Anton Juan's devised production of the Bard's most streamlined play based on Judy Ick's dramaturgy, the pendulum swung to the opposite end. Something leaden and ponderous this way came. The airy touch Juan had exhibited in "The Joy Luck Club" just weeks earlier was now nowhere to be seen, replaced by a return to heavy-handed symbolism and strained metaphor.
Some of it rang true--Lady Macbeth (Ick) as a prototypical Imelda, for instance, her shoes firebombing the stage from above to announce her arrival. But for a play characterized by a hurtling, visceral sense of doom, this one lumbered along in fits and starts, intellectualized to an arid degree and freighted all the more by a cast that seemed to speak in different tongues. Only Teroy Guzman (as Macbeth), Ricky Abad (Duncan) and Jamie Wilson (Macduff) sounded remotely intelligible.
Disclosure: We saw only half of Ateneo BlueRep's "Hair," so it's not in consideration here. However, another student musical, an original one, had a brief run at the GSIS Theater. "Cyrano: Isang Sarsuwela" was the graduation thesis of UP student Pat Valera, restaged with a new cast from its beginnings at the University of Asia and the Pacific late last year.
As we wrote in our blog: "He still seems to be finding his footing, voice and style as a director, but as a dramaturg, Valera is leading the way among his peers, from his work on 'Orosman at Zafira' to the thoughtful, thorough effort he put into adapting Rostand's 'Cyrano de Bergerac' to the Philippine milieu circa 1940s. The show itself needed pulling together, but the material was ambitious enough and plausible enough--one of the best new adaptations we came across last year."
The rerun featured more assured performers, but on the night we watched, Nicco Manalo's performance as Cyrano floundered on his ragged voice. A pity, because the songs, by William Elvin Manzano (words by Valera), were one of the show's strongest elements--raucous, eloquent and melodic, able to goad the narrative along even as they also sounded ready to bolt the orbit of Filipino musical theater and rock primetime radio.


Photo credits:

1. PETA

2. Oliver Oliveros

3. PETA

4. Repertory Philippines

5. Joriben Zaballa 6. Flow Galindez 7. Joyfully Yours

8. Chris Lagman