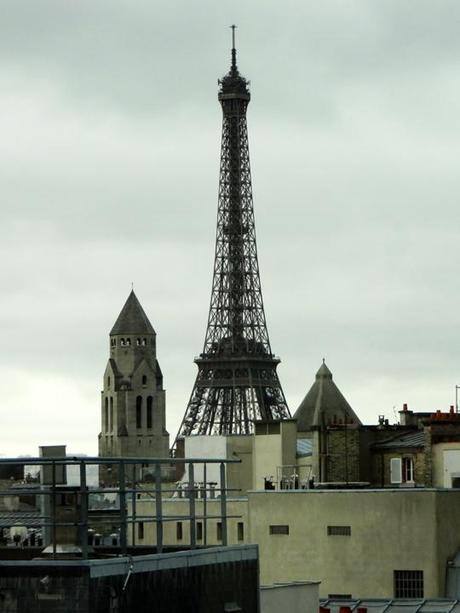 Today is the 125th Anniversary of the opening day of the Eiffel Tower. To commemorate the occasion, Jill Jonnes, author of the marvelously entertaining book about the building of the Eiffel Tower, Eiffel's Tower, has written a post today about her two favorite 19th century Eiffel Tower moments. Look out next week for a new Eye Prefer Paris Contest about the Eiffel Tower, where I will be giving away two copies of Eiffel's Tower.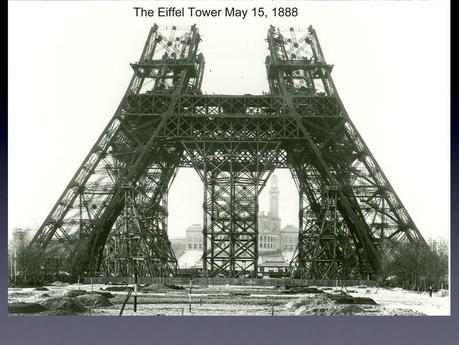 Photo courtesy of Otis Elevator archives
When Eiffel Began to Build The Tower:
All of elite Paris sent up a howl when rich railroad bridge engineer Gustave Eiffel actually began erecting what was to be the tallest structure in the world. Eiffel had won the competition to erect a 900-foot-tall tower as the fabulous centerpiece of the 1889 Exposition Universelle.
In a still-famous letter published in Le Temps, forty-seven of the nation's cultural heavyweights compared the Tower (only its foundation had yet been completed but everyone had seen the drawings) to a "black and gigantic factory chimney, crushing [all] beneath its barbarous mass…When foreigners visit our Exposition they will cry out in astonishment, 'Is it this horror that the French have created to give us an idea of their vaunted taste?'" To drive home the utter hideousness of "this odious column of bolted metal," these cultural lions  declared in their letter, "even commercial America would not have" this "Eiffel Tower."
In truth, Americans were deeply jealous and unhappy, for an Old World nation was about to take the technological lead: Eiffel's Tower would displace the 550-foot-tall Washington Monument as the world's tallest building.
Deliciously, by the time the Eiffel Tower was finished, Gustave and his creation were world famous and all those snooty Parisian painters and writers had fallen in love with it, and could think of no better place to see and be seen than its fashionable first-platform bistros. Except for Guy de Maupassant, who never came round.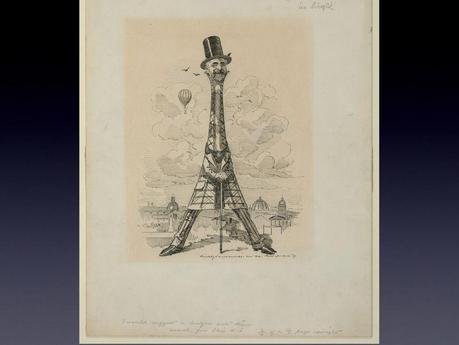 June 29, 1889 issue of Punch Magazine Library of Congress
When Thomas Edison Ascended the Tower
The great American inventor was no traveler, but at age 42 he decided he and his young second wife should sail to France with their entourage to enjoy the 1889 Paris World's Fair, where his companies had a huge exposition space, and the public patiently waited in line for hours to hear three-minutes of recorded sound for the first time.
On Tuesday August 13, 1889, Edison, escorted by Eiffel's son-in-law (Gustave was away at a spa), ascended to the top of the Eiffel Tower where he ran into a group of fellow Americans – none other than the Sioux Indians, adored by the French for their performances that summer at Buffalo Bill's Wild West Show out in Neuilly! Right then and there atop the tower, Chief Rocky Bear led those dozen Indians, all attired in fringed buckskins, their long hair beaded and feathered, in a series of songs and war whoops in honor of meeting this famous man! Edison was taken aback, but ever jocular, inquired after Sitting Bull.
Margaret Upton, on her honeymoon with one of Edison's top corporate officers, wrote back to her mother that all the Edison group was then invited into "Mr. Eiffel's private salon up there and served the very daintiest luncheon you ever saw of chicken and truffle sandwiches not an eighth of an inch thick, cakes, and bon-bons, and the finest of wines which Mademoiselle herself poured to the guests." This was the first of several Edison visits to the tower.
If you have the patience to wait in the lines and ascend the to the top of the Eiffel Tower today, Thomas Edison is still there! He's immortalized in a rather hideous waxen version, eternally enjoying yet another lovely moment from the summer of 1889 – when he finally did meet Gustave Eiffel and presented him the gift of a phonograph.
Click here to order Eiffel's Tower on Amazon

I was quoted in New York Magazine in an article about the Marais written by Tim Murphy
http://nymag.com/thecut/2014/05/know-a-neighborhood-pariss-haut-marais.html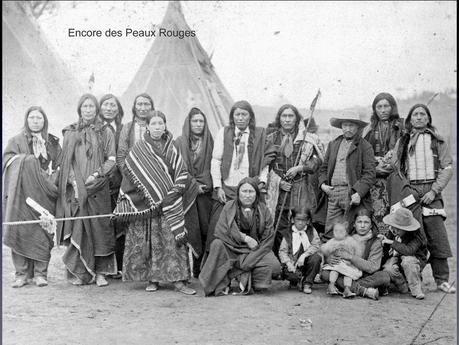 Sioux Indians pose at Neuilly camp Denver Public Library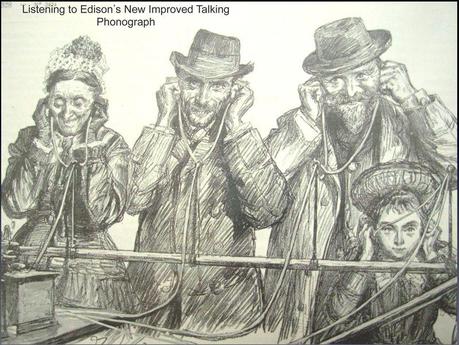 Paris fair goers in 1889 hear recorded sound from L'Illustration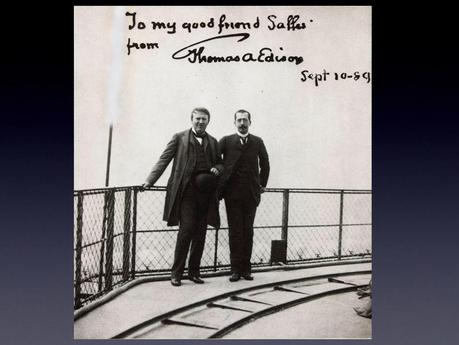 Thomas Edison with Eiffel's son-in-law Edison Archives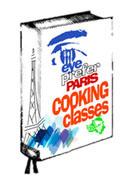 New! Eye Prefer Paris Cooking Classes
I am happy to announce the launch of Eye Prefer Paris Cooking Classes. Come take an ethnic culinary journey with me and chef and caterer Charlotte Puckette, co-author of the bestseller The Ethnic Paris Cookbook (with Olivia Kiang-Snaije). First we will shop at a Paris green-market for the freshest ingredients and then return to Charlotte's professional kitchen near the Eiffel Tower to cook a three-course lunch. After, we will indulge in the delicious feast we prepared along with hand-selected wines.
Cost: 185 euros per person (about $240)
Time: 9:30AM- 2PM (approximately 4 1/2 hours)
Location: We will meet by a metro station close to the market
Class days: Tuesday,Wednesday, Thursday,Friday, Saturday, and Sunday
Minimum of 2 students, maximum 6 students.
Click here to sign up for the next class or for more info.

I am pleased as punch to announce the launch of Eye Prefer Paris Tours, which are 3-hour walking tours I will personally be leading. The Eye Prefer Paris Tour includes many of the places I have written about such as small museums & galleries, restaurants, cafes & food markets, secret addresses, fashion & home boutiques, parks, and much more.
Tours cost 210 euros for up to 3 people, and 70 euros for each additional person. I look forward to meeting you on my tours and it will be my pleasure and delight to show you my insiders Paris.
 Check it out at www.eyepreferparistours.com 
Click here to watch a video of our famous Marais tour