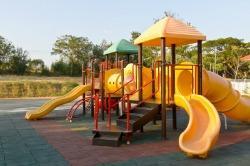 Most kids are out for the summer and parents find themselves looking for activities for them to do with their kids.  Parents want to keep their kids busy and active during the summer months.  As you are finding activities for the kids to do, remember that doing free things can be just as fun and rewarding.  I remember when I was growing up my family enjoyed going to the park or playing outside on the swing set that was in my grandmother's backyard.  Playing outside is a great for children to burn off some of their excessive energy and have the opportunity to get some exercise.  When your kids are playing at the playground or outside on the family's it is important to make sure that your kids are following the playground rules to avoid injuries.  Injuries on playground equipment account for over 200,000 visits yearly to the emergency room in the United States, according to the  Consumer Product Safety Commission.
Disclosure:  This post is for informational purposes only.  The opinions in this post are my own and based upon my own experiences.
I know that most playgrounds in the United States began making their playground equipment safer for kids to play on, especially during hot weather.  I am probably giving you an idea of how old I am but I remember when the slides on playgrounds or home equipment were made out of metal.  During the hot summer months the metal slides were always hot enough to burn you.  Today most playground equipment is made out of a durable plastic so that it doesn't get as hot, of course, that depends on the color of the playground equipment.  I have noticed that the darker colors tend to trap more heat so it is important for parents to check the temperature of the playground equipment before allowing their child to play on it.
I also remember that most playgrounds had those small tiny rocks and my favorite thing to do was dig in the rocks.  Of course this probably wasn't the brightest idea because we often found broken glass in the rocks.  If you ever tired jumping out of a moving swing, often times those rocks would send you sliding and if you were lucky you wouldn't land on your bottom.  Today most playgrounds are using woodchips, shredded tires, or those rubber covered tops to protect children from hurting themselves if they do happen to fall on the playground.
12 Tips to Keep Your Child Safe on the Play Ground
Preventing accidents at the playground can keep you and your family from spending hours at the emergency room.  Parent it is important that you teach your child the playground rules so that they understand that the rules are not only for their safety but for the safety of other's playing on the playground.
Never run in front of or behind the swings if someone is using them.  A child can easily be knocked over or seriously hurt.
Always check to make sure that the playground equipment isn't too hot before using it.
Parents always supervise your child and if you decide to sit down to watch your child make sure that you can see your child from every angle.
Remove any strings or necklaces from your child so that it doesn't get caught on the playground equipment and possibly choke or strangle your child.
Do a quick check to see if there are any dangerous items on the playground before allowing your child to play.  Check for items such as glass, broken equipment, or other harmful items that your child might pick up on the playground.
Look for handrails on play ground equipment, especially, on stairs, bridges, around slides, ect.  Do teach your child to use handrails when climbing stairs or walking on the playground equipment.
Never allow your child to take off their shoes.  Often times there is glass or other sharp objects on most public playgrounds.  A child who takes off their shoes can end up with burns on the bottom of their feet if the equipment is hot.
Never play on wet play ground equipment.  Wet equipment can cause your child to slip and fall.
Don't forget to apply sunscreen on your child to prevent sunburns.
Do avoid going to the playground between the hours of 10 AM and 4 PM when the sun is the hottest and most harmful.
Teach your child to always go down the slide one at a time and never go down the slide head first.  They should always slide down on their bottom.  I realize that it is fun do go down the slide headfirst but going down a slide headfirst could lead to a serious head injury.
Always sit down on the swings and never jump off of them while they are moving.
Some parks have started adding splash pads.  These are a great idea and help your child cool off during the summer months.  It is important to use water safety tips when using a splash pad and never allow your child to run on the splash pad.
To get weekly updates to Uplifting Families, please subscribe to my newsletter or join in the conversation with me on Twitter, Facebook, Pinterest, and G+.
Does your family go to the park to play during the summer months?