Thanksgiving is finally over, and you know what that means – the Holidays are officially here!
And because I'm very thoughtful/generous/kind etc., I've decided to give you all a very special gift – the gift of alcohol.
So, without further ado, here's the down-low on all the best holiday cocktails being served in Chicago this December.
I know, I know – you're welcome.
From One to Ninety-Two @ Sippin' Santa's Surf Shack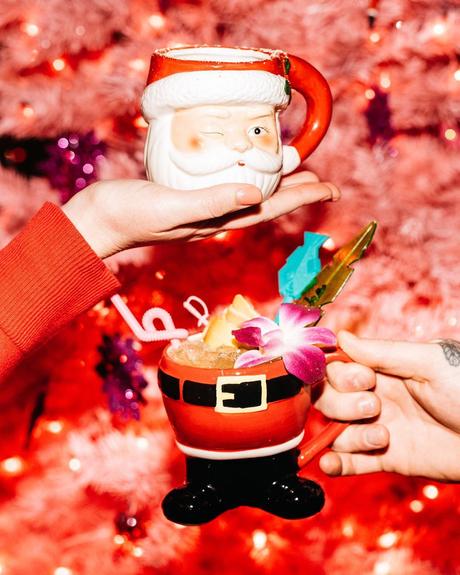 Photo Credit: Lost Lake Instagram
Logan Square's Lost Lake is playing host to Sippin' Santa's Surf Shop this holiday season – a kitschy, tiki-Christmas themed pop-up bar making waves across the country. Through the ~official~ menu remains unpublished for now, Lost Lake has let a few gems like the From One to Nine-Two cocktail sneak through on their Instagram. Taking its name from a rather obscure line in Nat King Cole's The Christmas Song, this spirited drink is made with Corazon Reposado Tequila, Pierre Ferrand 1840 Cognac, sherry, pepita-almond orgeat, lime, Pierre Ferrand Dry Curaçao, walnut, and nutmeg.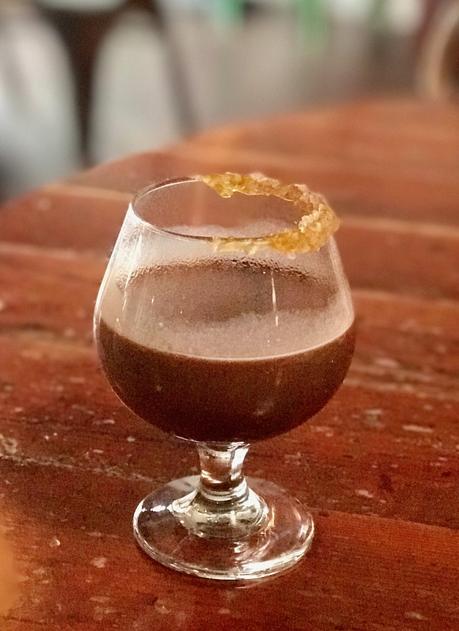 Photo Credit: HotChocolate
The holidays take a turn for the devilish with this hot and chocolatey spirit from, well, HotChocolate. Though Mindy's cocoa is sinfully good as is, Satan's Caramel kicks it up a notch by combining their caramel-y medium chocolate blend with Bauchant Orange Liqueur and dry curaçao. Topped with a salted caramel rim, this seasonal spirit will land you on the naughty list for sure – but you'll love it.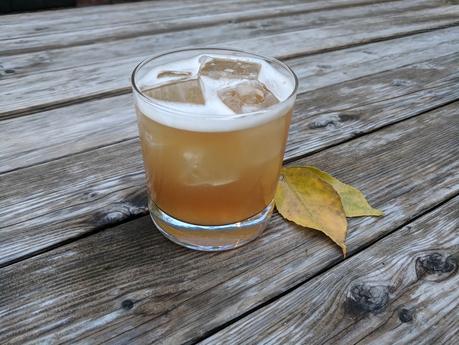 Photo Credit: The Whistler
Wintertime doesn't necessarily mean you have to say goodbye to tequila – not at The Whistler, that is. Head to this popular Logan Square cocktail lounge/gallery/music venue to take a sip of this holiday-inspired version of your fav Friday night drink, made with lemon juice, reposado tequila, a house-made syrup fashioned out of wort from Moody Tongue's Caramelized Chocolate Churro Baltic Porter beer. Now, in all honesty, I don't really know what "wort" is, but damn does a caramel-y winter margarita sound good.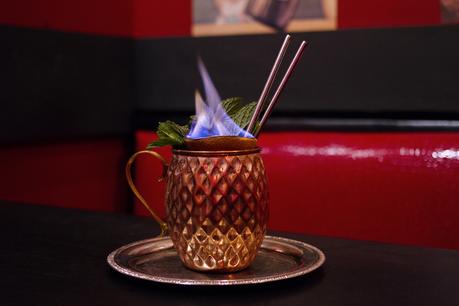 Photo Credit: The Ladies' Room
Nothing warms you up on a cold, winters night quite like, well, a literal fire. Indulge in the blazing, shareable cocktail known as the Thunderdome this December at The Ladies' Room – the semi-secret bar area located inside Logan Square's Fat Rice. If the fire alone dosen't sell you on this drink, you should know it also contains a delectable mix of El Dorado 12 Year Rum, Old Monk Rum, allspice dram, house-made bay rum leaf liqueur, ginger beer, jackfruit, lime. I mean, yum.
Merry N' Bright @ Sippin' Santa's Surf Shack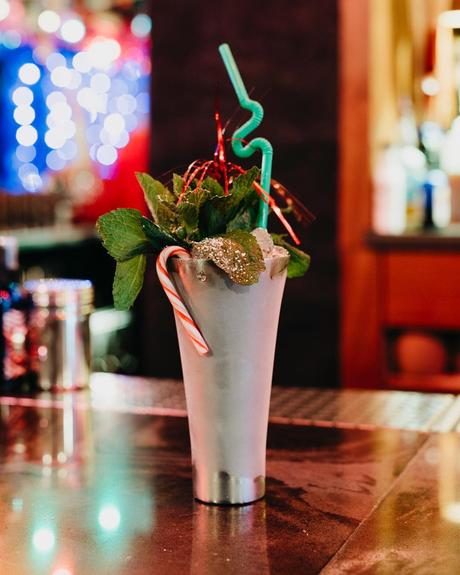 Photo Credit: Lost Lake Instagram
Sippin' Santa's Surf Shack strikes again with the Merry N' Bright. This appropriately Christmas themed cocktail is riff on a swizzled peppermint julep complete with Rittenhouse Rye Whiskey, Fernet Branca, Branca Menta, demerara, crème de cacao, crème de menthe, and mint. If this doesn't put you in a Christmasy mood, then nothing will.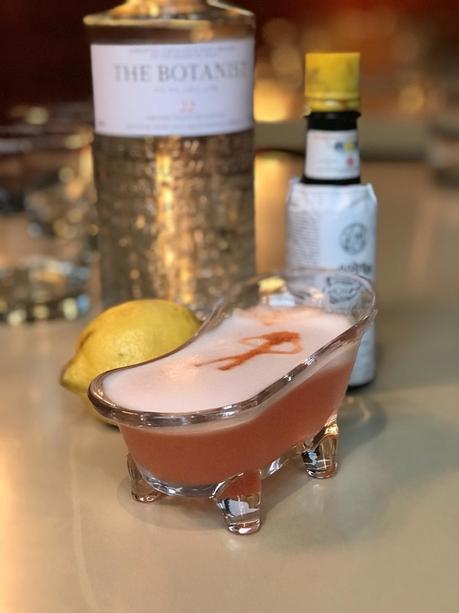 Photo Credit: WOOD
Okay, sure, I'll admit that this isn't strictly a "holiday cocktail" – but a seasonal sip served in a literal glass bathtub is just too good to pass up! This drink from Wood calls for The Botanist Gin, fresh lemon juice, and  earl grey-cranberry syrup, whipped together with egg whites to make a frothy, bubble-bath-like drink. Topped with Mole bitters in the shape of a little man, this cutesy drink is a must-try if not for the Insta potential alone.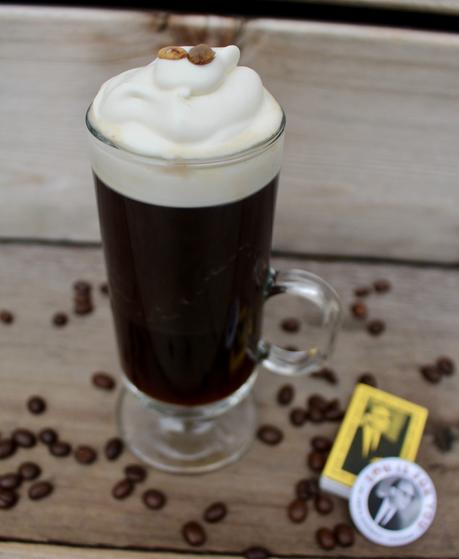 Photo Credit: Saint Lou's Assembly
Let's be honest here, nothing says holiday drink quite like a coffee cocktail. This variation of your Grandam's Bailey's spiked morning roast is made with rye whiskey, espresso liqueur, and coffee courtesy of La Colombe. Mixed with house-made pumpkin spice demerara syrup and topped with a big ole' heap of hand-whipped cream, Big Al's Coffeeis pretty much a guaranteed winter cocktail hit.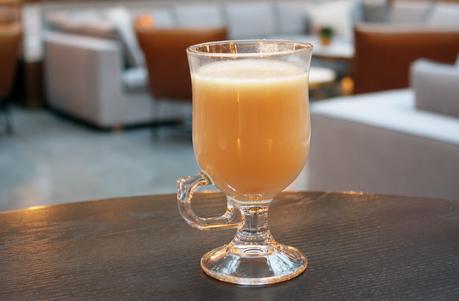 Photo Credit: MICHELLE BANOVIC
I, like you, spent a good portion of the this year binging, talking about and then re-binging Big Little Lies. And while I can't say for certain that this wintery cocktail from Boleo is inspired by the Michael Kiwanuka bop that served as the series theme song, I'm gonna go right ahead and assume that it's true. Otherwise, the Cold Little Heart is based off of a hot-toddy style drink the mixologist's mom used to craft, combining El Dorado 8 yr rum, Balvenie 14 yr, Avua Amburana Cachaça, dulce de leche, orange citrate bitters, and nutmeg in a precious little mug. And damn, does it sound good.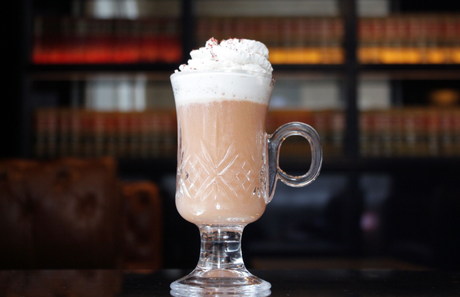 Photo Credit: MICHELLE BANOVIC
This drink by evil, cocktail masterminds at Vol39 combines H by Hine Cognac, crème de noyeaux, Pierre Ferrand dry curacao, white choloate syrup, angostura bitters, cherry bark vanilla bitters, hibiscus agave whipped cream and pink peppercorn into one, mug sized warm, pink drink. Need I really say more?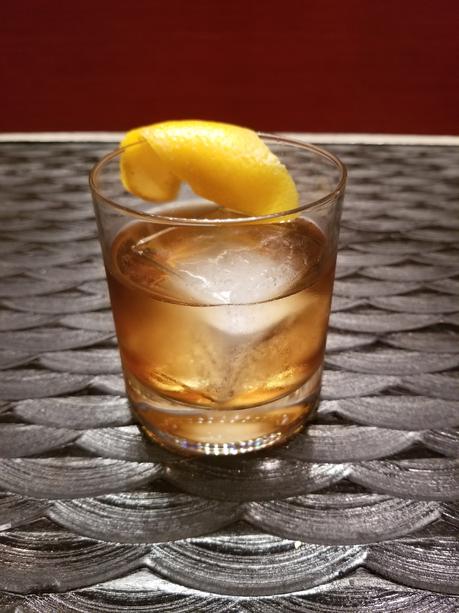 Photo Credit: The JW Marriott Chicago
Though a classic old fashioned is, in my opinion, pretty holiday-ready on its own, house mixologist Damian Arms takes the drink's wintery feel up a notch with this seasonal rendition of a fan favorite at the JW Marriott Chicago. A little spice and a little sweet, with a whole lot of toasty bourbon – this drink is sure to give you a case of the warm and fuzzies.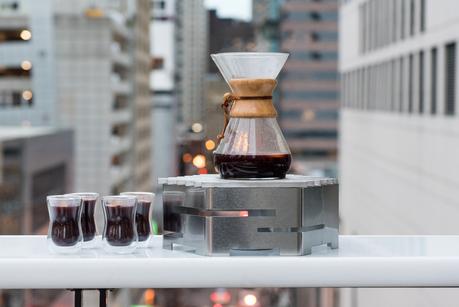 Photo Credit: The Gwen
What's better than a nice, full glass of wine on a cold, winter's evening? A nice, full glass of mulled wine, of course! This warm and spicy take on your go-to nightcap features cabernet sauvignon, merlot, unfiltered apple cider, smoked honey, cinnamon sticks, orange zest & juice, cloves and star anise. Oh, and it's served in a great big pitcher, for easy seconds (or to share, I guess – whatever.)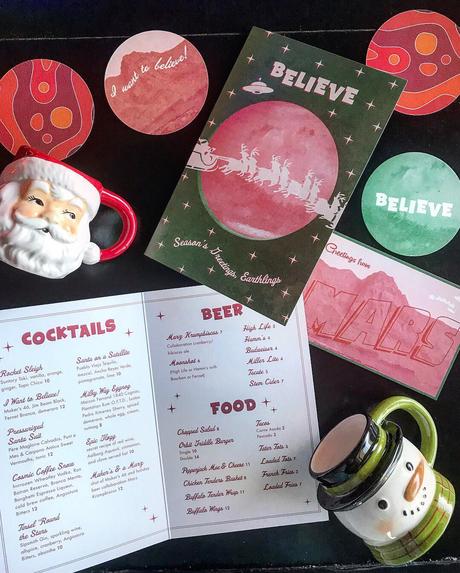 Photo Credit: The Orbit Room Instagram
The Orbit Room is turning into a winter wonderland for the season, transforming in to the appropriately space-themed Believe, a holiday pop-up bar focused on serving truly out-of-this-world cocktails. Take, for example, the Milky Way Eggnog, a Cognac based drink served with sherry, spiced demerara, egg, cream and nutmeg, duh.
Featured Image Credit: The Orbit Room