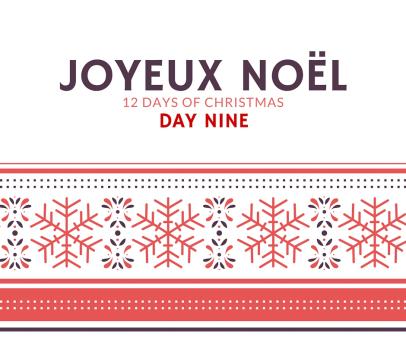 A simple prompt for day nine, which is fitting for this dreary day in Washington, DC. The rain clouds have taken over and placed me in a sleepy trance. For day nine, we must share who will be sitting with us at Christmas dinner.
My family is LARGE. There will be over 35 guests at our Christmas dinner! Unlike Thanksgiving dinner, our family is a little less formal on Christmas. We each grab a plate and sit wherever there is an empty seat. It is less hectic and tight that way. Usually, I gravitate towards sitting with the cousins, but it varies from year to year. In the photo/video blog post after Christmas, I will be sure to share who I end up sitting with at dinner.
To give this blog post a little more oomph, I want to share two of my favorite Christmas carols. This can count for songs of the week, right? LOL!
Each time I hear these songs, I am reminded of the true meaning of Christmas and instantly my mood improves. Both songs I chose are by Pentatonix because they put a fun, contemporary, spin on some beautiful carols. First is Angels We Have Heard on High. This song is so incredible. It is one of my favorites to sing in church around the holidays.
Second is The Little Drummer Boy. Some people really dislike this song, but if you listen closely to the lyrics it is SO beautiful. What I love is how baby Jesus smiles at the Little Drummer Boy when he plays his drum as a gift. It kind of alludes to how Jesus sees all people and loves them despite their flaws, inabilities, and "class" (for lack of a better word). I hope when you listen to these songs, the Christmas spirit flows through you.
With the weather expecting to be about 70 degrees on Christmas here in Maryland, it is hard to get into the spirit. As Buddy the Elf would say, "The best way to spread Christmas cheer is singing loud for all to hear!"
Happy Holidays and don't forget to spread that Christmas cheer!
*And as always… If you want to join in on the blogging challenge, Click here for the rules to start this challenge by ScaleSimple! :)