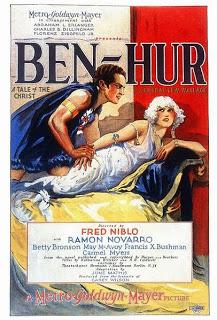 Directed By:
Fred Niblo
Starring:
Ramon Novarro, Francis X. Bushman, May McAvoy
Tag line:
"The Picture Every Christian Ought to See!"
Trivia:
The famous chariot scene was filmed at what is now the intersection of LaCienega and Venice Boulevards in Los Angeles
William Wyler's Ben-Hur is, hands-down, my favorite biblical-themed film, made at a time when Hollywood was churning out religious pictures (The Robe, The Ten Commandments, King of Kings) at a regular clip. I always knew Ben-Hur was a remake, but before today, I had never seen the 1925 original, Ben-Hur: A Tale of the Christ. Surprisingly, this earlier version is every bit as epic as Wyler's Award-winning film.
The story is very much the same: Judah Ben-Hur (Ramon Novarro), a Jewish prince, and Messala (Francis X. Bushman), a roman centurion, have been friends since childhood. But when Judah refuses to swear his allegiance to Rome, the two former pals become bitter foes. Before long, Judah is imprisoned as a traitor of Rome, as are his mother (Claire McDowell) and sister (Kathleen Key). Sentenced to serve as a galley slave, Judah soon proves his courage in battle, saving the life of Arrius (Frank Currier), the ship's commander. He is granted Roman citizenship, and becomes one of the city's foremost athletes, yet he never forgets the family he left behind. In an effort to learn what happened to his mother and sister, Judah returns home and confronts Messala, who convinces him the two are already dead. Driven by his hatred, Judah seeks revenge against his former friend, and despite the pleas of Esther (May McAvoy), the woman he loves, Judah cannot let go of his anger.
All of the scenes that made Ben-Hur so memorable, including the chariot race and the battle at sea, are there for the taking in the 1925 movie, and are just as impressive. But at its heart, William Wyler's version also told a very personal tale, with some truly moving moments (i.e. – looking for Judah's mother and sister in the Valley of the Lepers) that are as unforgettable as the film's most elaborate sequence. It's this combination of grand spectacle and intimate drama that made Ben-Hur the Best Picture of 1959, and Ben-Hur: A Tale of the Christ benefits just as strongly from the story's dual nature.
1959's Ben-Hur will always be my favorite cinematic telling of Lew Wallace's novel, but I'm glad I finally saw this version. Even without the glorious Technicolor (though the religious scenes did feature the two-color process) and dramatic dialogue, Ben-Hur: A Tale of the Christ is an extraordinary experience.