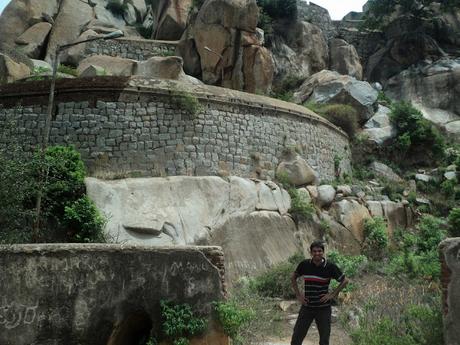 Place: Gudibande Fort Trek.
Distance:
100 x 2 = 200kms.
Directions:
Bengaluru – Hebbal – Devenahalli – Chikbalapur - Gudibande
Particiapants:
Deepak (Deefu) > Datta (Dattu) > Ashok (Momz) > Gowrish (Gow) > Karthik (Sp).
Bikes:
Zeus > Pulsar (2).

  

  
Previous visit:
Yelagiri –The oven ride
IN LESS THAN 50 WORDS:
This has to be one of the most underrated treks in and around Bangalore. It offers a pretty decent climb with exploration too. In way if you see, it is good. Our trip was a fun filled and we enjoyed it. On my way back from Nizamabad (Oct 2014) morning 03:30 I was munching on some snickers then I saw the moon rest on top of a mountain, when I searched for the name of the place, founda board that read "Gudibande ->"
INTRO & PLAN:
As Gudibande was a new place for us, lot of back study went behind before it's planning. It was a week since our ride to Elagiri and Gowrish was an active member. Since this trek was planned along with the old school friends I asked Gowrish if he could make it, he agreed. So Deefu, Dattu, Ashok & Gow were on the confirmed list.
TIME: 22:00 (9/5/2015)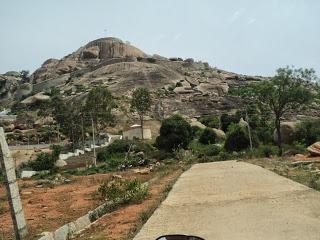 ASSEMBLE & LEAVE:
Yeah I was up at 05:00, did a few push ups & situps, had a cup of coffee, danced to"The Doors"and was all set to go. The meet up was scheduled at multiple places. First Gow came to my home at about 06:00, then we both left on my bike to meet Dattu & Deefu at ORR near Mahalakshmi Layout. After which 4 of us on 2 bikes rode on the ring road to catch up with Ashok near BEL road. Then we finally pulled over at Hebbal for a Gow's introduction to the group. After the introduction and Obviously pulling Momz leg a little we left Bangalore.
TIME: 07:30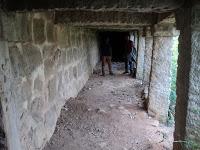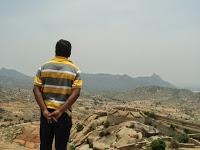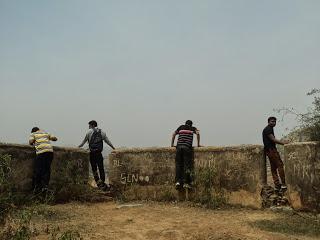 RIDE 1: (Bangalore– Devanahalli –Chikbalapur - Gudibande)
This was 120kms ride on pretty much the smooth airport road. We rode one behind the other. Deefu was racing ahead, Momz was crawling behind (as he had got his old bike which was due service too) and I was trying keep both in sight. After riding for about 45mins or so, we pulled over for some breakfast.
TIME: 08:15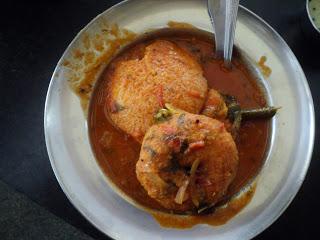 We ordered Idly vada, Dosa and what not. Ashok said he will have only 1 Vada and not eat anything. We all gave me a strange glare. When the orders were ready, we took Idly vada plates, Dosa plates. When Momz went and asked for his Vada plate, the waiter said "Sorry saar, Vada over" We all burst laughing. Finally he took another dosa (which was okay) so we all shared and finished our breakfast.
TIME: 09:00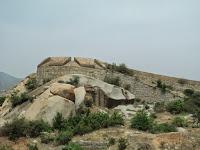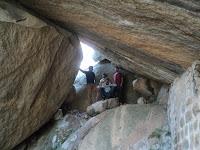 As the ride continued, we rode until devnahalli and from there headed towards Chikballapur. We could spot Nandi & Skandagiri afar. Making our way post Chikbalapur we entered the AP highway and the heat began to set in. Gudibande is about 60kms from Nandi hills (proper). We could spot a lot of hillocks we weren't sure as to which on Gudibande is.After continuing a little further from perarasandra, we asked the locals for directions and got off the highway and rode a few kilometres interior to reach the base of the hill.
TIME: 10:30
GUDIBANDE TREK: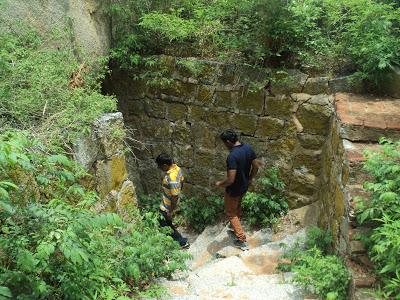 It took us about 45mins to climb uphill. The level of trek is very easy. As we reached the base, we were surprised and happy to find nobody at the hill premises. We started the climb on few rock step (which we hate) as it drains a lot of our energies. After which the terrain became interesting as the boulders started coming into the picture and the path started becoming narrower.
Next as we proceeded, Dattu came up with these lines:
D – "Yo xp, whats the name of this place? Rubbkallu? Gundkallu? Kallbande?"
I was just staring at him confused and on the verge of bursting into laughter.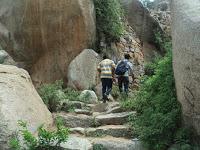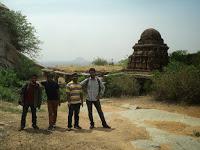 As in Hutridurga and few other treks, we found a lot of gateways to the next tier and also a few temple that lay in ruins. We found a very nice outpost that overlooked the city below.We did tried exploring the small passages that was found throughout the path. But we always ended up in a circle or in front of a wall. Finally after final jumping around we made it to the top.
TIME:11:15
TOP: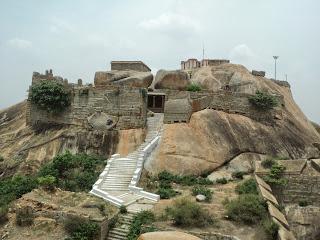 At the top, explored every bit. Leaving no stone unturned we stormed all the buildings and saw what they had in them. After about 30 mins, we chose one particular one to crash into. We took a small nap and Ashok as usual entertained us with all his dirty jokes. Finally after about an hour we decided to head back down.
TIME:12:15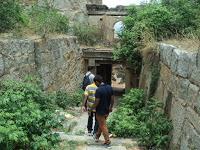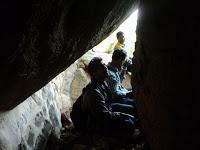 CLIMB DOWN: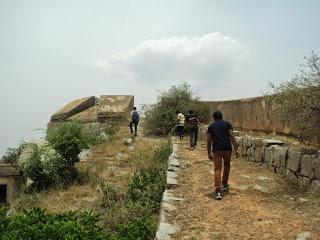 The climb down was a super-fast one. It took as 20-25 mins. As there were stairs Dattu got on to the side raises and began dancing his way down. And we followed as the staircase was always a pain in A. We did stop here and there to peep into the old temples, buildings the gateways.
TIME: 12:45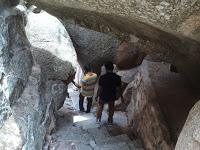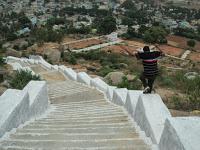 RIDE 2: (Gudibande– Devanahalli – Hebbal –Bangalore ):
After reaching down ,we found our bikes to be safe. And went to the town near-by had some juice and hit the highway. Riding at a decent pace, we began searching for a dhaba to crash. I told them I knew one and I would signal them once that arrives. So we rode one behind the other, I had to make sure Momz was in front of me so that we wouldn't stay back and get lost.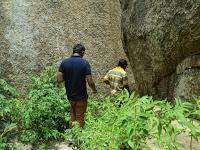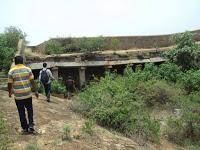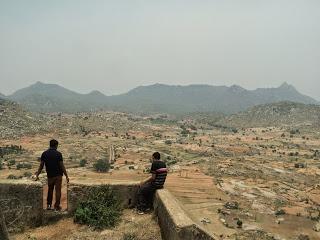 As the Dhaba approached, I started honking. But Ashok kept riding forward with paying any heed. I saw Deefu & Dattu as they too were surprised. Do you think? Well we wanted to find out, Gow & me rode to the right of Ashok and Deedu & Dattu to his left and we saw something which took us back.
He was fighting hard to stay away, dozing off now and then we was managing to ride his back .We burst into laughter which woke him up. Then we pulled over at the immediate next dhaba for some lunch.
TIME: 13:45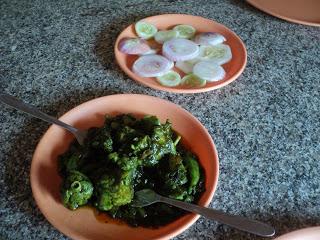 After some heavy lunch we left. Told Dattu to take over Momz's bike and then the games began. Basically we had to ride to Bangalore swearing at each as much as possible and showing signs and stares to offend the other riders. Time went flying as we cruised into the Airport road. As we reached the airport road, the traffic was at ease at it was pretty much noon. We reached Hebbal form here, Ashok left towards his home. Deefu, Dattu, Gow & me continued towards Yeshwanthpur. And from here we headed to our respective homes.
TIME: 16:30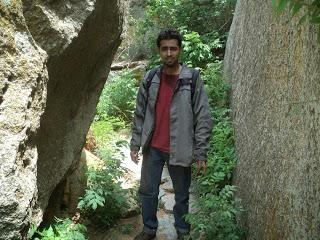 PICASA ALBUM: