If you're new here, you may want to subscribe to my RSS feed. Thanks for visiting!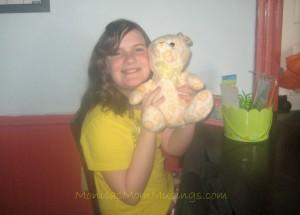 Eleven years ago today this beautiful young lady to the right here was born.  Her labor story is an interesting one.  She was 4 days early, but after a long pregnancy which included wearing a halter monitor when I was 8 months pregnant because my doctor was concerned about my heart rate I was so ready for it to be over.
My oldest daughter's 3rd birthday was coming up and the unknown of when she was going to come was making me anxious.  My doctor had offered to induce me and I agreed to it and was going to go in for my appointment on the 11th to see if I was favorable for an induction.
But as always she had a mind of her own.  On April 10, 2002 we had been out all day shopping and walking around.  We finally were home and relaxing and I was playing my new found obsession of Bejeweled on the computer.  My husband was sitting next to me watching me play and watching my face.  He kept asking if I was okay.  I told him I'm fine.  So he started timing my facial ticks which were every five minutes.  He told me, I think you're having contractions.  So we argued about whether I should call the doctor, ultimately he won.  My oldest was a fast labor and we had a 15 minute drive to the hospital.  So off we went to the hospital.
It was 10:00 at night by the time we got there.  They checked me and I was contracting every 3 minutes and was 5-6 centimeters dilated.  And yet they weren't sure I was staying.  The doctor came in, said, "You're staying."  I was admitted and blood work was done and by midnight they were breaking my water and at 2 a.m. I was pushing and all 8 pounds 15 ounces and 22 inches of her was born at 2:10 a.m. on April 11, 2002.
And that's how she got here and now I would like to tell you 11 things about my girl that we have had the pleasure of watching develop in her.
11 Things About My Girl On Her 11th Birthday
She loves arts and crafts.  Painting, coloring, beads, making bracelets, whatever she can do creatively she will do it.  She sees something to make out of everything she finds.
She doesn't give up.  No matter how hard something is she plows through setting huge goals for herself to achieve.
She loves Tinkerbell.
She talks, a lot.  Like non stop at home.
At school though she is very quiet.
She is learning to play the clarinet and loves it.
She wants to be a hairdresser to the stars when she grows up.
If she's not a hairdresser, then she's going to be a teacher.
She is really good at math.
She is a really great big sister.  She sits with her little brother on the bus everyday and walks him to class.
She is always ready to chip in and help with things when asked to, even when not asked.
That's the birthday girl.  I could probably go on for another 11 things, or 111 things.  That's how great she is.  Happy 11th birthday on the 11th to my girl!
Was there anything you were surprised to find out about my newly turned 11 year old?