Businesses, small and big, are targeting social networks and media platforms as an integral part in connecting with their audience.
Surveys and reports have established Facebook as the giant in this industry, followed by Twitter. Different social media networks like Instagram, Pinterest and LinkedIn are also being explored by marketers.
Social Media management platforms like Hootsuite and other Hootsuite alternatives being used by marketers.
In order to cater to users on various social media platforms at one go, social media management apps are saving time and efforts of marketers.
Social media content curation is another essential aspect where these apps are quite helpful.
So, you will always have information about what is trending on the web and accordingly, you can post about it on your different social media channels and blog posts. While the app store is full of options, one of the most popular social media management app is Hootsuite.
This third-party tool enables you to collate all your social media accounts and stream them on one dashboard.
Whether you have multiple accounts or use one account for multiple channels, Hootsuite's simple dashboard allows you to schedule, compose, send and track your activities.
It requires no additional downloads, and you can add team members, monitor work-flow and analyse your social media activities as well.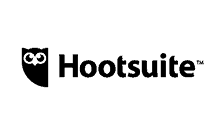 Some of the feature highlights that makes Hootsuite a popular choice are:
It is easy to use and allows integration with a host of different social network channels like Facebook (profile, pages, events, groups), Twitter, Foursqaure, LinkedIn (profile, pages and groups), Google+ pages, WordPress, Mixi, Flickr, Tumblr, Mailchimp,Vimeo, Myspace, Storify, and so many more
It allows team collaboration
Scheduling social media updates
Save FAQ "tweets" as drafts to send out to commonly asked
Get weekly analytical reports via email, detailing about a number of clicks, most popular links, geographical information, etc. You can also integrate your Google Analytics account with Hootsuite.
All browser compatible
RSS integration
Mobile app (Android, iPad, and Blackberry) with a seamless UI
Freemium plans. With the free plan, you can add up to 3 social media channels.
It allows bit.ly and other URL shorteners in addition to ow.ly.
It allows you to auto boost your Facebook posts in two ways. One is auto boost your most popular content and the other is auto boost all your posts.
With HootSuite you can delete and manage comments on your Facebook and LinkedIn channels.
30-day free trial plan
It also provides content suggestions that are more or less like a content library that is of great help for post scheduler and social media manager.
Hootsuite is a wonderful social media management app but it has its shortcomings as well-
Analytics in detail can be a little expensive, although there are few free reports. Mostly it costs $50 per report
You cannot integrate a CRM system
Team accounts cannot be handled in the mobile app
The Hootsuite review certifies it as a great social media management tool.
Yet we cannot ignore that there are many more alternatives out there in the market.
So, after thorough research and going through various user reviews here are some Hootsuite alternatives that can help businesses with their social media platforms monitoring.
HootSuite Alternative - Sendible
The first Hootsuite alternative is Sendible. It is not just a social media management tool but also caters to various other aspects of digital marketing.
An easy to use dashboard where you can engage with your users, a social CRM, analytics, publishing- Sendible has it all.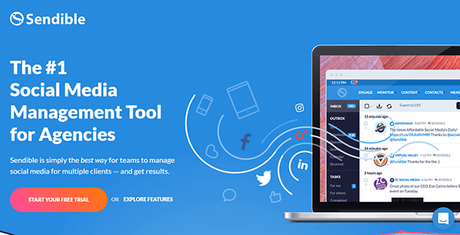 Pros of using Sendible
Sendible lets you grow as a brand. Even if someone has not tagged your company, yet is talking about your company, Sendible will let you know. You can bring in new users without having being tagged or mentioned
Sendible like other management tools lets you juggle multiple accounts seamlessly which makes this tool easy to use. The visual tick mark to the tweets that you have replied helps, in the long run, to filter among piles of tweets
Publish to multiple social networks like Facebook Twitter Instagram and blogs. You can schedule, queue, and maintain your consistency with RSS publishing
Team collaboration. You can add and assign tasks to teams, review before publishing any content, and share customer records with the team
Analyze data across all the social media channels that you use via Sendible
Mentions do not just happen over Twitter. If someone mentions your company anywhere like a blog post or any other channel, Sendible will notify you. You can monitor reviews on Yelp and CitySearch
Impressive and quick customer support
From generating to nurturing a lead, Sendible has all the tools needed to garner an effective social media outcome. From emails to SMS marketing capabilities, Sendible goes beyond social media posting and sharing
You can use Sendible on the go with its mobile app.
Update: Now Sendible is GDPR and CCPA ready and is providing the required features, which can be used inside the application. You can read complete detail about how to manage all the rights for the data subject, obligations of processors, data protection officer, privacy impact assessment and breach notification here.
Recently, we did in-depth Sendible Review.
Hootsuite vs Sendible
Sendible is one of the popular Hootsuite alternatives and is definitely so much more than social media sharing and managing. It's a compact option for a marketer.
Here are two major ways in which Sendible surpasses Hootsuite-
Sendible has it all- posting, scheduling, sharing, sentiment analysis, auto-responder, auto-following, and so much more.
The 360 degree monitoring is unique on Sendible, unlike Hootsuite. Whether you want to go in to the depth of a post analysis based on reach sentiment, or consider geo/language targeting - Sendible has it all.
Sendible is much more beyond social media. Tracking campaigns, uploading HTML for email campaigns, setting auto-response for email, tweets, comments, etc and tracking popular bookmarking sites like Delicious- Sendible is a complete package.
The best part is, you can do all of this from a single dashboard alone.
Price: You can get a Free trial plan for 30 days. Starting at $29 per month only.
Hootsuite Alternative - SocialPilot
SocialPilot, which seems like an advanced Hootsuite alternative to me, is highly recommended for anyone who is looking for an alternative to Hootsuite and a good management tool.
SocialPilot is an all-in-one social media easy to use scheduling tool that helps marketing professionals and organization to organize their social media activities.

SocialPilot Features Highlight:
It has all the features that Hootsuite has but in a more advanced way.
You can create social media posts and schedule them for different time and day. Hence, your work goes on even if you are not online. The best part is, you can schedule posts in a different time zone as well.
Content curation platform to help you with creating good and up to date content
You can post a single update across various social media profiles at one go.
You can track your social media posts on your accounts via the scheduling calendar.
Your brand visibility can be enhanced with SocialPilot with its unique customized Facebook branding feature.
You can schedule hundreds of posts using bulk scheduling. All you need to do is create a CSV file or TXT file and specify the schedule for updating. You can make edits or delete them as and when you wish to.

Multiple team members can work on SocialPilot together. You can add some as contributors who have editing rights while others can be just moderators. That way, you are sure that only curated updates go live.
SocialPilot acts like an advanced digital companion with all its suggestions and custom feeds. You can choose content from several categories like business, travel, startups, and such. Isn't that an awesome way to engage your audience and keep them glued?
SocialPilot is on mobile (both Android and iOS) and provides browser extension(Chrome) as well. It supports most social networks like Facebook Twitter and Instagram.
Pros of SocialPilot:
It is value for money in the digital marketing field
It offers a mobile app
Offer support for multiple social media networks
User-friendly dashboard
Cons of SocialPilot
Instagram support is limited
The iOS app is clunky
SocialPilot vs Hootsuite
With a single glance at the above features, it is an easy task to spot the differences between these two social media management tools-
The scheduling feature on SocialPilot enables you to schedule posts for different days and time. Hootsuite, however, allows you to schedule for one time on different days.
Brand visibility on a personal level does not happen on Hootsuite. With SocialPilot, you can showcase a message like "Posted by XYZ" where XYZ denotes your brand name. Hence it gives a personal touch. This feature is not present with Hootsuite.
SocialPilot provides post suggestions, unlike Hootsuite.
Hootsuite tells you the best possible time and suitable time for your post update, which is unavailable on SocialPilot.
A free trial of SocialPilot allows:
Upto 3 social media profiles
10 posts/day
Upto 3 RSS feeds
Unlimited groups
Access to API
No analytics report
Free Version of Hootsuite allows:
3 social media profiles
Unlimited posts
Basic analytics report
2 RSS feed
Scheduling and app integration
Hootsuite integrates with Facebook (groups and pages), LinkedIn (groups and pages), Twitter, Google+, Foursquare, WordPress, Tumblr, MailChimp, Vimeo, Storify and so many more.
SocialPilot allows posting on Facebook (groups and pages), LinkedIn (groups and pages), Google+, Twitter.

Price: Starts at $10 per month (for individuals and bloggers) and goes up to $30 per month (for online sellers and businesses).
All paid plans provide a 14-days free trial plan and it also has a free account which gives you the ability to connect 3 social accounts, schedule 30 posts and 10 posts sharing per day.
Read in-depth SocialPilot Review and comparison with Buffer.
Update: In October-16; SocailPilot released major updates, which include a new user interface, content suggestions, and more browser extensions. GDPR and CCPA related information can be found here.
Hootsuite Alternative - Agorapulse

Another social media scheduling tool, Agorapulse also provides you with a social inbox system and an advanced queueing option. It started as a Facebook apps-driven tool. Today it automatically lets you re-queue content that engages most.
Agorapulse is best used for Facebook marketing. You can run a quiz, sweepstakes, contests and much more. It is a great choice for people having mid-sized businesses.
Agorapulse Features Highlight:
Single dashboard to manage social media profiles.
Schedule a post.
Never miss a tweet or comment or message or any other response. The social inbox feature segregates everything such as comments, messages properly. you can reply to a user directly from here or assign a tag or review it.
24/7 content syncing enables you to stay updated. You can filter between "all" content and "new content".
Notifications at a glance.
Automated moderation helps in flagging, hiding or assigning content while you are away.
Publish at once to all networks.
Schedule and queue posts. View them on your content calendar.
Republish contents.
Track shares and mentions on Facebook. Customize search on Twitter based on keywords that matter most.
Find the influential audience and connect with them.
Monitor hashtags and places on Instagram.
Get an overview of your most engaged users.
Know who posts about you the most and engage with them.
Categories audience like influencers, clients, prospects, etc.
Store every conversation that happened with your users for future reference.
Get an overview of the user profile with whom you have interacted.
With the Agorapulse Facebook timeline contest app, you get a variety of contest types, sweepstakes filtering options and other time-saving features to filter the results.
Refund policy for monthly subscription.
Price: Medium plan for solo marketers start at $79 per month for upto 10 profiles and 2 users. It goes upto $399 per month for enterprises (60 profiles and upto 20 members).
Pros of Agorapulse
A great tool for increasing Twitter engagement.
Saved reply option
Let's you publish, monitor and engage from a single dashboard
Cons of Agorapulse
Doesn't support Google my business posts
Need you to sign in every single time which is not very convenient
Doesn't have a very impressive bulk scheduling
It does provide the best time for posting but this information is not readily available as in other tools like sprout social.
Hootsuite vs Agorapulse
After going through the features of Agorapulse it is evident that this tool is much more advanced than Hootsuite.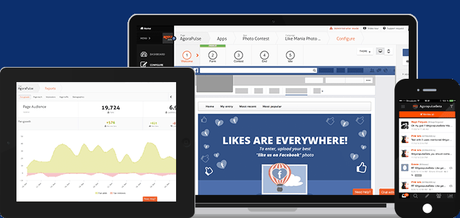 Hootsuite Alternative-All-In-One-Agorapulse
When it comes to CRM features Agorapulse offers a deeper insight into your audience behaviour that helps you craft better content around these details.
Also, I feel that the dashboard approach of Agorapulse is better than Hootsuite.
I will just walk you through the points of differences once more before we reach any conclusion.
Hootsuite has "streams" which I personally like because it lets me get an overview of everything. However, Agorapulse's smart social inbox is definitely much more organised.
The complication with Hootsuite grows when you start adding more than two or three streams. It looks cluttered and you can have a hard time managing the series of tabs. Agorapulse is a lifesaver in this regards.
You have an inbox for every channel and everything is properly organized here.
One dashboard, one overview but very organised.
Hootsuite requires you to have 5 different streams for each social profile.
For instance, with Twitter you will need to install inbox message stream, an outbox stream, mentions, tweets mentioning your name, your tweets and keyword dedicated stream. This means a lot of hopping around! With Agorapulse everything is grouped properly.
Messages that are sent to you are in a separate inbox while those posts that are about you are in another inbox.
You cannot measure competitors' social activity in Hootsuite, unlike Agorapulse.
Interacting with users and nurturing prospects is possible on Agorapulse unlike Hootsuite.
Agorapulse's keyword monitoring tool is much more advanced compared to that of Hootsuite's.
Hootsuite does not sync your contacts when you are away. Agorapulse will keep you up-to-date even if you are on a vacation.
You can create Facebook apps with Hootsuite, unless you are using app making tools like Shortstack or Antavo.
The pro version of Hootsuite will give you 3 basic reports every month. If you are using more than three social profiles, then you will definitely require reports on every profile you have.
That will cost you $50 for each additional report (up to a maximum of 10 reports per month).
Agorapulse gives you unlimited reports. Enough said!
In terms of price, Hootsuite's Pro plan starts at $19.99 per month for upto 10 social profiles, advanced message scheduling feature and publishing and monitoring of unlimited RSS feeds.
For each extra member, it will cost you $15 per month (3-10 member at max).
Agorapulse is cheaper than Hootsuite. For 40 social profiles, you pay $239 per month and nothing else.
Hootsuite Alternative - SproutSocial
SproutSocial, an advanced and unique Hootsuite alternative which is a social media scheduling tool equipped with numerous features like scheduling messages, task assignments, statistics overview and integration with various platforms.
SproutSocial tool is apt for various categories such as enterprise, agencies and small businesses.
If you are looking for a social media management tool that allows you to reply to your client's query quickly and efficiently you should definitely consider sprout social.

You can always take care of your customer sentiment with the smart inbox feature and manage all your communication at one place.
SproutSocial Features Highlight:
Smart social inbox to manage social media accounts of Instagram, Facebook, Twitter, LinkedIn, Google+ and many more
Collaborative content calendar
Easy scheduling across multiple networks
Post queueing with ViralPost
Tracking activities across all channels
Discover trends and influencers with Sprout's proprietary Trends Report
Available for android and iOS devices (iPhone and iPad)
Automation tools such as bot builders and advanced Twitter automation.
Offers integration with tools like ZenDesk and UserVoice.
Price: Every plan offers a 30-Day trial period. The paid plans start at $99/month (Standard).
Hootsuite vs SproutSocial
SproutSocial is touted as one of the popular Hootsuite alternatives, where you get the overall features like Hootsuite but with slight differences.
To give a better picture I have articulated the differences under five major sections that is publishing, team collaboration, reports and analytics, UI and cost.
Publishing:
Hootsuite dashboard has multi-column streams for all the information. This helps you to have a glance at all your social media accounts on a single page.
These streams are customisable.
SproutSocial's dashboard and the user interface are different. There are social inboxes for all social channels that you are accessing.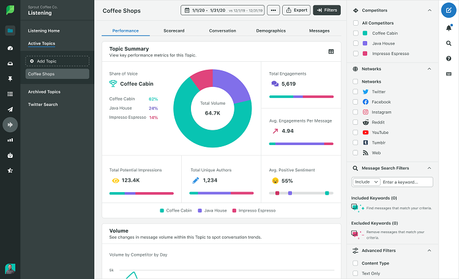 The messages, updates and other information for each channel are sent to its respective inboxes. I think it is really helpful for business who want to focus on one social media channel at a time. For example if your prime focus is on Linkedin you can check that particular inbox.
The ViralPost technology in paid plans lets you publish posts when the engagement is high.
Also, the Discovery feature helps you discover the audience based on keywords and locations, and connect with them.
Team Collaboration:
Hootsuite lets your team members join a conversation thread and comment without having a social media account.
SproutSocial lets you store comments and information of your followers. Any team member can see all the past conversations with contact and post a reply appropriately.
This feature helps in nurturing a lead through social media.
Integration with customer service operating systems like UserVoice and ZenDesk lets you have a seamless collaboration with customers via social media platforms.
Reports and analytics:
Reports from Hootsuite are somewhat detailed and customized. The "Quick Analytics" feature will give a screenshot of most popular tweets.
The basic UI of these reports are intuitive and simple.
SproutSocial presents a report that is beautiful. The home dashboard will give you a quick overview of how your social media channels are performing.
You can get a deeper insight like how many percentage followers are male and female, what are the age demographics and so on. You can assess your customer reach and what will work in your favour.
Also, SproutSocial gives you unlimited reports for any plan you choose.
Mobile UI:
Hootsuite's mobile version has one drawback- you cannot access the pre-scheduled tweet feature that is available on web.
SproutSocial, on the contrary, gives you full access to the CMS over your smartphone. Hence, you can easily keep track of all the activities like replies, mentions, and so on over all your social media channels.
As per my experience, it is an important feature to be able to access information on your smartphone on the go. It makes a lot of difference in terms of productivity and efficiency.
Cost:
Both Hootsuite and SproutSocial offer a 30-day free trial period.
Hootsuite: $29/month for one user for Professional Plan; 10 social profiles.
SproutSocial: The paid plans start at $99/month for Standard plans and 5 social profiles ( No credit card needed).
HootSuite Alternative - SocialOomph
SocialOomph, another alternative with features like HootSuite, was originally built to focus on Twitter only.
In 2009, this Canadian-based web app expanded into other social media networks like Facebook, RSS, WordPress, App.net and Plurk.
In many ways, SocialOomph is similar to Hootsuite, like scheduling and updating posts, and analytics updates.
The scheduling features of SocialOomph allows you to do text updates, image updates as well as group updates.

The thing about SocialOomph is that it doesn't try to do a lot of things or confuse you with a variety of categories. It is specifically for scheduling on social media platforms. The USP of SocialOomph is the tweet scheduling which comes with a lot of advanced configuration options.
With SocialOomph you can search keywords for your Twitter social media profile and you will get a list of the tweets that have the mentioned keyword in your email inbox. It is a great feature if your target audience is primarily on Twitter.
Hootsuite vs SocialOomph
Although the social media management platform of SocialOomph has features like Hootsuite it also offers some categories of features that are unique to itself:
Auto-responder function in SocialOomph sets it apart from Hootsuite
You can get notified when someone retweets or mentions you
SocialOomph uses Microsoft word file for bulk uploads unlike Hootsuite that uses a CSV file
WYSIWYG editor for in-software editing in SocialOomph
Analytics is slightly more detailed in SocialOomph
An unlimited account in the free version as well
You can schedule and publish blog posts from unlimited blogs
Hootsuite has the advantage of letting you access more social media channels than SocialOomph and mobile integrations.
Pricing plans: Free version available in personal suite. 30-days refund policy.
Hootsuite Alternative - Buffer
Buffer, a Hootsuite Alternative, is a powerful social media management tool that has all the features to compete with Hootsuite fiercely.
In nine years, Buffer has more than two million active users. You can schedule, track and access more than one social media channel with this tool.
A great option to improve your social media presence and grow as a brand. Buffer is an excellent platform for social media monitoring for small businesses and any individual who needs to improve their customer service.

Hootsuite alternative - Buffer
Buffer Feature Highlights
Feedly integration allows you to quickly access title, URL, the content of the article you are reading without having to open a separate browser
You can schedule your retweets as well with Buffer
Integration with Followerwonk in Buffer helps you know which time your followers are online. You can schedule your posts accordingly. You can pick the handle of any influencer and analyse when their followers are online. This means your tweeting is now optimised
Custom scheduling enables you to choose the right day and time for an update that deals with sensitive topics. You can target the right set of audience in a specific time
You can now add Google+ and LinkedIn pages in Buffer
You get scheduling options to schedule posts with Buffer Inside Echofon without having to leave your Twitter window
Auto-complete option for Twitter handles, options to post images and quotes
"Top post" icon in Buffer lets you know which post is performing better than the others
Compare various blog titles to see which one works best for you.
Each profile you use has a separate analytics history stored in separate tabs for reference.
Hootsuite vs Buffer
The learning curve of Buffer is still better than Hootsuite and it has a better user interface. So, any individual looking for a tool with easy social media management features can opt for Buffer.
There are few ways in which Buffer surpasses Hootsuite-
RSS Feed integration in all plans
Buffer has a great social media image editor and creation tool called Pablo; which is another great addon.
Buffer has introduced Buffer reply tool that gracefully manages all communication on social media. It is priced at $50/mo. A great option if you are looking forward to offering robust customer support.
Pricing plans: Free plan for Individual. Pricing starts at $15/month for individuals, and $99/month for small teams.
Hootsuite Alternative - Sociamonials
Socialmonials is another social media management tool that comes with a unique feature termed analytical social media campaign manager.

Sociamonials allows you to manage your various social media accounts from one single dashboard.
You can post, track campaign performance, and at the same time interact with your customers.
The sociamonials mobile app allows you to keep a track of your campaigns while on the go.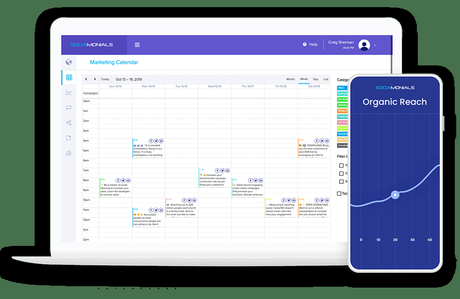 Sociamonials is a good option for small agencies, solopreneurs, and even a good option for people who are just starting out. It maintains a perfect balance between affordability, functionality and ease of use.
Socialmonials Features:
Brand targeting
Content management
Conversion tracking
Post scheduling
Contact database
Email marketing
Lead management
Multi-account management
Even trigger actions
Pricing:
Sociamonials is available in 4 plans:
Hootsuite Alternative - Publer
Publer allows you to collaborate, schedule, and analyze your posts for Instagram, Facebook, Twitter, Linkedin, and even YouTube.
With this tool, you can also schedule your posts based on a pre-defined posting schedule.
The Publer free plan gives access to several many advanced features such as auto-scheduling, link shortening, and post preview.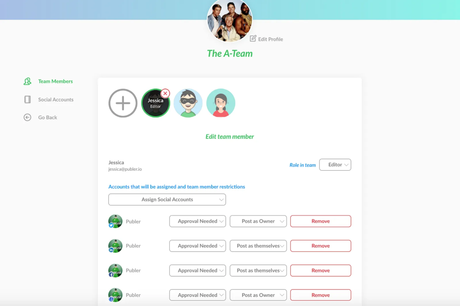 Publer is an affordable tool that offers in-depth analytics and a lot of advanced features. It allows you to connect Google my business (GMB) accounts to Publer and start scheduling.
Publer features:
Automated publishing
Collaboration
Post scheduling
Social media
Content management
Reporting/analytics
Pricing:
Publer is available in 3 plans:
Hootsuite alternative - Crowdfire
Crowdfire is a powerful tool that has been designed to help businesses of all sizes that help to drive customer engagement.
Key features of this tool are content curation, content scheduling, bulk scheduling, and post analytics amongst others. It also allows admins to create RSS feeds before publishing.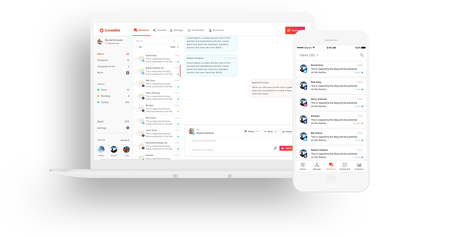 Crowdfire features:
Automated publishing
Customer engagement
Post scheduling
Social media scheduling
Brand tracking
Multi-account management
Reporting/Analytics
Pricing:
Crowdfire is available with 4 plans:
Hootsuite alternative - ContentStudio
Contentstudio allows you to share, discover and compose the best content for your business keeping in mind your market audience.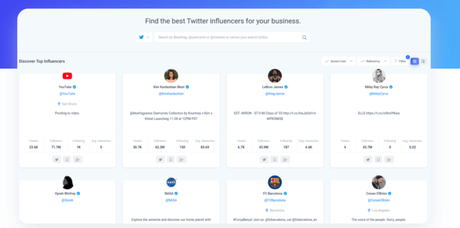 With Contentstudio you will never run out of content ideas and will be able to find the most trending content from various categories at all time. Whatever your market is you can always find some content that helps make your marketing success.
Features of Contentstudio:
Content scheduling
Collaboration
Post scheduling
Content management
Reporting and analysis
Multi-account management
Pricing:
Contentstudio is available in four pricing plans:
Hootsuite alternative - PostPlanner
Simple to use social media management tool that helps with content planning, post scheduling, and performance tracking.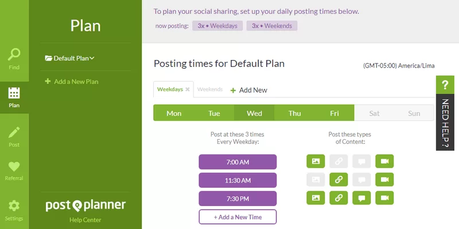 A great option for managing your Facebook social media campaigns. It comes with a star rating feature that helps you find the most catchy and engaging content and promises 650% more engagement. Well, that is a big promise that can do wonders for business and marketing.
You can always connect with their customer support for help with your social media marketing services.
Features of PostPlanner:
Pricing:
Postplanner is available in 6 pricing plans:
While we are still on Hootsuite alternatives, here are some other social media marketing tools that people have used and liked as well-
Viralheat, TweetDeck, Sprinklr, NetBase, Tracx, Loomly and so many other platform.
There are a host of social media management tools and Hootsuite alternatives to choose from, and your choice may vary depending on your business needs.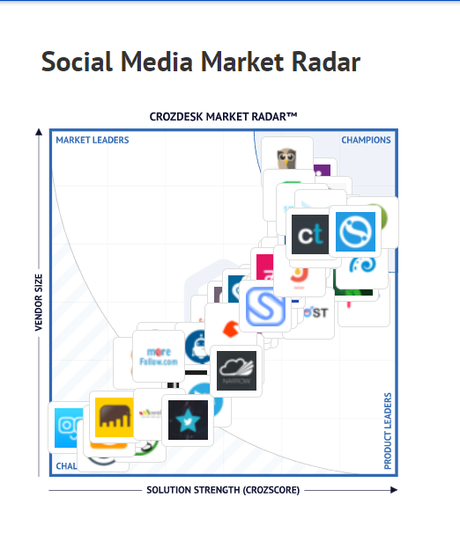 Crozdesk social media market radar
You can always consider various aspects like ease of use, pricing, advanced features before choosing any tool.
Also, if you want to concentrate on just one social media channel, then some social media management tools let you manage specific social media platforms.
For instance Tweetdeck is an excellent option for managing Twitter platform.
If you think I have missed out any such tool that can be used as a Hootsuite alternative, feel free to comment and let me know.
Questions asked while looking out for Hootsuite Alternatives:

Pritha is a guest writer on Sprout24. She is a content marketer by profession for more than 5 years. Pritha is a prolific writer and works with the content team at #Aritic and #EasySendy. Her expertise lies in product reviews, comparisons, and all-things-marketing. When she is not writing or reading, Pritha spends her time traveling and exploring to new places and good food.