Hollywood is home to a number of A-list celebrates who do everything from sing and dance to act and model. They also have some pretty hefty bank accounts attached to their name. But just because they're rich and famous doesn't mean there's not a lot of bad boys and bad girls thrown in the mix who are covered in tattoos.
Tattoos are a form of freedom and expression. They are art work at its very best; simple beauty within the eyes of the artist. Yes, celebrities and those with tons of cash have tattoos. Let go of those stereotypes and take a look at these 11 celebrities and their awesome tats.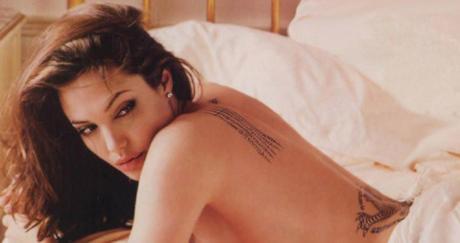 1.  Lil Wayne
Lil' Wayne is one of the hottest names in Hollywood, reigning over the music scene for a number of years now. Wayne is tatted up, with them all over his body, including his face where tear drop tattoos, stars and letters are just a few of the pieces of art work that he dons here. Other tats Wayne has include 'Fear' and 'God' tatted on each eye lid and 'Lucky Me' on his neck.
2.  Dwayne 'The Rock' Johnson
Actor and former WWE champ Dwayne 'The Rock' Johnson has his fair share of tats on his body. He recently revealed those tats n a candid shot with his newborn daughter lying on his chest. Among the tats Johnson has are tribal symbols.
3.  Rihanna
It isn't only men rocking' tatts. Singer Rihanna has several of them adorning her body, including a treble clef, a 16th note, a Pisces sign and Roman numerals on her shoulders, among several others.
4.  Drew Barrymore
Actress Drew Barrymore has several tattoos on her body. This includes a cross on her ankle and angels on her back, although the actress has several of them on her body.
5.  Adam Levine
Singer Adam Levine won his audience over with his incredible voice. But he also has several tattoos that people easily recognize. One of Levine's tats is of a tattoo on his arm.
6.  Selena Gomez
At one time this Disney actress/ singer used a kid's temporary tattoo of a heart with the word Justin in it when dating Justin Bieber. Thankfully it was easy to remove. Gomez has real tattoos now- including roman numerals and a musical note.   
7.  Serena Williams
The beautiful tennis pro has only one tattoo. It is of a small heart and is located on the back of her neck. A very cute tattoo indeed!
8.  Justin Timberlake
New dad Justin Timberlake has a few tattoos on his body. Nothing major and nothing large. Timberlake has a tat of an angel with the words Guardian above it on his back as well as a cross and several others.
9.  Marc Jacobs
Fashion designer Marc Jacobs has quite impressive taste. So it is with little wonder that he spreads his creative touches through tattoos. The artist has almost 30 tattoos on his body.
10.  Angelina Jolie
Actress and wife of Brad Pitt, Angelina Jolie has several tattoos on her body. It is an exceptional way to express yourself, the actress has said of tattoos.
11.  Kevin Hart
Funny man Kevin Hart doesn't laugh about tattoos. He enjoys them, as is apparent with the multiple pieces of art work shown on his body.