Patong gets flocked by tourists and foreigners all year round. This is not just because of the beach alone but also because of its wild and crazy nightlife.
If you want to meet girls in Phuket for free, check out this article.
There are several nightclubs that you can visit and party all night long but when it comes to the quality of service and of course girls, there are a few that stands out among the crowd.
When you get to the area, here are some of the best nightclubs that you can check out and if you are lucky enough hook up with a girl for a fun and casual night.
Seduction Nightclub
With its new location (right up on Bangla Road), it is still as famous since they normally have international DJs and great sound system to match with.
Seduction usually gets jam packed especially in the weekends. The party doesn't start until 2am. You will be able to see lots of young partygoers since this is a relatively new place. The place features 3 other clubs on the upper floor which are BLOW, a Russian Club and a Sheeshah club. Entrance fee is priced at 300 baht with no drinks included. If you have the money to splurge, you can also try the VIP club for 1,000 baht. Once you get your hand stamped, you can come and leave as you please for the night.
Probability of hooking up with a bar girl/ Thai hooker – 2 out of 10

Banana Disco
Moving on to the next bar is called Banana Disco, also located on Bangla Road. You can be able to see it because of its fancy design (a bright, yellow banana sign). The place has been opened since 1993 so it is a pretty established venue for partygoers especially those who have been in Patong a few times.
You can be able to find working girls here in Banana Disco, so if you are looking for someone to hook up with this is the place that is a definite to go to. Unlike Seduction, Banana is pretty much affordable since the admission fee is priced at 200 baht which includes one drink. If you are in the mood for dancing, just go to the 2nd floor of the bar and expect a huge dancefloor.
Red Hot Club
This is another place to enjoy live music while you are in Patong.  The place has been opened since 2012 and still has been fledging ever since. One reason why it is flocked by lots of tourist is because of its great music and bands. Interior is just your typical bar/ nightclub with stools and tables on the side. They offer a wide variety of drinks so this place can be a mix of everything from the music to drinks which is the reason why it can be busy at most nights. They also host party-themed nights from costumes to designs to music so this is one place that you can definitely enjoy Patpong nightlife.
Admission is free and you can be able to find hookers or working girls in the area.
Sin City Bar
Located under Tiger Disco on Bangla Road, Sin City Bar is another place to experience the Patong nightlife. Opens every day from 8pm up until 4am so you would really be able to party all night long. The establishment caters mostly to tourists and foreigners alike since you can be able to find go go bar girls dancing on poles or by the bar. Once you enter the bar, you can be able to realize that it is one Sin City because the things that patrons do can get pretty crazy and wild. They offer beer, liquor and spirits and also have mixed drinks, etc.  If you are looking for a great night out, then Sin City is one of the best place to visit.
Heroes Bar
Also located on Bangla Road, Heroes bar is a friendly bar with a more tamed atmosphere compared to Sin City. They have an open bar in the front where you can be able to enjoy the beachfront while having a drink or two. The bar is mostly flocked by Western tourists male and female alike. They also hold viewing parties for big football games so it is also some kind of a sports club, live music bar and chill out bar at the same time. You can be able to enjoy great acoustic music here.
Probability of finding a girl at Heroes Bar is 2 out of 10 since this is not your typical nightclub cum go go bar.
Hollywood Disco
Opened since 2008, Hollywood is packed with Thai bar girls so this is a surefire way to hook up for the night. It can be jam packed but it could also be pretty empty most nights. This is why this place is a lot easier to get into compared to other clubs such as Seduction. One downside of Hollywood is that drinks are not priced cheap especially if you are on a budget.
Probability of getting a girl/ hooking up with a bar girl is 9 out of 10 (depending on your charm and luck!)
Edit: Hollywood Disco is now Illuzion.
Tai Pan Club
Guests are free to enter so this is one positive start. Tai Pan is also an established venue when it comes to Patong nightlife. Another good point is that there are several bar girls as well! You can definitely hook up with girls in this side of Patong. You will find lots of women dancing on poles and pushing newbie sex-craved tourist for expensive drinks. If you are one old-timer, you don't have to worry about breaking your budget and you will be able to have a great time here in this Bangla Road bar.
Facebook Page: www.facebook.com/taipandisco
New Tiger Disco
New Tiger Disco is a huge discotheque/ entertainment complex in Patong. It is not too hard to miss because of its huge tiger design and rocky cave look.
The place had just been recently renovated but the one thing that has caught most of the patron's attention are the women dancing on poles. Of course, this is one feature that most single foreign male on a holiday looks up for – some sort of the bestseller in a menu. This is another definite place where you can be able to hook up with girls while in Patong.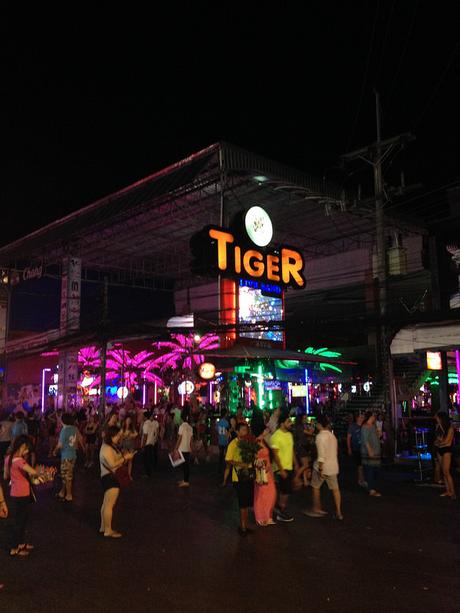 Entrance fee is at 150 baht and plays hip hop and techno music for those who are looking to find their groove. It could get really busy at around 2am when all the bars are closed so this is also a good time to hook up with girls and you might get lucky to find a good bargain.
Illuzion Discotheque
Moving on to the next best Patong nightlife is Illuzion. If you have the budget, then this place is a definite venue. Illuzion is considered an upscale or in Thai lingo "Hi-So" place (short for high society).
The interior is quite classy with a modern twist matched with state-of-the-art seating and lighting features. Beers and drinks cost a little bit expensive compared to other bars and are listed as follows: Beers at 200 baht and cocktails at 280 baht. If you want to party hard, give it a go for the whiskey which costs 4,000 baht for Red Label, 4,500 baht for Black Label and 3,500 baht for 100 Pipers.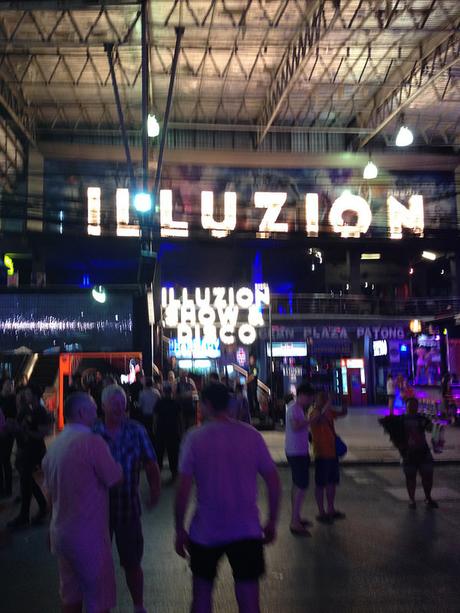 They house 4 International DJs and 8 international dancers so this place is quite hard to beat. They also hold different events every month so there is no escape why you should not come down to Illuzion while you are in Patong.
The question is, will you be able to find girls here at Illuzion? Yes, this is a good place to find normal girls but these girls are mostly Western girls and not the Thai girl that you have been fantasizing about.
Molly Malone's Irish Pub
Moving away from the loud and noisy is Molly Malone's Irish Pub. Has been opened since 1999 this is one nightlife where you can also have a relaxing and calming nightlife while in Patong. When you say Irish pub, it is inevitable to see Gaelic designs and anything green.
Enjoy a chilled or cold pint of Guinness or watch any of the live sports broadcast from one of their big screen televisions. If you are up for a game, you can also enjoy a classic run of pool with your mates. It is affordable and quiet so the probability of finding a girl would be 2 out of 10 as this is not usually flocked by locals or at least working girls. You can also be able enjoy live music by local bands singing mostly English songs.
Famous Nightclub
Located at the rooftop of Jungceylon Shopping complex offers a classy and expensive nightlife which is Famous. One of its great feature is the glass bottom swimming pool. People inside the nightclub will be able to see the water action from its ceiling while those in the pool will be able to have a glimpse of the dance floor from underneath. Great place to party with Hi-so people. They also host several types of parties such as foam parties, white parties, etc. so you can be sure that every event is exciting.
If you want to meet normal girls in Patong, check out this article on how to meet girls using dating sites for free.