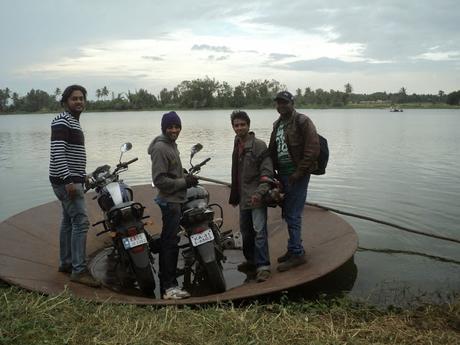 Place:
BR Hills.
Distance:
200 x 2 = 400kms.
Directions:
Bengaluru – Bidadi – Ramnagar – Channpatna - Kabbladurga
Particiapants:
Gaureesh (Gaureesha)> Madhu (Barca) > Datta (Dattu) >Karthik (Sp).
Bikes:
FZ > Pulsar.

  
Previous visit:
Kabbaldurga– One last hit!
IN LESS THAN 50 WORDS:
This had to be one of the strangest trips you will ever read. Yes the tag is "Ride across the river "as in Dire strait song. but literally we put our bikes on a coracle and rowed ourselves to the other side. Nearly got caught by the police as well. And most importantly we almost drowned with our bikes. Anyways it is a fun chapter, stay glued!
INTRO & PLAN:
After a no-nonsense bashing Novembers, we had taken a break for about 3 weeks. As Gaureesh wanted to take his new bike for a long run, we decided BR would be just the place. Dattu, Madhu, Gaureesh were on the confirmed list.
TIME: 22:00 (12/12/2014)
ASSEMBLE & LEAVE:
Yeah I was up at 05:00, did a few push ups & situps, had a cup of coffee and was all set to go. The meet up was scheduled at RR Nagar Arch. I left my home at about 06:00 and cruised on the ORR to pick up Dattu from his home at Mahalakshmi Layout. Once having done that we rode back to Mysore road and waited for the other two at the RR Nagar Arch. Once they arrived, even though they knew Dattu, I introduced him formally and we left Bangalore.
TIME: 06:45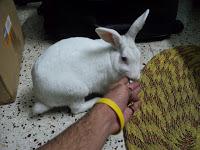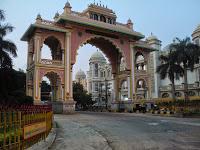 RIDE 1: (Bangalore–  – Channpatna – Kabbaldurga – Mallavali – Kollegala – BR hills)
This was about 200kms ride. Wait, but here this now. It was on highways, country roads, forest roads and ON THE RIVER. Haha, yes no kidding. As we left Bangalore, with the onset of winter the weather was cold and perfect for riding. We cruised along at decent pace to reach Bidadi for breakfast.
TIME: 07:15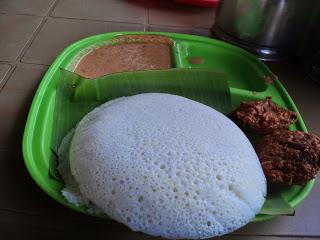 After belting some yummy breakfast, we had some tea and left Bidadi. We rode at decent pace, cruising past Ramnagar we reached the outskirts of Channpatna. Here we took a left deviation and took off into the country roads. These roads after Channpatna towards Kabblu are a truly a bliss to ride on. We rode enjoying the ambience to spot Kabblu we pulled over for a couple of minutes.
TIME: 08:45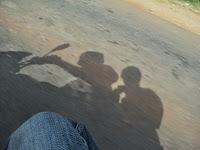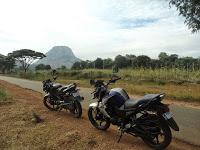 After taking a few minutes rest, we headed further to reach Sathnur. Once from the Sathnur the NH 209 (Our Snake Way)made our riding easy. We stepped up a little and cruised faster to reach Malavalli for some hot tea., After which continuing further we found that the bridge to Barachukki had cracked and no vehicles were allowed. All vehicles were taking a detour via Talakad to get to Kollegala.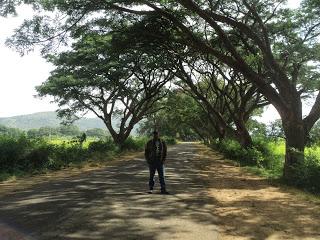 So, what do we do? We change the plan to Talkad itself, or go off to Somanathpura? Everybody were confused. We rode on towards Talakadu for some kilometres after which we spotted a few fisherman standing on the roadside. We asked if they could take us across the river. He agreed gladly, 40rs/bike & 20rs/person.We agreed gladly to as the experience would be something off the road and hopefully not off the boat :P. Riding in the interior mud roads of a village we ended up on the river banks. Finally we found quite a few coracles pretty huge ones made of metal resting on the banks. They asked us to get our bikes onto the coracle and off we went. Rowing slowly across the river. Madhu got a call from one of his friend the conversion went something like this:
M- hello
X – Where are you?
M – Well, umm.. in middle of river.
X – You said you would just ride today?
M – Bike is also there with me.
X –(*confused*)Okay, I'll speak to you latter. Bye.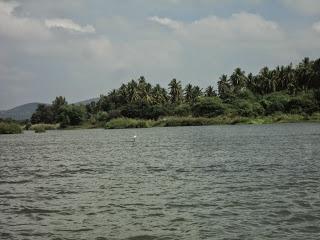 Hahaha, yes. We all burst into laughter and almost fell off the coracle.As we approached the end we could spot police waiting. It was/is illegal to do this by the way uh, just in case you didn't know. So we had to row ourselves into a small piece of island kind of thing and wait off the police. As we sat there waiting for the police to tire out, we had bigger problems.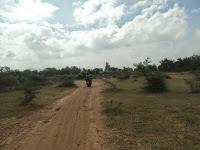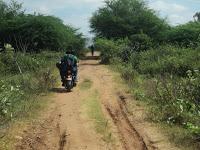 There was a hole under the coracle and water was seeping in. We thought holy f'n shit. This is unreal. Dying is alright, but not by drowning man I thought. Then Madhu just stepped on it and said, it won't leak don't worry.And then we took turns standing on the hole one by one. Once the police disappeared we made it to the other bank, paidthe fisherman, said that we would return by evening and hit back the road ( hoping we could do another river crossing, whata rush it was!)
Riding smooth with about 1.5h delay, we reached Kollegala.Taking the by-pass we entered into stream of villages and we reached the base of the hills.
TIME: 12:00
BR HILLS: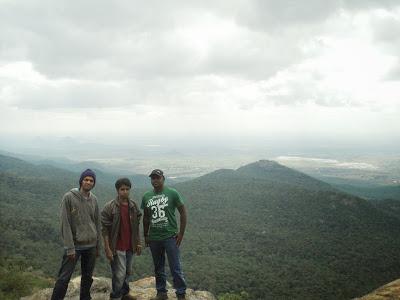 The ride began smooth. We slowed down, hoping to spot some animals. Thing about spotting animals is, whenever we expect and go, none show up. When we don't they keep pouring out. Now one might say, never expect and go, but it ain't so easy huh. But all throughout he ride I was remembering how the elephants had chased us back in December 2014 (BR Hills). The ride was like always an awesome one. With few stops here and there we made itto the top.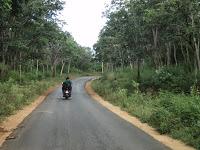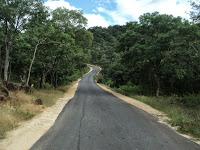 Once on top we parked our bikes, took off our shoes and visited the temple premises. The view of the mountain ranges surrounding the temple from the top is simply breath taking. After spending some quality time on top we decided to leave as our tummies were grumbling for food. We pulled over at the hotel on top as well and belted some good old meals.
TIME: 14:30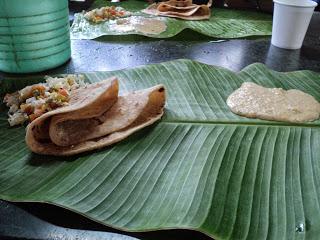 After some heavy and awesome lunch we decided to leave BR as we weren't sure the coracles would be there and rowing across the river with our bikes in the dark is something way too dangerous (but fun!). Ride back was a sooth one. After the heavy lunch all we had make sure was not to doze off. We reached Kollegala in matter of 30-45mins and from then raced ahead towards Barachukki. Just prior we missed a turn to get to the Kaveri banks, so we ended up someplace apart. But we did find a few more coracles and fishermen who were eagerly waiting to take us across.
TIME: 16:00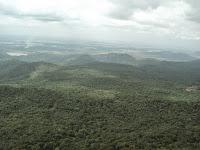 This time, we decided to give the fisherman a break and decided to row ourselves. As it was winter, the sun was pretty low already and we experimented. Everybody took turns in rowing and slowly wavering we almost made it to the other side. Getting our bikes on the ground we paid the fisherman and off we went again.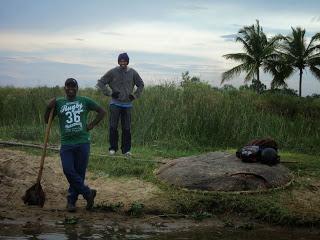 Cruising at the decent pace we made it to Malavalli T junction for some hot tea. as it was already 17:00, we decided to take the Kanakpura Road until Sathnur and rejoin the Mysore road through Kabblu. But as we reached Kabblu darkness came upon us fast and the road became more or less invisible. As it is filled with patches and potholes, it was pretty dangerous ride. Dattu and me kept following a scooter guy, swearing at him if we rode into a pothole. Narrating and chatting about what that guy would be thinking we made it to the highway.(Sorry scooter guy for the spooky noises and devil laughs!:P)
TIME: 19:00
Once on the highway it was a smooth cruise until JB split stop. Once we pulled over for a few minutes. The air had turned real cold by now. I dropped Dattu at his place and reached back my home.
TIME: 20:30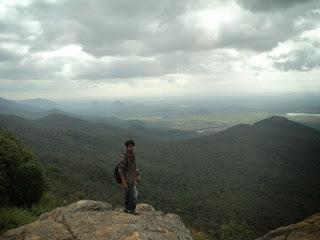 PICASA ALBUM: