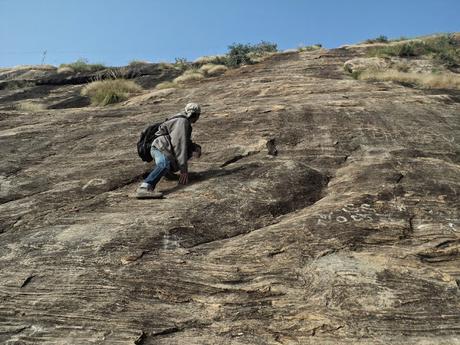 Place:
Kabbaladurga trek.
Distance:
100 x 2 = 200kms.
Directions:
Bengaluru – Bidadi – Ramnagar – Channpatna - Kabbladurga
Particiapants:
Gautham (Gauti) >Karthik (Sp).
Bikes:
FZ > Pulsar.  
Previous visit:
Mahadevapura – the new flame.
IN LESS THAN 50 WORDS:  
The freaking 5

th

trip for Novemeber 2014. Felt bloody good I must say. Never had we done so many in month. And we were enjoying it. This was another trek to our good old Kabbaldurga. As every time it offered its own challenges and hiccups. But at the end it was a classical chapter.
INTRO & PLAN:
Gauti was on fire after buying his new bike. And well I always love to tag along friends as long as I get to be on the road. So, exactly a week after the cleansing at Mahadevpura we decided we hit it hard and it had to be a trek. So having thought of the various options we narrowed in on  Kabbaldurga. It was no easy to start a trek, but I knew Gauti could easily pull it off. no sweat.
TIME: 22:00 (21/11/2014)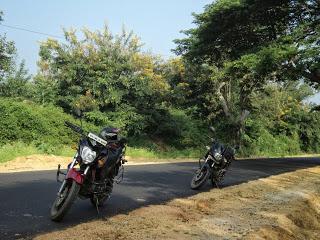 ASSEMBLE & LEAVE:
Yeah I was up at 05:00, did a few push ups & situps, had a cup of coffee and was all set to go. The meet up was scheduled at my place. Gauti arrived at my place at about 06:00, after a formal greeting we left Bangalore.
TIME: 06:15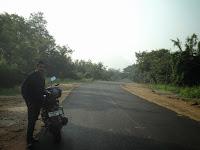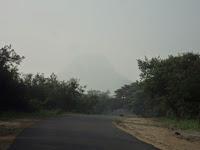 RIDE 1: (Bangalore– Bidadi – Ramnagara – Channpatna - Kabbaldurga)
This was about 100kms ride both on highways and country roads. As we left Bangalore the weather was cool and pleasant as it pre-winter. Riding smoothly as we had done most of this month, we reached Bidadi. We pulled over for some tasty breakfast.
TIME: 06:45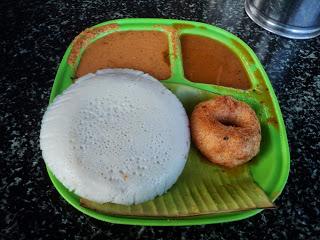 After some yummy breakfast, we had some tea and left the hotel. We cruised past Ramnagara and just before entering Channpatna, we took a left deviation and entered the country roads. The weather dipped even further and the greenery flooded both sides of the road. It was a pleasant riding experience. As we got the first glimpse of Kabbaladurga, Gauti was confident, but like always I got a shiver in my spine hehe. We rode further parked our bikes in the town near the temple and with the goat's spirits wide awakened we were ready to conquer the hillock
TIME: 08:45
KABBALDURGA: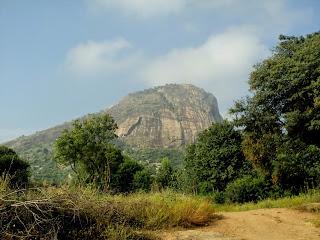 The ascension was a pretty decent one I must say. Took us hardly 45mins. It was surprising even for me.  Usually I take 45mins to ascend without speech. But this time we enjoyed the trek. Thing about Kabbaldurga is, even though the hillock is as mighty as Madhugiri, the terrain is pretty steep and takes lesser time to complete each of them.  Like before I have divided the climb into the following sections:
i) Initial stretch
ii) 3 point stretch
iv) Viper Stretch
v) Final stretch
Alright, ready? Here we go again.
i) Initial stretch:
This stretch is the easiest and basically warms you up for the trek. We completed this part of the trek like a morning walk. It is a thin path which runs through field and gradually tapers up. Few abandoned stone stairs finally leads us up to the steep rock face.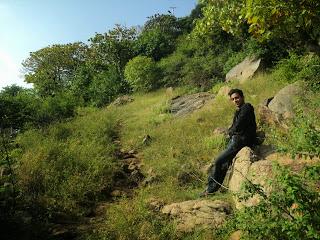 ii) 3 point stretch:
This is the most energy draining and most exciting part of the climb. But personally this is the stretch I enjoy the most. I call this 3 point stretch as it more or less requires the climber to maintain atleast 3 limbs contact on the rock surface. We climbed this stretch with extreme caution. Stopping for a couple of breaks just to take in sip of water, we made it through. There is an alternate simple path if you don't want to head this way.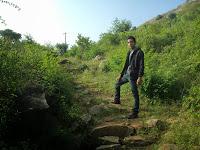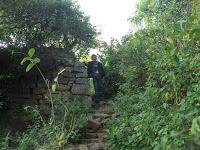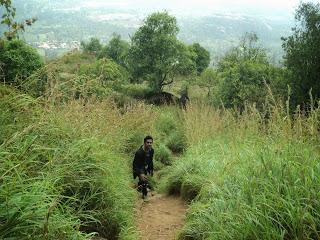 iii) Viper stretch:
Just before the viper stretch is the flat land. Where you can rest all you want in the shade. Shade, my friends trust me is a rarity at Kabbaldurga. So rest here as much as you can. During our climb, I just found a neat grassy spot, made sure no snakes were around and just collapsed into the soft grass. After taking some rest, we were ready for the Viper stretch.
I call this Viper stretch, as the path resembles the brown snake crawling its way amidst the green grass. Hopping on the boulders to the top we were past the viper stretch.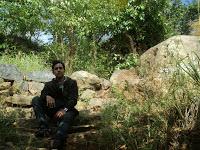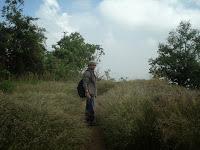 iv) Final Stretch:
Alright, the final stretch. This too pretty much drains out life from your knees. But there are railings which you can use to pull yourself up if needed. The first time when I had come, the hill looked pretty much raw without all those railings, but hey I am not the only one who wants to climb this right? Finally pushing one step at a time, slow but steady we reached the top.
TIME: 09:30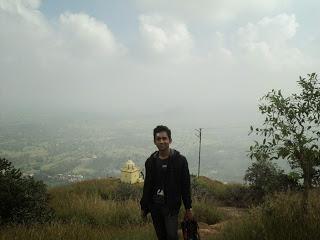 TOP:
Once on top, the cool breeze cooled us down. We first visited the Kabblu temple, paid our respects to the place. Then went to the Nandi temple few meters away.  Slept there for about 15mins, had some water. Went back to the Kabblu temple, promising a return, we decided to climb down the hill.
TIME: 10:00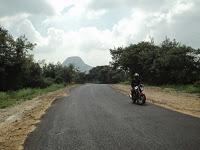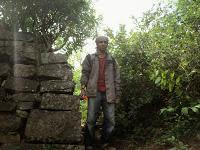 DECENSION:
The descension was a fast one. Took us about an hour to descend. But with the sun up and shining, we didn't want to be stranded on the mountain top. So we made it the viper stretch in 10misn or so. After which at the 3 point stretch, we proceeded cautiously, one step at a time.
Once we were out of the rock face, we brought some ice cream and walked in the town of Kabblu.
TIME: 10:45
RIDE 2: (Kabbldurga – Channpatna – Ramnagara – Bangalore)
Once, we reached Kabbaldurga, we grabbed a water bottle. After relaxing for some time we decided to ride back. We cruised along side by side enjoying the breeze cool down our bodies. Before the hill could disappear completely behind our backs, we pulled over looked back, promising a return we took off. After reaching the highway at Channapatna, we rode a little further towards Kanva and decided to have our lunch at Manju Dhaba – our old preference.
TIME: 12:00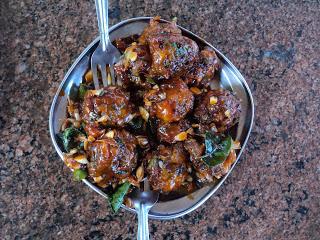 After a pretty decent lunch, we decided to hit non-stop back to Bangalore. The ride was about 60kms and only on Mysore road. After the heavy lunch we had to make sure we didn't doze off. So keeping ourselves awake, we cruised at a decent pace to make back to our respective homes.
TIME: 14:00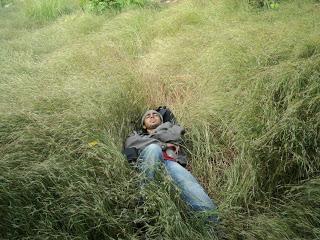 PICASA ALBUM: