We've unearthed this ad from 1916, advertising overcoats for officers at John Barker's famous Kensington department store.
The jolly camaraderie of the illustration is now, of course, greatly at odds with our understanding of the horrific conditions at the front during WWI …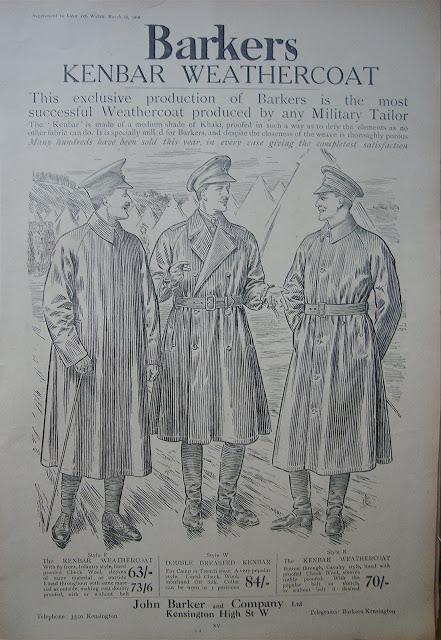 See the old John Barker's department store on the Kensington Walk with David this Thursday at 2.00p.m.
Then at 7:30pm on Thursday (30th June), Rex is leading Remembering The Somme (meet at Hyde Park Corner Tube, by the Exit to Hyde Park)


The walk is in high contrast to the cheery scene sketched in the ad above.


Remembering the Somme is a vigil to mark the bloodiest day in British military history. 100 years ago tonight thousands of young men hunkered down in their trenches to write to mothers, sweethearts, wives and children. The next day 20,000 of them would be dead and a further 40,000 wounded. We walk the Via Dolorosa – the trail of tears, of memorials, statues and buildings to bear witness to what happened on the Somme that terrible day. The walk ends at Westminster Abbey where an all night vigil is taking place by the Tomb of the Unknown Warrior. Walkers will be able to enter the Abbey free of charge or visit the Imperial War Museum which is open all night. Guided by Rex.
Meet Rex at Hyde Park Corner tube 7:30p.m Thursday 30th June 2016

A London Walk costs £10 – £8 concession. To join a London Walk, simply meet your guide at the designated tube station at the appointed time. Details of all London Walks can be found at

www.walks.com

.