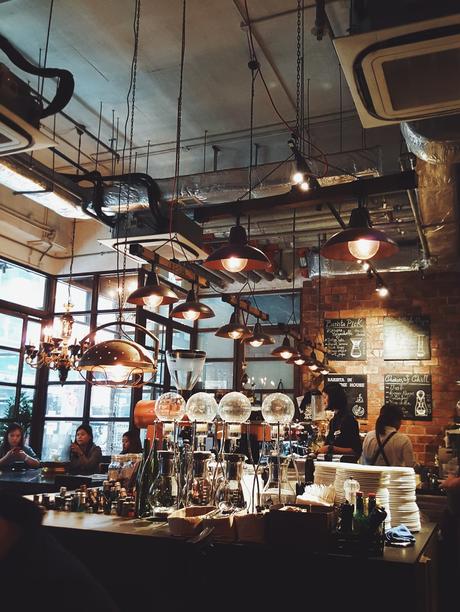 100 Stories // * 2. The Beauty of Coffee Houses.
There's an oddly soothing atmosphere about quieter coffee houses. You know, the ones further afield than Starbucks or Costa or Pacific Coffee. I wholeheartedly support independent artisan coffee houses, and not in an 'I'm-so-hipster' way. I love the ambience, the thought of supporting someone or a group of people that are probably pursuing their dreams of cultivating a happy, calm place for like-minded people to stop by.
The quiet tinker of ceramics against ceramics, quietly whirring coffee machines or the chink of aeropresse glass against glass, quiet conversation or mindful tapping – the sound of a coffee house is calming in a familiar sense.
Did you know there's a whole community that seeks out the perfect blend by routinely trying one order, everywhere? That fascinates me. I personally like nothing more than upping sticks from my comfortable blanket fort at home, grabbing
your passport and my hand
my purse and a book, and just heading to a coffee house. The quieter, the better. You can contemplate all sorts of things: what to make for dinner, the purpose of front doors that open outwards, the real origin of crop circles, how long one can buy their feelings… I like sitting with an empty page of my notebook, tracing notes and grand plans of what I could be doing if I had no obligations, what I
want
to be doing. I imagine and attach entire stories to my table neighbours. Do they have a job? Are they married? What's their usual order? I contemplate why some people – myself included, I suppose, right now – spend their lives making other people insane sums of money and muddle through with dire non-organisation and daily conversations with no substance.
Thanks to old-timey films and new-gen movies, coffee houses possess an inherent rose-tint, a near-silent attitude that draws the non-discerning passer-by in. There's a spirit about the art of the coffee bean and people looking for some refuge from the busy outdoors. Or maybe they're just tired.
Favourites:
The Coffee Academics (Hong Kong)
Monmouth Coffee Co. (London)
Morris & Jacques (Brighton)
The Flower Power (Hertfordshire)
sensory Zero (Hong Kong)
Post inspired by Rae at Love From Berlin (her original post here).