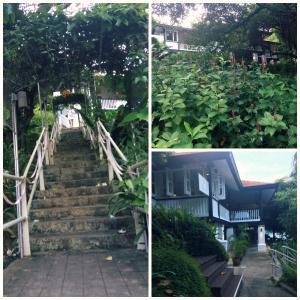 Many weeks back, it was the BF's bday but we didn't really get a chance to celebrate. And then we came across 100 Gourmet. It is just an initiative by Citibank whereby you can try out a 6-course meal designed by a well known, overseas chef in collaboration with a top local restaurant. Since I got a Citibank card, we thought this should be his birthday lunch. (P.S. It will cost a lot more if you don't own a Citibank card!) Moreover, we are also taking this as a scouting exercise. I thought Lewin Terrace seems like a nice place to host a wedding, more precisely, our wedding. LOL!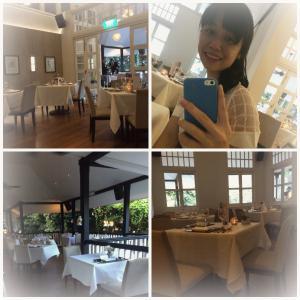 I was so excited that we were there 15 mins earlier. So I got a good chance to snap photos of an empty restaurant. :P As you can see, I also dressed up for the day. I put on bright pink lipstick. HAHAHA, by my standards, that is considered putting in a lot of effort. :DThe restaurant has a very nice grand feel. But I think the BF has strike this place out in head cos it is difficult for toasting. Is toasting really that important?!? I still think it is a beautiful restaurant nonetheless. And the waiters are so attentive to our needs.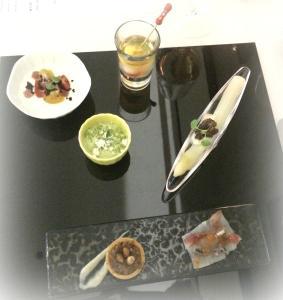 This was our starter. Out of 6, I loved 2. Coincidentally they are all on the right. Haha. Not that the rest wasn't good, but they just weren't mind blowing enough. The asparagus with truffles was really delicious. I am not sure how they did it but you will view the asparagus in a whole new light because of the unfamiliar texture and taste.I can't remember what the fish is called but it was so good I finished it with one chomp. Practically, half the time, I am waiting for the BF to savor his meal. I just enjoy gulping food when it is good.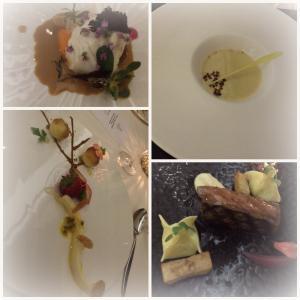 These are 4 of our other courses. Those on the right are simply heavenly. We had the corn with foie gras soup. I have always been a fan of foie gras. The best I had was in Salt Grill. But as a soup, it was amazing. There is crunchiness in the soup with the sweetness of the corn. Yummy.And the wagyu beef is all my all time favorite. I don't really like steak most of the time. If I have it, I realize I preferred it medium rare. This was medium. But it was so delightful, I think I teared eating it. Best Steak ever! Made every penny worth!

The most colourful meal for the day. :D So happy to have 4 coloured noble shells. They are naturally coloured and can only be found in Japan. 我还真是识货~!~ Got it from the manager. I actually asked for our 2, but he saw me so intrigued with them, he gave me 4. Hahaha.For the time first time in my life, I finally understood what "tasting the sea in your mouth" means. Yes, I think I tasted the sea in this dish. It is not very salty but a refreshing sea-breeze. Really don't know how they did it, it is like magic!!!The night photos didn't look very fancy. I think I really need to clear the photos in my phone. I have too much photos! Really recommend 100 Gourmet for any special occasions in your life. This is the first time I had a chef coming up to me, telling me in details the ingredient used for each dish! Will probably be dining through them at our next big occasion :D