There are now over 600+ million blogs and many of them are finding the 10 ways to make mistakes on their blogs. But after you screw up your blog you can learn how to fix your blog.
A lot of people have blogs these days, but not all know what they're doing when it comes time for promotion or marketing strategies like SEO (search engine optimization). This can be difficult if one doesn't understand the basics such as linking back properly from different parts on their site so search engines will find each other!
Here we'll take a look at some common errors committed by newbies which may lead them down a path toward failure before even getting started:
10 Ways to Screw Up Your Blog
There are 10 things you must NOT do when you are blogging. These are 10 ways to screw up your blog!  So, be sure you are not guilty of all 10 or more than 1 of these ways to make your blog go from good to bad.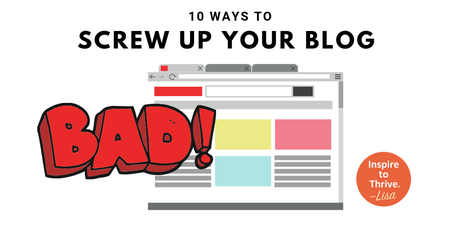 Learn how to fix blog mistakes if you screw up your blog today.
Of course, you can sign up for blogging courses from a professional blogger.
Making Your Blog Look Bad is One of the 10 Ways to  Screw Up Your Blog
Looking through these tips I see blogging off-topic. I think that is probably the most common mistake many bloggers make, myself included over the years.
Which of these below do you believe is the most common blogging mistake?
I think most of you here reading this are aware of #1 – not to copy other blogs. That is such a no-no!
Have you ever had blog content stolen? Take the poll now #blogging
Answers may be featured in an upcoming post!

— Lisa Sicard (@Lisapatb) August 31, 2022
What Are The Biggest Blogging Mistakes?
Copying Others Blogs
That is the #1 mistake that Google could penalize you for. Or worse, you could get sued for plagiarism which could cost you a lot of money.
Therefore, be sure to use the original content in your own words. Add unique videos or infographics to your blog posts.
Posting Infrequent On Your Blog
If you only post once a year or on a very irregular schedule that will not help your blog to be found today. Google and the other search engines love to see relevancy and updated websites today.
Not only but update your old blog posts along the way. Your readers will appreciate the updated information and so will Google.  It is a win-win situation for your blog.
Lots of Ads on Your Blog
Having too many ads on your blog will cause users to leave your site and increase your bounce rate which hurts your SEO efforts. Even worse, those nasty pop-ups on blogs or ones that make noise every time you go to a new page can be so annoying!
Having too many ads on your site is one of the worst 10 things you can do to screw up your blog.
---
Even worse, those nasty pop-ups on blogs or ones that make noise every time you go to a new page that can be so annoying! #bloggingtips
Click To Tweet

---
Moderate Comments to Engage and Fix Your Blog
It's great to engage with others on your blog via comments if you don't moderate them for their views. Though, it is good to get rid of the spammers. You don't want those on your blog.
Furthermore, you could always include a comment rule page so the spammers know you won't accept their comments.
Notice the email address with this web address, they don't match. That's a big red flag on comments that are not real.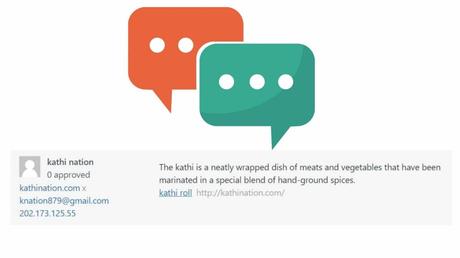 When you moderate comments, you fix your blog from spammers and clear the spam comments.
Not Engaging With Your Readers
This will make your readers not come back if you don't respond to their inquiries on your blog or website.
Not responding to comments is a sure way of not having people come back to comment again on your blog. Everyone likes to be thanked for coming by and taking the time to leave a comment.
Don't disappoint your readers by not replying to comments or thanking them for sharing your blog posts on social media.
Going Off Topic On Your Blog
If you write about something that is not related to your blog readers will become confused. Because of this, some will not return to your blog.
Staying true to the topic of your blog will help keep readers engaged. Some experts recommend you avoid broadening out too much or writing about something not relevant if want them to come back to your blog for more!
Not Editing Your Content is Another Way to Screw Up Your Blog
If you do not proofread your work and edit errors this can surely turn off some readers. If it happens often, it will turn off many and they will stop coming to your website or blog. (And if you find one on someone else's blog, reach out to them privately.)
You can use tools like Grammarly to check your spelling and grammar.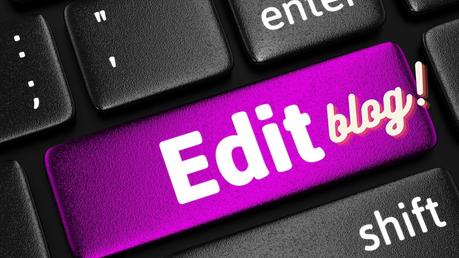 Learn to edit your blog to fix it up nicely and bring readers back again and again.
Too Many Contributors Can Screw Up Your Blog
Where did YOU go? Readers will begin to wonder where you went. Oftentimes, readers won't leave comments when you have a contributor post.
They typically come back to your blog to read about what YOU have to say. However, it's okay to have contributors as long as you continue to write on your blog.
Back-Up Your Claims
If you are going to mention a stat be sure to cite it as I did above for the number of websites today.
People may want to know where you are getting your information from especially if it is the first time they are on your website. You can do this by linking out to your source.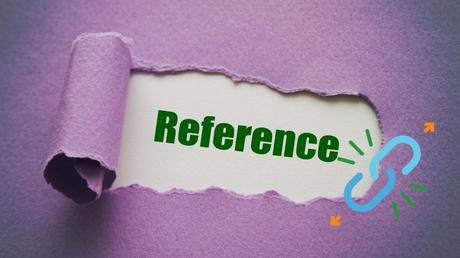 Be sure to add your source of references by linking them out to sources.
Keeping Info Current is One of the Top 10 Ways to Screw Up Your Blog!
Don't display old and updated info on your blog. Readers will disappear. I have been going through my orphan content and updating old blog posts like this blog post from 2014 as I fix the internal link structure of the blog.
Updating old blog content is a never-ending job so save time for this one! Always think before posting a new blog post: Can I use the info to update an old post instead of starting a new one? (Especially if you have hundreds of posts on your blog.)
In Conclusion of 10 Ways to Screw Up Your Blog
How many of the 10 ways to screw up your blog have you done? Have you corrected any yet?
I'd love to know more in the comments below about what errors you have made and what you have done to fix your blog.

Save time and money using Jasper AI for your blogging content.