Are you scrambling to get food together for a New Year's Eve party or potluck?
Here is a countdown (in no particular order) of recipes that are fit for your 2012-welcoming shindig:
10.
Rawesome Nut Dip
.  Serve it a bowl with crackers (raw or otherwise), or tucked into mini bell peppers, endive leaves, or cherry tomatoes.  Or, use it as a filling for rolls for finger food (ex: baked mini phyllo rolls).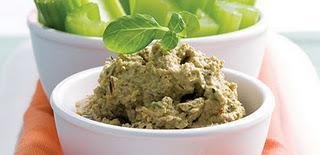 Rawesome Nut Dip (photo: alive magazine)
9. Cashew Cheese.  Another raw, nut-based recipe.  But, this cashew cheese is a little thicker, and will be beautiful as a spread for crostini, perhaps topped with sliced roasted figs, or olives, or caramelized onions.  Plus, if you transform this dip as a cheese layer or stuffing for baked pasta dishes (think lasagna or stuffed shells).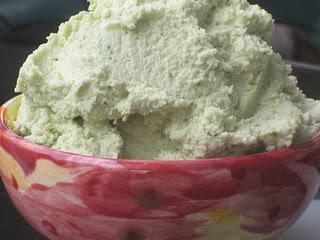 Cashew Cheese
8.
Warm Potato Spinach Salad with Pine Nut Dressing
.  Most folks love potatoes.  And, most folks are tired of the same ol' potato salad.  Liven things up with this punchy dish.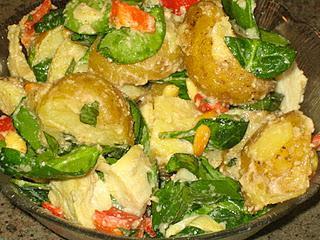 Warm Potato Salad with Pine Nut Dressing
7.
Moroccan Phyllo Rolls with Balsamic Maple Sauce
.  Rather than make these entree size, follow the recipe instructions to adapt them for appetizer-sized rolls.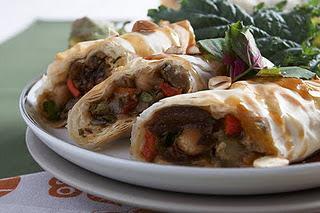 Moroccan Phyllo Rolls with Balsamic Maple Sauce
6.  Mini-Burgers.  Okay, going to cheat here and give a couple of recipes.  Take a favorite burger recipe, and make mini-patties, for sliders, or for dipping.  Try Mediterranean Bean Burgers or Spicoli Burgers.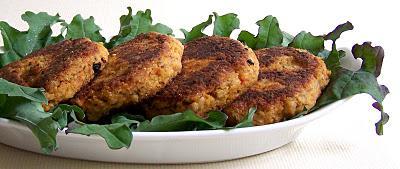 Spicoli Burgers  (Photo: healthykitchenblog.blogspot.com
5.
Rawroona Rolls
.  As explained in my post, these are fresh and tasty and can be served in leafy greens, or made into small sandwiches.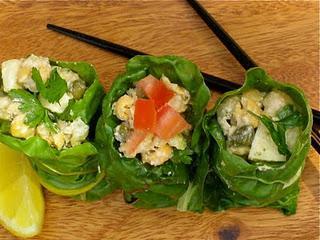 Rawroona Rolls
4. Moroccan Bean Stew.  If you are having a cozy, homey New Year's Eve and want a soup, this is one of my favorites.  It is special and elegant enough to serve to guests, and is also delicious paired with breads with Cashew Cheese.  Make the cashew cheese already.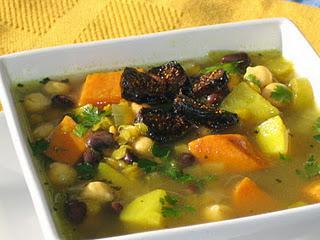 Moroccan Bean Stew
3.
Vegveeta Dip
.  Yummy 911.  Mix in a few spoonfuls of salsa, and serve up with tortilla chips. Easy as that.  (I even have my editor hooked on Vegveeta!)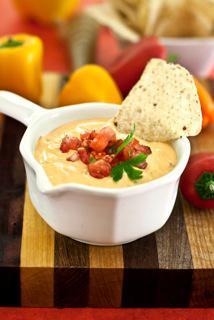 Vegveeta Dip (photo: Hannah Kaminsky)
2.  Cannellini Bean Sweet Potato Hummus.  What's a party without hummus?  Skip the traditional version and try this sweet and smoky version.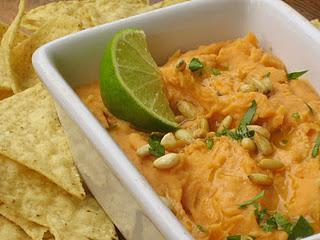 Smoky Cannellini Bean Sweet Potato Hummus
1.  Something Sweet.  Most folks are little tired of sugar-laden cookies at this point in the holidays.  Why not try Creamy Cashew Dip with fresh fruit.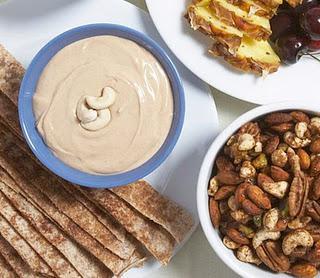 Creamy Cashew Dip with Cinnamon Tortilla Strips
Or, Frosted B-raw-nies.  Both are healthier yet still sweetly special.  (Yep, I cheated again.)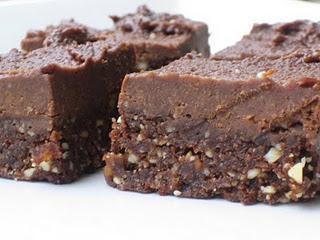 Dreena's Frosted B-raw-nies
These are all very 'omni-friendly' recipes.  Nothing too 'freaky-vegan' here like tofu or tempeh that might scare the masses.  Nope, just really good food made with really good ingredients.  Enjoy, and Happy New Year!