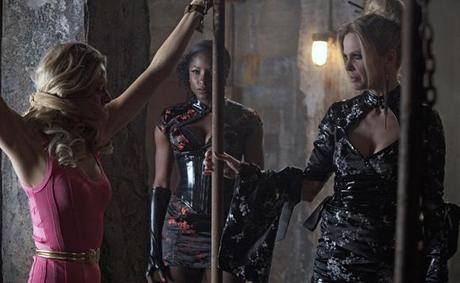 True Blood Season 5 had a lot of crazy twists and turns.  From Lillith to Billith you can re-live all the excitement on HBO starting December 31, 2012.  Starting at 9:00pm HBO is going to re-air Season 5 in its entirety and to get you in the mood, the Inside True Blood Blog has released a list of 10 New Years Resolutions inspired by Season 5.
1.  Let go of your past – we saw a lot of this during Season 5 with Eric and Bill both letting go of Sookie, Hoyt letting go of Jessica and Jason, and Tara letting go of her human life.
2.  Reach out to long-lost relatives – this was another thing we saw more than once this year.  Sookie and Jason connected with their fae family and Eric connected with his long-lost sister.
3.  Adopt a pet – poor Emma seems to be stuck in her wolf form and vampire bad-boy Russell Edgington took her as a pet for boyfriend Steve Newlin.
4.  Lay off the sauce – fae blood which is intoxicating to vampires, proved to be Edgington's downfall so it would have been much better for him if he had of gone to AA instead of attacking a fae queen.
5.  Perform an unexpected act of kindness – Pam, who is notoriously cold hearted, chained a former nemesis of her prodigy Tara in the basement for Tara's enjoyment.  Take a page out of Pam's book and show your kind side!
6.  Get in touch with your spiritual side – this was definitely the prevailing theme of True Blood Season 5.  Be warned that the spiritual side took out a lot of powerful vampires!!
7.  Forget old grudges – in one of the saddest story-lines poor Hoyt had Jessica wipe his memory of their relationship and his friendship with Jason Stackhouse.
8.  Reconnect with your inner child – Jason took quite a journey this year between losing his best friend and connecting with the fairies.  Some of the more touching moments of the season came when Jason was having flashbacks from his childhood.
9.  Experiment with your look – while Hoyt was trying to find his way after his break-up with Jessica he dabbled in the fang banger style and got his goth look on.  Some of you may have loved it but Hoyt eventually returned to his good boy look.
10.  Get back to the gym – Alcide and his fellow pack member managed to have the first television sex scene that involved heavy duty cables so clearly keeping in shape was key!
So Truebies here are some resolutions to keep in mind for 2013!  Let us know in the comment section below if you can think of any others that were left off the list.
Source: Inside-True-Blood-Blog.com – New Year. New You
Image Credit: HBO