Content marketing can work wonders in any industry. With the appropriate strategic moves, it can turn your e-commerce store into a real success. What makes content marketing so powerful is the effect it has on different aspects of your marketing campaign.
When you carefully plan your content marketing strategy, you'll cover everything from email to social media. However, in order to make it effective, you need to know how to attract and retain the audience's attention to different types of content. The following tips will cover various ways in which you can grow your e-commerce store with content marketing.
1. Who is your target audience?
This is the first question you need to answer before you start with content creation. Just think about it. How can you create effective content when you don't know who is it for?
The best content marketing puts customers in focus. It addresses customers' problems, needs, wants, and wishes. 
Every e-commerce store has its target audience. In case you have already created your customer persona, utilize it to plan out your content strategy accordingly.
If you don't have a customer persona, it is high time that you create one. Consider your customers' demographics (age, gender, education, workplace, etc.) as well as their purchasing habits to get results on who is your main targeting group.
For example, if you are selling sportswear for women and according to your data, mostly employed women between 20 and 35 buy your sporting goods, base your customer persona on that information.
A customer persona will help you in the writing process. It will inspire you to create content that is personalized to such customers. 
2. Understand your industry
To learn more about your customers' and your industry's demands, turn to your competitors.
Do some research and check out how your competitors deal with content marketing. 
Use the best ones in the business to analyze what works in your industry. Since you have a similar if not the same target audience, you'll be able to get a better understanding of what type of content your target audience likes.
On the other hand, use less successful e-commerce stores or those with negative feedback to learn what to avoid. It is helpful to know some common mistakes in your niche so you don't repeat them.
3. Define content distribution channels
You must define where you'll post the content to know what type of content you want to create.
The most basic platforms are:
Website

Blog

Social media

Email
These marketing platforms are practically essential.
The reason why you should spread your content marketing across different platforms is that it will help you reach a different audience. Not to mention that not everyone uses the same platforms. 
For example, some will not browse through the web looking for e-commerce stores but they will browse through Instagram. Others who don't use social media will pay attention to the emails you send them. 

4. Decide on the type of content you plan to create
The content you distribute should differ so that you comply with different customers' needs. 
Some types of content to develop are:
Short articles or blog posts (under 1000 words)

Medium-length articles or blog posts (from 1000 to 2,500 words)

Long articles/ guides (over 2,500 words)

Infographics

Product reviews

Customer reviews

Images (promotional and non-promotional)

Videos (promotional and non-promotional)

Podcasts
Based on your goals and distribution channels, pick a few types of content and focus on them. Unless you have a complete marketing team that can cover everything, try not to go overboard because it will be confusing to create every content type. 
5. Use email marketing
Despite what some may think, email marketing is still going strong. 
Here are some types of emails that marketers use for content marketing purposes:
Automated confirmation emails (such as welcome email)

Event emails

Promotional emails

Monthly newsletter

Drip campaigns (such as welcome series)

Ad hoc newsletters (meaning, not scheduled newsletters)

Lead nurturing
The content you create for your email campaign should reflect your e-commerce store's image. Make sure you use the same design which you use on your website. That means that you should use the same colors, style, tone, etc.
In this way, when customers receive your emails, they will instantly be associated to your e-commerce store.
Personalization is one of the key elements of successful content creation for emails. Personalize emails by addressing a recipient by its name. 
In addition, you should segment your email list based on your customers' purchasing habits. Segmented campaigns actually get 14.37% more opens and 64.78% more clicks.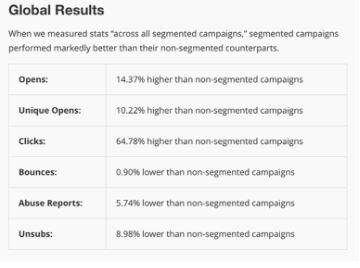 6. Distribute your content over social media
With all the social media craze you simply can't miss out on this marketing trend. Social media platforms are perfect for distributing content and spreading brand awareness.
Whether you will use Facebook, Instagram, Twitter, or Snapchat it is up to you. Snapchat is perfect for a younger audience, Twitter is great for making announcements, while Facebook and Instagram have become the basis of social media marketing.
Create content according to the platform it is intended to.  
Social media can help you create engaging content and establish some sort of connection with your customers. For example, you can post images of happy customers using your product on Instagram.
Not to mention that you can turn your customers into co-creator. Just encourage your loyal customers to post about your e-commerce store. By being your brand ambassadors they will attract direct their followers' attention to your store.  
Another important thing about social media is that you follow trends. For example, social media stories are the top content marketing format developed by B2C marketers in the last 12 months. Don't miss out on these trends to keep your audience interested.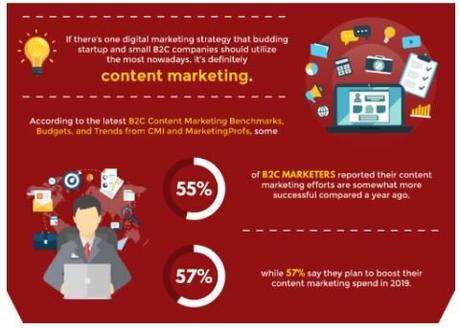 7. Tell a story
Customers love to hear stories through content. The power of storytelling is that it affects customers on a more personal level. 
Throwing facts at your customers can be dull, but if you offer then an engaging story they won't be able to look away. The fact is that 80% of people want brands to tell stories.
Storytelling gives you an opportunity to humanize the brand. Ask yourself the following:
Why should people relate to my brand?
Find a way to touch their hearts and you'll find a way to successful storytelling.
Considering that this type of content is more personal, it helps you to create a bond with the customers and gain their loyalty. In the sea of generic and promotional content, show your customers that there is still humanity in this industry.  
Wrap your brand's message in a perfectly written narrative and you'll have your secret weapon. 
If you need some help with the writing, writing services like TrustMyPaper can help you out. It would be a shame to ruin a good idea because of poor writing.
Also, always, but absolutely always proofread and edit your content. You can use an online editor like Grammarly. Lastly, check your story's readability with Readable.
These simple steps will ensure that your story is well-written and comprehensible. 
8. Show customers' perspective
Your customers' testimonials and reviews can be a great source of content.
Potential customers firmly rely on reviews. Actually, 72% of customers won't take action until they read reviews. Not to mention that 91% of Millennials trust online reviews as much as friends and family.
Use testimonials, reviews, and case studies to prove the quality of your products. One of the ways to do that is to create a blog post about your new product that features customers' reviews. For example, when you mention the packaging, use a review that supports your claims. 
You can also post images or videos that show your customers sharing opinions on your products. Such visual content is both entertaining and builds trust. 

9. Show consistency
Publishing content once in a blue moon won't have any effect. That is why it is crucial to be consistent.
Consistency shows your determination and devotion to your customers. It will ensure that your customers don't forget about your brand.
Of course, this doesn't mean that you should spam your users until they block you from every marketing channel. The key is to find balance.
Here are some recommendations on how often you should post:
Longer blog posts – approx. once a week

Shorter blog posts – approx. every two-three days

Email – approx. 1 to 2 times a month

Facebook – minimum 3 times a week

Instagram – minimum once a day or every other day

Twitter – 3 to 30 times a day (tweets have a short shelf life)
When it comes to email, you can let your customers tell you often they want to receive emails and which emails they prefer. In this way, you'll know that the content you created and its consistency is designed to their preferences. 

10. Learn from the results
Many recommend that you should plan content marketing ahead and that is good advice. However, your content calendar shouldn't go far in the future, because you need to track your results and arrange the strategy accordingly.
The success or failure of your previous content publications will guide you and give you directions. 
Check out the posts that have the most likes and shares and feel free to re-purpose that content. 
On the other hand, you should stay away from the content that didn't get much recognition.
Customers' comments on your blog posts can tell you what you need to change about your content and what type of content your target audience prefers.
Analyze your emails' click-through rate, open rate, and bounce rate to determine your upcoming email content.
Every piece of information you gather can be a valuable asset for the next content creation process. 
Some final thoughts
These e-commerce content marketing tips can completely change the game for you. The power of content marketing has been recognized a long time ago, so it is up to you whether you'll take advantage of it or not.
Keep in mind that you shouldn't take this task for granted. Effective content marketing demands your full attention and dedication and that is what you need to deliver if you want to make it work.
---
About the Author:
Kristin Savage nourishes, sparks and empowers using the magic of a word. Along with pursuing her degree in Creative Writing, Kristin was gaining experience in the publishing industry, with expertise in marketing strategy for publishers and authors. Now she works as a freelance writer at GrabMyEssay. Kristin runs her own FlyWriting blog.