Earlier in the week I wrote the article 10 Things I Hate About Thailand that seemed to annoy some people. Mostly western females although I can't really see why. Here were some of the comments: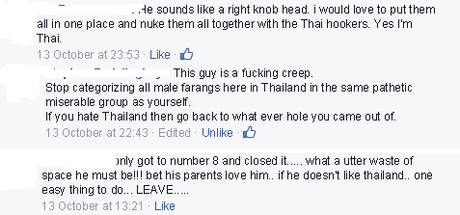 First off I don't see what is wrong talking about things I dislike about something, and to say England is a hole is not true, it's much worse than that.
Secondly, why do people hate prostitutes so much? Don't we all prostitute our time and bodies for other jobs in return for money? What's the difference between what you're doing and what a prostitute does other than what social conditioning has told you to think? (This does not mean i condone trafficking, I don't.)
Anyway, the Internet is indeed a harsh mistress and I would like to use this article as a platform to show readers that I do love Thailand, it is a great country and you should all visit at least once, it has amazing beaches, tasty food and good weather.
I will do my best not to bad mouth farang females…again. Here are my top 10 things I love about Thailand.
 1. Girls
Asian girls in general are just so nice and friendly, they don't have a chip on their shoulder and are always happy to help you out. They are slim, pretty and know their role in the relationship. Let's be honest, there are two types of guys who visit Thailand, they are:
Single guys – Who come here with the intention of having a good time in this wonderful country and meeting up with Thai girls to understand the culture better.
Guys who come with girlfriends – Who come here with the idea to spend a nice holiday with their annoying GF who they quickly realise is overweight and a lot less attractive than the average Thai girl. Within a week or two into the trip, they start thinking "I should of came here alone".
2. The bum gun
Why hasn't Europe adopted the bum gum yet? It's by far the best and most efficient way to clean one's bum hole, and if you manage to spray it just right, it feels so good. Back home it used to take me 5 minutes to clean myself up, here less than 30 seconds.
I know some people who come here for a short holiday are worried or scared to use the gum, just use it, trust me!
 3.Cleanliness of toilets
Most bars, clubs and restaurants in Thailand (well Bangkok) have great toilet facilities, everything is tidy, brand new and is always being cleaned. I've never been happier to need to visit the toilet at a club than I was when I visited Insanity night club, the toilets are top class and attendants will even give you a massage for a small tip of around 20 baht.
4. Massages
Whether you want a Thai, oil, foot soapy or nuru massage you can in Thailand. There's something for everyone (including women and couples) and prices start as low as 150 baht. Great way to kill an hour or two!
 5. Foreign food at great prices
You can grab some really tasty burgers, decent sushi and western style buffets for a fraction of what it would cost back home. Yes there are plenty of terrible restaurants that serve pizza's where the toppings fall off before you even get it in your mouth, or pasta that is just tastes like a bottle of tomato sauce, but there's still more than enough quality restaurants to enjoy. The local food is just as tasty and even cheaper.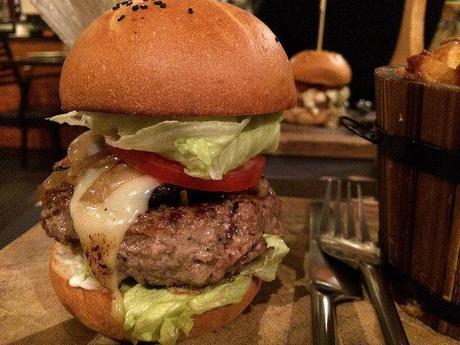 330 baht ++
6. You can live like a baller

Unless you're a school teacher of course. I'm not rich by any means but I can happily walk into any go-go bar, restaurant, club or event and not be too worried about the bill. It's never usually going to be over $50 unless I visit a go-go and bar fine two girls for LT and pick up some extra apparatus on the way from the local vendors, but that's a story for another day.
Taxis are cheap, food is cheap, life in general is cheap. Condos prices are inflated though.
 7. Nightlife
Whatever you're into, you can find it in Bangkok. Clubs, massages, gay friendly places in Bangkok, BJ bars you name it, Bangkok has it. The policy for letting you into to places is also very fair unlike the west. All you need is ID to prove you're over 21, and that you're not wearing sandals or a singlet.
In England they turn you away from having the wrong shirt on or for looking too "casual".
8. Food delivery options
It's 7am and you've just came back from Climax and are in dire need of some food, ain't nobody got time to walk outside in the intense heat dehydrated as fuck looking for food, ain't nobody. Many places including McDonalds do 24/7 delivery straight to your door, or you can use someone like ChefXp who will deliver gourmet food from hundreds of top restaurants throughout Bangkok to your door.
9. The girls think I'm hot
My favorite Sois are 4,7,11 and 23, and each time I walk down the girls tell me how handsome I am, grab my hand and try to take me into their bars. I don't know if anyone else gets this but I get it all the time in lower Sukhumvit. I guess all the hard work lifting is paying off?
10. You can get medicine so easily
Do you need antibiotics, tramadol or medicine to cure STDs? No problem, go to your local pharmacy and they will help you out. Getting medicine is so relaxed in Thailand and very cheap, unlike the west where you need to sign several papers before they allow you to take an antibiotic. Most pharmacists are very helpful and provide a great service, most of them speak good English too.
Thailand is a great country that has good things and bad things, I chose to live here because it's an topplace to live and has everything you would ever want and need at cheap prices.I could've wrote another 2,000 reaons why I enjoy Thailand but I'm too lazy. I hope the Internet approves this article and I didn't rustle anyone's jimmies.